Tarang Tripathi is using what he learned at Sussex to help thousands of school children in India.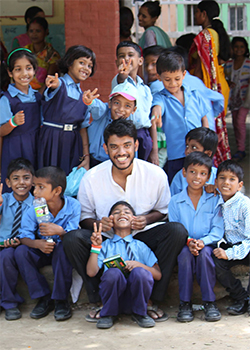 As a trainee teacher, Tarang Tripathi noticed a flaw in the way his pupils were taught which meant they were missing out on the development of vital soft skills which would allow them to succeed outside of school.
Determined to put that right, Tarang formed Project Aawaaz to not only promote the sharpening of underprivileged pupils' critical thinking, general awareness and public speaking but also to make education fun again for pupils.
The project was already up and running when he moved to Sussex to study for his MA in Education and combining studying at university while running an organisation more than 4,000 miles away took a little adjusting to before really beginning to bear fruit.
"Balancing both at the start was a little difficult as I was in a proper academic setting for the first time. But this tough setting allowed me to gain new skills of multi-tasking and time management. By the end of the first term, I had made a schedule that allowed me time to study while also taking out time for me to work on Project Aawaaz.
"While I had been teaching for some time before joining Sussex, my course allowed me to get a grounding in the theories of education. Being exposed to academic work and readings allowed me to contextualise most of my learnings and experiences into figuring out how to become a better educator.
"Sussex also taught me how to manage my time better. Balancing, my readings, lectures and deadlines along with trying to work taught me a lot about how to multi task and manage time better."
Project Aawaaz has gone from strength to strength in under five years and looks set to continue its growth now Tarang is back in Delhi to put into practice everything he learnt at Sussex.
"We started off with just few government schools, but then realised that the demand for the kind of education we were offering was widespread. Since our start, we now have worked with over hundred government schools and many private schools as well.
"Somewhere during this phase, we also realised that education had become, well… just not fun – boring. In response we started taking workshops with students and teachers to try to make learning more fun which uses a lot of the things I learnt at my time at Sussex."
Graduating this month does not mean that Tarang is saying goodbye forever to Sussex, he hopes it might just be a brief farewell.
"I am currently back in India, and I am working with my organisations leveraging everything I learnt through my year at Sussex. I am currently developing curriculums and taking workshops for schools across India. I plan to apply for my PHD in the coming future, most probably in 2019, hopefully at Sussex."
---
You might also be interested in: