Most 14-year-old boys dream of becoming a famous footballer, scientist, car mechanic, fireman or blogger. But not Sussex politics student Solomon Curtis.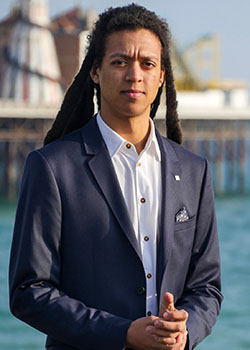 At that tender age, Solomon had joined the Labour Party and had already set his sights on becoming one of Britain's youngest MPs.
"I was growing up in Hastings, which at the time was the second most deprived seaside town in England. It had a great deal of inequality and even at that age I thought 'this is wrong'", said Solomon.
"But it was also a great time of change for me. I began meeting people who had similar values to me through the Brighton Labour Party."
Just four years later, and after impressing the party hierarchy, he was selected to fight his first seat - Wealden in rural East Sussex, in the 2015 General Election.
The chance of Solomon becoming the country's youngest MP were slim however as the then sitting MP, Charles Hendry, had a majority of more than 17,000 from the 2010 election.
While contesting the Wealden seat, Solomon, who had by then joined Sussex's politics department as a student, was also involved in Purna Sen's unsuccessful campaign to topple Brighton Pavilion MP Caroline Lucas.
Two years later and Ms Sen had moved on, leaving the way clear for Solomon to contest the same seat against the ever popular Ms Lucas.
Although Solomon didn't win, he did raise the Labour vote by almost 550, further endearing himself to the party leadership.
Solomon, who cites Sussex politics lecturer Dr Sue Collard as a political inspiration, originally had a place at Manchester University, but decided to attend Sussex after walking along the beach, and he's never looked back – or north!
He says: "Sussex is unique. It's very cosmopolitan, open-minded, accepting and tolerant. People want to make a positive change.
"I've been completely inspired by Sussex's history and its links with anti-apartheid.
"Any time I was in Mandela Hall I felt an overwhelming duty to be part of that legacy of politics and change."
Solomon refers to how the University and Students' Union established Mandela Scholarships in 1973 to enable black students from South Africa to study at Sussex, and the tradition still continues to this day.
And his political ambition is growing stronger. He's already established himself as one of the leading lights in Brighton Labour, and supported Jeremy Corbyn in both his party leadership elections.
His aim now is to move the party onto an 'even bigger and bolder' agenda, by launching a creative and artistic revolution to 'develop economic prosperity in a brand new way'.
Solomon said: "Technology, automation and robotics are developing at such a massive pace, and it's estimated that one third of jobs could be replaced by robots.
"Technology can bring greater job opportunities, although we must ensure we transform education and reskill people for the future."
But it's not all about politics for the 21-year old. Before the 2017 election, Solomon became Campaigns Manager for The Diana Award, co-ordinating anti-bullying campaigns as part of the late Princess's legacy.
"Working for The Diana Award is something I take great pride in and it's another way of me giving back and being part of a legacy of change", he adds.
With yet another possible election in the near future, Solomon's goal of becoming one of the country's youngest MP may well be within his political grasp.
---
You might also be interested in: