Sarah Daynes achieved her first in Art History through sheer determination, despite her life becoming unexpectedly complicated.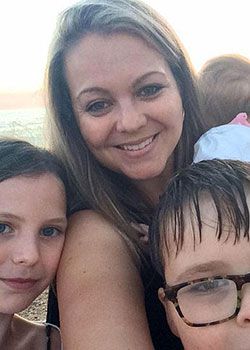 Sarah Daynes first applied to Sussex as a mature student.
She says, "I'm a Brightonian. I used to be a senior team manager at Legal & General but I took voluntary redundancy and started an access course in the evenings to get in to the University of Sussex.
"I needed to stay local as I've kids settled in schools here. I was lucky enough to get offers at both Brighton and Sussex universities but I really wanted to become a high achiever and I liked the prestige of Sussex so was quite set on the University of Sussex.
Sarah soon discovered that Art History was her passion.
"I actually started doing History with electives in Art History, but I soon realised the electives were my favourite part of the course. They were the highlight of my week and what I was better at, so I switched in year 2.
"I loved the Mediterranean Fantasies module in my third year. It focused on the interwar period – looking at different ideas of European Identity, such as Jewishness, the Nazis, but I chose to focus on the representations of women of the Ouled Naïl tribe in Algeria by European artists and through the colonial gaze."
Unfortunately, life during Sarah's course wasn't entirely straightforward.
"During first year my oldest (of five kids) was diagnosed with congenital heart disease and had to have heart surgery.
"In second year my marriage ended very traumatically and I also lost my home, and had to move house one day after giving birth to a new baby (unplanned but a source of joy).
"Third year, I started but I was not in the right head frame as I had depression and anxiety, so I took a year out and restarted later with a brand new baby in tow.
"Somehow I managed to juggle it all and I came out with a first! I'm very happy with that result!"
Despite everything, Sarah says university has been a great experience.
"The belief my tutors had in me really upheld me at difficult times. I knew that the tutors 'got me' and were behind me – Flora Dennis even intervened with the Student Finance company when I had to take a year out and restart my third year as they were initially unwilling to fund me, but her influence and persuasion meant I was able to finish the course.
"I have loved my time as a student at Sussex, I really felt very at home – even staying all night in the slide library the night before dissertation deadline with some of my peers, we all knuckled down together and took it in turns to be the one cheering us on when we felt despondent.
"I hugely underestimated the value of studying alongside people I am old enough to be the parent of! I have learnt a lot and hopefully have contributed to their learning too by sharing in our different perspectives and life experiences.
"I would recommend the University of Sussex in a heartbeat. The seminars are a wonderful environment to be curious and share ideas without fear of being 'wrong'. The lectures are such a blessing; to be able to sit and soak up all the expertise of people at the top of their area of knowledge was an indulgence I will really miss."
So what next for Sarah?
"I have accepted a place at Sussex to study a Masters in Art History and Museum Curating and plan to study beyond my Masters, too, so I am able to enter the work place at as high a position as possible so I can provide well for my family."