A Masters in Applied Linguistics is helping Sussex graduate Paul Atkins continue his global adventure.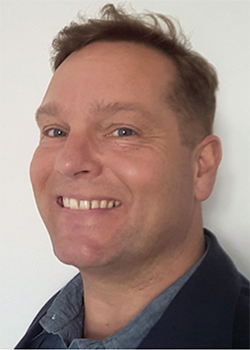 School never quite worked for mature student Paul, and higher education wasn't on the cards when he left school in Lewes. But a love of travel led him to discover a passion for teaching, and now a Masters degree in Applied Linguistics will help him and his partner continue their global adventure.
"I wasn't at all inspired by formal education, really, though I don't think I was particularly dim: at school I was mostly bored and disruptive. In fact, my first 18 years are noteworthy only for getting into trouble and generally being a pain to all around me."
He never seriously considered Higher Education, and after being sacked from an apprenticeship as a butcher he started to travel abroad, spending much of the next several years hitch-hiking around Europe and working on farms and campsites.
"Long before the internet and social media, it all felt very remote and exotic!"
While travelling, Edinburgh-born Paul found himself working in a huge variety of jobs to make ends meet, some weird and some just "mind-numbingly mundane": sardine-shoveller, water bailiff, fruit picker, wood machinist, nappy factory operative, tractor driver, bouncer, garden shed maker, forklift driver, mural painter, postroom worker, stone picker, lemon grove labourer, cartoonist, beer deliveryman.
But to keep the adventure going, he found he needed a more reliable line of work.
"In my mid-20s I realised I'd need a 'trade' of some sort to continue travelling, so I did a 4-week TEFL course in Hove. Thereafter I taught in Greece (where I met my partner, Claire) and the Czech Republic, then in Eastbourne, and upgraded my professional qualifications.
"In teaching I had inadvertently found a genuine vocation – ironic, really."
Paul continued to follow his interests, refusing to waste time on jobs that didn't interest him – which led him to leave teaching and start studying himself. He studied Countryside Management (practical conservation management) at Plumpton College and subsequently stayed to teach on the course.
"During my time at Plumpton I got a BSc in Ecology part-time from the University of Brighton, and realised how much I enjoyed studying. But then I ended up in academic management: very unsatisfying. So after 10 years I took redundancy, which handily paid the fees for a Masters at Sussex.
"Sussex is one of my local universities, and (crucially) it has a good, strong academic reputation. Claire and I wanted to travel extensively again and English teaching was an obvious vehicle for that, but I felt I needed a higher degree to offset my age (I'm 54). Also, I wanted to test myself academically.
"Applied Linguistics complemented my professional qualifications well, and I thought it would be interesting."
For his dissertation Paul looked at how the current discourse around refugees and asylum seekers compares with the way they were viewed in the past.
"I came to the course vaguely interested in language choices made below the level of consciousness, and I particularly enjoyed seminars on Critical Discourse Analysis and how language choices can reveal ideology. My supervisor, Dr Charlotte Taylor, and Dr Justyna Robinson introduced me to The Keep, the fantastic resource across the road from the Sussex campus which houses the Mass Observation project, and that was when I began to find a focus for research.
"In the end my dissertation looked at the Mass Observation diaries from 1939-40; specifically, how the diarists talked about refugees, how that compares to the current discourse of refugees and asylum seekers in the UK, and what insights that might provide."
So where next for Paul?
"Clutching my shiny new Masters Degree, I'm looking at teaching posts at universities and schools in Asia with the idea of taking a new job in a new country each year – I am also considering a doctorate, though, in which case Sussex would be my first choice – but the urge to travel is currently winning out…"
---
You might also be interested in: