Mahmoud Maina, 31, hopes to inspire a new generation of scientists in his native Nigeria.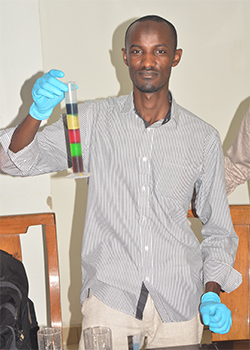 Mahmoud Maina's love of science started as a child thanks to the encouragement of his parents and in particular a book from his father called Simple Science.

But Mahmoud's science is far from simple – he arrived at Sussex in 2011 to study Cellular and Molecular Neuroscience and his work here on two important proteins involved in Alzheimer's disease has led to a new discovery and two published articles with more currently under review.

He says his time at Sussex has been life changing and given him an opportunity to touch other peoples' lives as well.
"I have learned how to do scientific research using cutting-edge tools that I never dreamt of using. It enabled me to attend conferences that are top in my area of research, allowed me to interact with top scientists in my field, meet many brilliant students."

Mahmoud has been inspired to promote science in his home country – joining the not-for-profit organisation TReND in Africa where he founded the Outreach Programme in 2013.

He organised a workshop to reinvigorate teachers' passion for science using simple and exciting experiments in the classroom and organised the first ever science festival in northern Nigeria in February 2017.
"Joining TReND allowed me to put into action what I learned from Sussex by running science outreach activities, targeting students, teachers, and the public to enhance public understanding of science and inspire the next generation of African scientists. I have been able to reach out to at least 600 students directly and thousands through the media, as well as donate over 50 microscopes to schools."

In October, Mahmoud was awarded the New Researcher Science Communication Award by the Royal Society of Biology with judges praising his innovation, creativity and his combination of "hands-on and high level approach".

Mahmoud's desire to promote science teaching in Nigeria faces several challenges including Boko Haram whose name literally translates as "Western education is forbidden".

The Islamic terror group attacked Mahmoud's former school in 2014, killing 59 students and burning down 24 buildings. The school has been closed ever since though efforts are underway to reopen it.

The first activity Mahmoud organised back in his homeland was during the peak of Boko Haram insurgency in Yobe State, a time when many schools were closed due to the fear of attack.
"I grew up in a society that harbours a high level of cultural and religious misconception about science, which I believe contributes to the development of extreme ideologies. As a Muslim Nigerian, people often frown at my passion for science, even though many Islamic teachings encourage Muslims to be at the forefront of scientific discoveries.
"Students lack science mentors and so never develop a genuine passion for science. I started science communication to contribute to stimulating a change to these problem. Many students we inspired are now studying science courses and I hope that in a few years, the hundreds we engaged will develop into brilliant scientists."
---
You might also be interested in: