Julia Pichl has proven love can overcome many barriers. Now she wants to help more people stuck in limbo like her partner.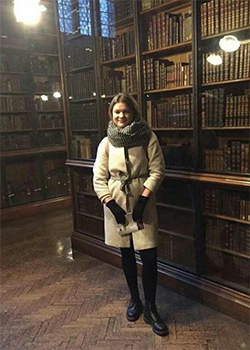 Studying abroad can be a challenge at the best of times, adapting to a new country while leaving loved ones far behind.
For Julia Pichl, that challenge was made even more difficult because of the uncertainty and restrictions placed upon her husband Javad Ganjkhanloo – an Iranian who arrived seeking refuge in Julia's homeland of Germany in 2015.
And there was the small matter of a wedding to organise as well.
Julia's negative experiences as an undergraduate in Germany meant that when it came to studying for MA, she decided she would look abroad instead.
Before moving to Brighton, she taught a language class for refugees where she met Javad – an outspoken atheist who was escaping corporal punishment and the threat of jail in Iran.
Julia had already planned to come to Sussex before she met Javad but he also encouraged her to go even though it would meant weeks apart from each other.
"Being apart wasn´t easy for us. Although we did have a long distance relationship in Germany as Javad was transferred to another camp three hours away from where I was shortly after we got together, being in the UK, while everything went wrong for him and his case in Germany, was very hard. Although we both didn´t really want to be apart for even more time, it seemed bearable and he really wanted me to get my degree. We skyped every day and he saved up money to pay for my plane tickets, so I could visit every 6 to 8 weeks."
Julia had worked for three years as a teacher and had a degree in pedagogy before coming to Sussex to study an MA in international education and development.
"Sussex has been such a great and valuable experience for me. I think my course managed to open my eyes to a lot of problems and issues I wasn´t aware of and completely changed the perspective of how I look at things now. Especially theories around feminism and development stood out to me and impacted the way I view the world now."
Now Julia will use the skills that she has developed to help young male refugees who find themselves in a similar limbo to Javad.
"I started working in youth welfare in October, where we look after young male refugees. This is the direction I had planned to go into, but hope to shift the focus of my work even more into pedagogy and pedagogical concepts in the future.
"Javad and I are slowly getting on our feet in Germany. We hope everything will be easier for us in the future. Bureaucracy in Germany, finding employment as a refugee and a place to life have been a real struggle. We both dream of having a family soon, while my husband wants to run his own business and I want to progress more in my career as well."
---
You might also be interested in: