A summer internship with top accountancy firm Price Waterhouse Cooper has led to a full-time job for Jon James, who is graduating with a first in Psychology with Neuroscience.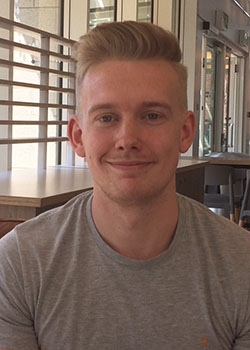 The 22-year-old faced stiff competition to be accepted on PwC's graduate training scheme, which will give him the opportunity to qualify as a chartered accountant.
While it wasn't the obvious route to take with his particular degree, Jon, who is also received a British Psychological Society award for being Sussex's highest performing psychology undergraduate, says it shows how the subject opens doors to a wide variety of areas.
"When I started my degree I thought I would become a clinical psychologist," he says. "But when I did a placement with the NHS I realised I wasn't right for the role. I like correct answers, I like statistics, whereas clinical psychology is mostly about questions."
After leaving his placement early, Jon was given the opportunity to work as a research technician for his tutor Dr Hans Crombag, whose research involves the neurobiology of behaviour.
He says: "It was great, because I got to see what it would be like to do a doctorate. I really liked carrying out the research and it's something I may do in the future."
It also helped him to gain top marks for his own undergraduate project, which showed how a high-fat diet can diminish cognitive skills and may be linked with Alzheimer's.
Jon, who attended Holy Trinity Secondary School in Crawley, admits he wasn't always a diligent student, saying: "It wasn't until Year 10 that I realised I'd have to revise to do well in my GCSEs. I thought I could just breeze through for the whole time. And then I really worked hard for my A levels.
"I wanted to come to Sussex because it had a good reputation and was one of the few places that did Psychology with Neuroscience. I thought Psychology would leave doors open to different jobs, and that's exactly what I've found."
Dr Crombag says: "Jon exemplifies what we mean by the consummate student; self-motivated, inquisitive, focused, hard-working and always looking for the question that would challenge him and/or his instructors to clarify the problem at hand.
"And critically, rather than preoccupying himself with the 'why' of what he was studying, and what benefit it would provide him in the future, he focused his energies on mastering the subject beyond the immediate requirements of his course assessments."
Jon will be attending the Graduation ceremony at the Brighton Centre on Friday, 21 July (1.30pm) with his parents, Gary and Jayne, and older sister Robyn.
---
You might also be interested in: