Angry with the corruption he saw growing up in Ghana, Isaac Anokye came to Sussex to study a Masters in how to combat it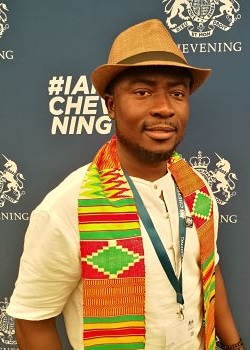 Isaac Anokye, 34, is graduating this month with a Masters in Corruption and Governance from the University of Sussex. He was inspired to come to Sussex having spent five years working in the Civil Service and local government in Ghana, and seeing how corruption robs the poorest and most deserving people of the resources they need.
"I saw how benefits were not trickling down to poor and vulnerable people, sometimes nothing reaching them at all, and I saw how the political godfathers control everything."
Isaac grew frustrated with seeing how resistant to change many of the established people within local government were. But it can be difficult to make a stand alone, he says, as this risks ostracisation.
Instead, Isaac had another idea.
"I decided enough was enough. I applied for, and won, the Foreign and Commonwealth Office's highly competitive Chevening scholarship. I researched all the different corruption courses and saw that the Masters at the University of Sussex is really unique.
"Studying at Sussex was brilliant, and it gave me the immediate idea to start a project in Ghana to give disabled people skills, rather than money, to improve their lives. Skills can't be siphoned off by the powers that be, in the way that money can. My project teaches disabled people skills in things like leatherwork so that they can make shoes and sandals to sell."
But Isaac's long term ambitions are even bigger.
"My Masters degree from the University of Sussex means I can return to Ghana with extra buoyancy, and be taken more seriously. I plan to join an organisation in civil society, so that I can hold government to account from the outside, working with the media, to bring about change. I want to see corruption in Ghana eradicated to improve the quality of life for Ghanaian people. And if I can accomplish that in Ghana, maybe I make it spread further across Africa too."
Isaac says his role model would be his maternal grandfather, Hubert Duku who was a police officer.
"I lived with him and he brought me up to appreciate values like honesty, integrity, respect and compassion for others all of which are traits he cherishes. Despite the fact that the police in Ghana are often derided as corrupt, he was always the epitome of a consummate professional and a proper gentleman."
---
You might also be interested in: