Gemma has just finished a PhD in Gender Studies, within the School of Media, Film and Music (MFM).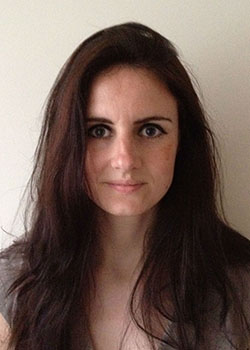 She says: "My reason for choosing gender studies and researching the culture of compulsory thinness was both personal and political.
"I am a feminist, but I am not immune to the extraordinary cultural pressures to be thin and how this can often be deployed as a tool to silence and disempower women in particular.
Gemma's background is in English literature, specialising in the work of Shakespeare, but she was always interested in gender theory.
She says: "I did English literature at the University of East Anglia, then an MA in Shakespeare at Bristol. My background is in literature, but it was always gender theory that interested me the most.
"After my MA I worked for charities in London, but I always had doctoral research at the back of my mind. I knew it would have a gender focus, I just wasn't sure what.
"I had been out of academia for a while and needed to get up to date again so I took a PG Cert in Gender, Sexuality, and Culture at Birkbeck in the evenings whilst still working during the day.
"From there I decided to pursue the PhD in Gender Studies at Sussex."
The University of Sussex is known for its research and teaching on gender, at both graduate and undergraduate level, which is what attracted Gemma to continue her studies here.
She says: "I'd heard good things about studying gender at Sussex from a previous supervisor who recommended it and others who'd studied there. Plus there was the lure of Brighton and the sea."
Gemma's research focused on Western cultural pressures on women to be thin, the emergence of pro-anorexia spaces online, and the contradictory response by the media.
As Gemma explains: "When pro-anorexia online spaces emerged at the end of the 20th century, they were (and still are) vilified by the mainstream media – the same media which perpetuates thinness as an ideal. Interrogating these contradictions was central to my research.
"My thesis argues that there is a blurred boundary between the mainstream espousal of thinness and the body image promoted in pro-ana culture. Vilifying and censoring these spaces is not the solution.
"The real problem lies in mainstream, 'legitimate' culture and the pro-ana phenomenon is tacit acknowledgement of this. I would certainly like this to be recognised by policy makers."
Dr Gemma Cobb is now putting together a book proposal based on her thesis, and is looking to build a career in academia.
She says: "I've really enjoyed my time at Sussex. My supervisors have been incredibly supportive. Their advice and guidance helped me see my project through to the end.
"The kindness, support, and friendship I found in the PhD community in MFM has been invaluable. I am also very grateful to the Doctoral School for funding this research.
"I would definitely recommend studying at Sussex. There is a vibrant research community and Brighton is a great place to live. I love living here and being by the sea."
---
You might also be interested in: