Mention mathematics to most primary school children and your words will be very often met with a universal grown. But this negativity is something Charlotte Morley is determined to change.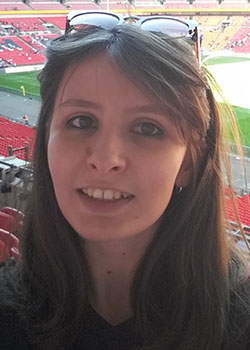 Charlotte will be graduating from Sussex with a 2:1 BSc (Hons) in Mathematics after completing her degree with a foundation year.
And just as she was inspired by firstly her 'mathsy' family, and then teachers in primary and secondary schools, she wants to pass on her amazing knowledge to a new generation of young mathematicians.
She says: "In September I'll be starting a Primary PGCE course at Sussex and will be specialising in Mathematics.
"I chose primary rather than secondary because it's really important to get them interested and confident in maths when they're small.
"As they get older, it's quite difficult to turn them round."
Charlotte knows exactly how to motivate and energise children after catching the maths bug at a very early age.
She explains: "I've been very lucky because I've had great teachers and my family is very mathsy.
"My primary school teachers allowed me to discover maths for myself, and in secondary I came to really love the subject.
"Now I want to inspire the younger ones and get them excited about it. There's so many different ways to teach maths and make it really fun."
Charlotte, born and bred in Eastbourne, lived there throughout her degree, and has set her heart on teaching in her home town after completing her one-year PGCE course.
She decided to attend Sussex, not because it was her closest university, but after visiting on an Open Day as it felt 'welcoming and homely'.
And Charlotte said she made a fantastic decision, adding: "The university is lovely, and I joined the perfect course at the perfect place.
"The Maths department is very welcoming and friendly, and the lecturers are brilliant."
Her degree years weren't all about studying though, and during her third year Charlotte became vice-president of SUMS (Sussex University Mathematics Society) and organised an annual ball at the Hilton Hotel, Brighton, which was a huge success.
---
You might also be interested in: