A Masters in International Marketing has brought Andrea Ontiveros closer to her dream career after moving to England from Mexico.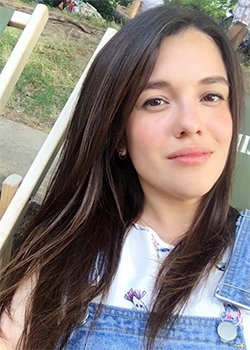 Andrea Ontiveros left her family in Mexico to move to England to study International Marketing. Now she is graduating from the University of Sussex with a top award under her belt for the highest mark in a research project.
Andrea says that she was attracted to a career where ideas are constantly reinvented.
"Although marketing is all about creativity and innovation, I think campaigns are no longer developed as before. The idea of the ad man throwing a ball against the wall while ideas come no longer exists.
"Technology has changed everything, and everything is about data. That is why, as marketers, we need to be aware of future trends."
Studying for a Master's at Sussex has moved Andrea closer to her dream career.
"As a student of a business school, I would say everything is about networking and being competitive. And is not about just having a degree, but is about being interested in learning, growing, creating relationships and being up to date as a professional.
"Studying a Masters can give a better scope of what do you want to do and how do you want to do it."
Moving halfway across the world of course had its challenges but Andrea's family has made it easier.
"My beloved parents in Mexico are the most comprehensive, generous and loving persons in the world. They have supported me with literally everything in my life, and my two awesome sisters have been always by my side, caring for me and cheering me on.
"And of course, my own little family who left everything in Mexico to come here with me to England, my adored husband and best friend, who has been my biggest support in this adventure, full of challenges, learning and fun!"
---
You might also be interested in: