Aisling, 22, describes how she has defied a life-threatening heart condition to become the first person in her family to attend university, graduating with a BA (Hons) in History.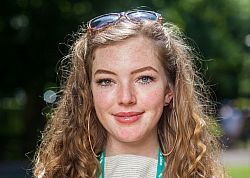 Despite suffering from pulmonary hypertension, which means she must constantly have medication pumped into her heart through a tube, Aisling has become the first person in her family to attend university.
She says: "I'm the first person on my mum's side of the family to attend university.
"My mum has been my main role model throughout my life and I really wouldn't have got this far without her! She is the most intelligent person I know and instilled a love of learning in me from a young age.
"When I was growing up university wasn't really talked about and I guess I always saw going to university as a thing that other people did. It wasn't really until I was encouraged to apply to university during my A-levels that I thought about it for the first time.
"I think a lot of people internalise this belief that university isn't an option for them but I strongly believe that university education should be a right for everyone. I come from a single parent low income family and I have a physical disability so getting to university wasn't exactly straightforward!
"But I would encourage everyone to consider going to university and becoming a first generation scholar like me. I am so grateful to have had the opportunity to study at Sussex and I will treasure my time here forever.
"I was actually accepted at other universities such as Warwick and Kent but when it came down to it I felt Sussex was the right choice for me. I absolutely loved the look of the history course and the ethos of the department as a whole.
"Sussex impressed me with its amazing facilities and fantastic Student's Union with its vibrant array of societies, sports clubs and campaigns.
"Although I grew up in Brighton I realised that I wasn't ready to leave behind the beautiful city, sea and countryside that it has to offer and luckily enough I didn't have to leave as there was a great university right on my doorstep!"
It is a love of traditional Irish music that inspired Aisling to study history and to look at the many ways it can be told. She has been awarded an outstanding contribution to the history department on the back of her work for the student union and also her support of traditional music.
"I play the harp and the concertina and I sing traditional Irish songs. My mum is an Irish musician and she runs Irish music sessions in Brighton. It is a huge part of my identity and is something that has always been an important part of my life.
"The songs and the music have been passed down to me from my mum through an oral tradition and I learn the music by ear (not from sheet music). I think traditional and folk music is important because it has such a rich history. The songs could be a way for people to tell their story and understand the world around them.
"I think it is also important to recognise that singing could give a voice to people who may have been illiterate. If the songs and the music hadn't have been passed down the way that they have then these voices and experiences could have easily been forgotten and been missing from history."
Aisling's Irish heritage has been a focus throughout her academic career.
"My dissertation explored the relationship between conflict, trauma and emigration and its effect on memory and narrative construction. I focused on the conflict in Northern Ireland and I was lucky enough to interview people who lived there during the time and have since emigrated to England.
"The Mass Observation archive at Sussex has interested me throughout my time studying here and what it really hammered home to me is the importance of personal histories and people being able to tell their own story. One of the most important, and I believe most interesting parts of studying and writing history is when you get to listen to peoples own stories and histories."
And Aisling is not looking to leave the University of Sussex any time soon.
"My time at Sussex has been a roller-coaster ride and I have learnt more than I could ever had anticipated! I feel that I have really found the area and approach to history that I am most passionate about and want to study further.
"Dr Lucy Robinson from the history department has inspired me so much and has taught me why history matters. But more than that, I have learnt that women have a right to claim a space in the academic world and that our voices and contribution to the telling and studying of history are vital.
"I have made lifelong friends thanks to all the opportunities and experiences that Sussex has offered me. My Fresher's week seems like only yesterday and I can't believe how quickly the time has gone!
"Although I grew up in Brighton I have experienced it from a totally different perspective as a student and I still love it so much! I feel so lucky to have had the opportunity to go to university, an opportunity that others in my family didn't have.
"Sussex is such a wonderful place, I would recommend it to everyone! It has everything – great teaching and research, amazing facilities, an amazing Students' Union (who doesn't love East Slope Bar?!) and a beautiful campus! Brighton is a vibrant city with the beach and the countryside on your doorstep!
"I was elected as a student rep in my first term where I represented first year history students at union council and helped to improve their academic experience. In my third year I ran to be the Society and Citizenship Officer in the Students' Union and was elected so I am now working as a full time officer in the Students' Union!
"So two days after I handed in my dissertation I started my job at the Students' Union which has been so amazing! I will be working as the Society and Citizenship Officer for the next year which I am really happy about as it means I get to stick around at Sussex for a while yet!
"After that I would really really love to do a Masters course in history. I would love to learn more about oral history and community history and take the research that I did for my dissertation further."
---
You might also be interested in: