Dhaba displays began in 2010. They are curated, produced and installed several times a year by students and staff in the School of Global Studies to showcase the diverse research, teaching and learning interests and expertise of our community.
Get in touch if you'd like to create a display for the Dhaba
Current display
Community life for the Ayuujk Ja'ay, Oaxaca, Mexico
Carmen Leon Himmelstein
Between October 2013 and September 2014, I lived with the Ayuujk ja'ay, or Mixes, in the north east mountains of the south of Oaxaca, Mexico, as part of my doctoral fieldwork looking at the links between social protection and migration.

One of the towns that I visited was Tamazulapam del Espiritu Santo (Tama) located 2,040 metres above sea level. There I met the photographer Conrado Pérez Rosas, himself from Tama, and his pictures here give some idea of the magic of this place.
The Mixes, despite the more than 500 years of colonial domination, have been able to preserve a socio-cultural and political life of their own. Today, Tama is known in the Mixe region by the migration of its inhabitants to the USA and to other parts within Mexico where Tama people have set up taquerias (taco restaurants). Like other indigenous groups, they seek to document and show their life and thought through the help of technological tools such as photography with the aim to strengthen and revive their community identity.
This photographic exhibition seeks to show the importance that Tama and its people give to the continuation of their culture. This exhibition is also organised to raise funds for the reconstruction of Mexican communities following the September, 2017 earthquakes.
Further information of the 'Rise Mexico' campaign:
https://www.justgiving.com/crowdfunding/helpearthquakemexico
About the photographer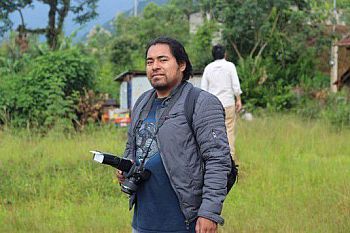 Conrado Pérez Rosas was born on December 10, 1986, in the community of Tamazulapam del Espirito Santo Mixe, which is located in the northeast mountains of the state of Oaxaca. He is a son of peasants, Don Matías Pérez Rosas and Pascuala Rosas Manuela.
His childhood was spent between the working in countryside and community life, which allowed him to live intimately with nature. From childhood he felt the need to contribute to his community but without even knowing how or when this would happen. He lived his childhood like any other child of the community between games and the work in the fields.
During his childhood he had his first experience with photography with the visit of a photographer to the community, which gave him a fascination for images. He concluded his basic studies in his community, and later moved to Mexico City where he took his first photography course at the National School of Photography (ENAF) and where he had his first collective exhibition. After having spent some years in Mexico City, economic problems meant that he decided to return to his community where he began to show his first works.
Past displays
2017
Connecting the Margin: Work, Life & Migration in an Indian Craft Industry

This photo exhibition focuses on everyday life in a Muslim woodworking industry in the North-Indian city of Saharanpur. The ethnographic research, among primarily male craftworkers, was conducted over 1 ½ years and involved participating in everyday life, learning woodwork, living and migrating with craftspeople. Muslims are particularly present in craft industries within the region, including textiles and embroidery, brass and ironworking, woodcarving and furniture making. Many contemporary representations of these communities focus on decline, marginalisation or backwardness. The exhibition challenges these narratives by attending to the skills, connections and networks that constitute everyday life. Connections that are carved out in the context of craftworking histories, sociality, supply chains, religious identity, migration and mobility.
This connectedness plays out in complex ways. Being embedded in global supply chains means that everyday forms of sociality constantly intersect with production and labour relations. Connections centred on religious identity create a sense of community that bridges 'local' and 'national' to produce forms of cosmopolitanism and a sense of wider belonging. Craftworkers have forged complex networks of migration that stretch to every corner of India and, increasingly, to the Middle East.
However, this is not a celebratory account of connectedness. Networks that may be enthused as productive of cosmopolitanism or transformative social imaginaries, also embody dualities which enable global chains of supply to maintain production through socially embedded networks. Likewise, migration may involve the crossing of boundaries, yet is not necessarily just about change, rupture, social transformation or an altered imaginary. Rather, it is also constituted through continuity at the material, personal and emotive level. Continuities provide comfort and familiarity but also enable the imaginations of migrants to be subverted, co-opted, influenced and structured to meet the demands of labour markets both domestically and abroad.
Tom Chambers
Re:development
Voices, Cyanotypes & Writings from The Green Backyard
Jessie Brennan
A derelict site in Peterborough's city centre was transformed into a vibrant community growing project by volunteers, yet for years was under threat of redevelopment. While that threat was ongoing, the voices that resist it were stronger still: on 27 January 2017, after a lengthy – but successful – community resistance to a proposed development, the land is finally safeguarded. Artist Jessie Brennan shares the voices of The Green Backyard – of those defending their right to the city.
Re:development is an outcome in the form of a book (selected pages of which are displayed here for the Dhaba) of a collaboration between Jessie and the people who use and care for The Green Backyard. During Jessie's time in residence in Peterborough, they questioned the capitalist logic of the site's proposed development by its owner, the City Council. Instead they offered alternative evidence for the current social use and value of the land, in the form of a visual and audio archive of more than 100 cyanotypes (camera-less photographs) and over 100 oral recordings (voices of The Green Backyard), plus a large-scale installation in the garden. The process raised many questions about what this community – and many other volunteer-run projects – stand to lose if the land were to be lost to development.
The Green Backyard is situated on a 2.3-acre strip of public land in Peterborough, co-founded in 2009 by University of Sussex Geography graduate Sophie Antonelli and her father Renny.
Jessie Brennan is a London-based artist and author of the new book Re:development, about The Green Backyard in Peterborough. Her year-long residency with arts organisation Metal, in collaboration with The Green Backyard, is supported by Arts Council England, Seedbed Trust, Peterborough Presents, and the Bartlett, UCL (through the artist's Bartlett Visiting Research Fellowship, 2016).
Contributing authors include: Sophie Antonelli (activist; co-founder of The Green Backyard); Dr. Alexandre Apsan Frediani (researcher of development practice; Lecturer at the Bartlett Development Planning Unit, UCL); Dr. Robert Biel (carpenter-historian; Senior Lecturer at the Bartlett Development Planning Unit, UCL); Dougald Hine (social artist, writer and thinker; co-founder of Dark Mountain); Prof. Jane Holder (Professor of Environmental Law, UCL); Anna Minton (writer; Co-Director of UEL's MRes course, Reading the Neoliberal City); Dr. Barbara Penner (architectural historian; Senior Lecturer at the Bartlett School of Architecture, UCL); Prof. Jane Rendell (artist-writer; Professor of Architecture and Art, and Director of History and Theory at the Bartlett School of Architecture); Prof. Ben Rogaly (geographer; Professor of Geography, University of Sussex); and Dr. Maria Walsh (writer and art critic; Reader in Artists' Moving Image at Chelsea College of Arts, University of the Arts London).
Copies of the book are available to read in the Dhaba café for the duration of the exhibition. The book may also be ordered online or from several London bookshops: Jessie Brennan, Re:development: Voices, Cyanotypes & Writings from The Green Backyard (London: Silent Grid, 2016).
Read the chapter by Sussex Geographer Ben Rogaly
Listen to the oral recordings – part of the artwork Inside The Green Backyard (Opportunity Area), 2015–16, which was exhibited in RESIDENT at Peterborough City Gallery & Museum (22 July – 28 August 2016).
Editions of cyanotypes are available from dalla Rosa Gallery.
Further information about the project can be found here: Saving Peterborough's Green Backyard: 'It's a point of stillness in a crazy world'
Precarious Migration: Voices of Undocumented Cambodian Migrants
In June 2014 the Thai military expelled all undocumented migrants from Thailand. Over the following two weeks some 200,000 Cambodian migrants fled home. This comic gives voice to the experiences of migrants caught up in that event. In the comic we share the stories of migrants and their families – the dangerous journeys that are made to reach Thailand, the working conditions, and the hopes and fears of those who stay at home looking after children and the household. We have translated the comic into Khmer and shared with villagers whose stories are told. We have also translated into Thai and shared with NGOs working for migrants rights in Thailand. All three language versions are available to download at: migratingoutofpoverty.dfid.gov.uk/publications/multimedia
Have a read of the comic produced from research transcripts talking with undocumented Cambodian migrants working in Thailand. In the Dhaba now.
Robert Nurick, Migrating out of Poverty Research Programme Consortium
2016
Uppalagarh: An Indian tribal village 30 years on
In 1986 I spent a year living with the Girasia in a remote village in the Aravalli hills in southern Rajasthan, India, as part of my doctoral research on social and gender differences between caste and tribal communities. During that time I formed close bonds with a number of women and children and when I left I did not know when I would return. I went on to write up my research as a thesis and then a book (Identity, Gender and Poverty: new perspectives on caste and tribe in Rajasthan; 1997) and subsequently went on to work on childbirth, maternal health and healing in the urban slums and villages surrounding Jaipur city.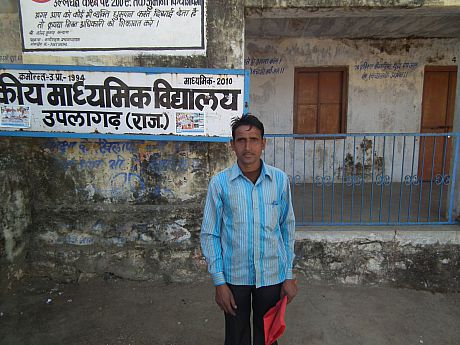 Last December (2015), I finally returned to Uppalagarh and the pictures here give some idea of the changes that I saw and the excitement I felt of reconnecting with the people I had lived with 30 years ago. I travelled with my eldest son, Arjun, two Indian colleagues and carried a set of photographs I had taken in 1986.
I saw young men who had been school children, a few of whom were employed as local government development workers; older women who introduced me to their grandchildren; I heard news of others whom I had been close to but had died some time ago. I saw great technological development in the form of solar lighting, irrigation and computers, yet the computers had no internet and the mobile signal could only be found on a nearby hilltop (with phones used instead to play Rajasthani folk music). Both the Girasia and their gods lived in better constructed accommodation. Minibuses and motorbikes were now used to journey to the market in place of a long walk through the jungle; government outposts had proliferated. Women were now able to get to the hospital to give birth. Yet the village appeared inaccessible and sparsely inhabited as it had in the past. The families remained close knit observing gender norms as they did in 1986 - surviving together and only partially partaking in a world so rapidly changing around them.
Maya Unnithan, Professor of Social and Medical Anthropology
Tochan Refugee Center, Mexico City
These images explore personal identity and making meaning whilst undergoing a process of transformation.
They show the day-by-day activities of Central Americans living at the refugee center 'Tochan' in Mexico City. Tochan, which means "Our House" in Nahuatl, offers medium-term emergency housing, as well as accompaniment and other social services for mostly Central American migrants. Tochan does not have an open door policy and receives migrants through formal agreements with partner organizations. Stay is normally limited to no more than 3 months and is usually reserved for males.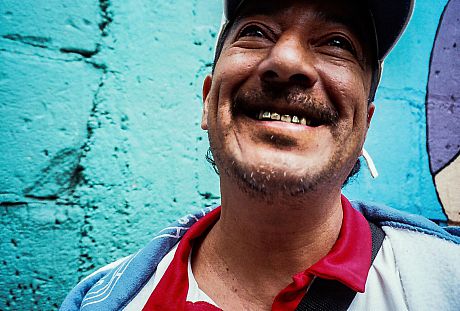 During my time volunteering there we spent afternoons playing football, hours watching Mexican cartoons and novellas, as well as plenty of time simply allowing time to pass by. Boredom was the fate of the many who were unable to find work in the city. The majority of individuals I met had left their countries, predominately El Salvador and Honduras, because of problems with gangs. Some had decided to stay in Mexico or were trying to make it to the U.S., others were unsure.
The shelter helped to create a sense of community for its residents by eating together, doing chores, cooking and cleaning, as well as taking steps forward in seeking asylum. Other factors such as humour and telling stories were also imperative for bringing ease and enjoyment to the atmosphere and helping people look at their situations with a new perspective. Religion provided a sense of hope and guidance for some, whilst supporting football teams or playing music from their home countries did the same for others.
The images were taken over the course of 6 months in 2015. The current location of those photographed is unknown.
Links
Frankie Mills
Anthropology Year 3
Yiwu: trade in a Chinese International City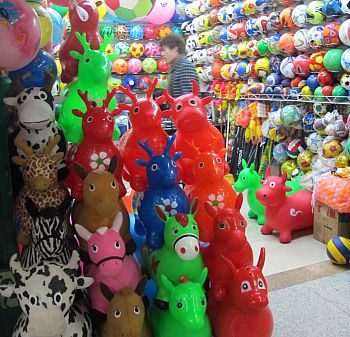 Yiwu, a city of 2 million in China's commercially vibrant Zhejiang province, is known by traders from countries including Afghanistan and Syria, Ukraine and Mexico, and the UK and Russia as the world's hub for the wholesale of 'small commodities'. These commodities range from goods for pound-shops to toys, umbrellas, and shoes, and are exported to more than 200 countries across the world. Indeed, approximately 1,500 containers leave Yiwu city each day. When Yiwu markets close for the day at 16:30, traders disperse to the hundreds of hotels and restaurants in the city: there are several Syrian, Turkish, Uzbek, Afghan, Thai, Russian, and 'Muslim' restaurants (often Chinese Hui or Uyghur) operating in the city, which provide spaces for the international visitors to socialise, conduct business, and share information. The photographs in this exhibition show that trade is not simply a matter of buying and selling: it is also a form of sociality predicated on the mutual recognition of value and people.
The photographs were taken by Diana Ibanez-Tirado in Yiwu City in 2013, when she was accompanying Magnus Marsden in his fieldwork for the project "Islam, trade and citizenship on the frontiers of Central and South Asia" funded by the Leverhulme Trust. This project centred its attention on networks of traders from Afghan background living and working in Eurasia. From 2015, Magnus Marsden became the Principal Investigator of the subsequent project 'Yiwu: Trust, Global Traders, and Commodities', funded by an Advanced Grant of the European Research Council. This project is expected to last five years and it will investigate diverse trading networks, diasporas, and communities present in Yiwu; the nature of capitalism and the trade systems currently found in this commercial city, and the diverse spaces, values, modes of communication, and practices underpinning cross-cultural trading relations in Yiwu and its connected outposts. The team members include: Diana Ibanez-Tirado, Filippo Osella and Marina Marouda (University of Sussex); Huaichuan Rui (Royal Holloway, University of London); Paul Anderson and Caroline Humphrey (University of Cambridge); Vera Skvirskaja (University of Copenhagen).
Further information:
2015
Do I Look Like I need Help?
"These snapshots from field research mirror my everyday life in Aidland and the everyday lives of people crossing my path. They mirror the contrast in the comfort of privileged aid workers and the agency and resourcefulness of privileged and unprivileged locals."
Dr Astrid Jamar, DFID Researcher at the University of Edinburgh (former PhD student in Development Studies, University of Sussex).
Further information:
MoVE Method:Visual:Explore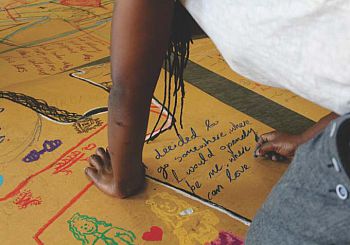 MoVE focuses on the development ofvisual and other involved methodologies to research the lived experiences of migrants in southern Africa. Our approach aims to integrate social action with research, and involves collaboration with migrant participants, existing social movements, qualified facilitators and trainers, and research students engaged in participatory research methods. This work includes the study and use of visual methods - including photography, narrative writing, participatory theatre, collage - and other arts-based approaches in the process of producing, analysing, and disseminating research data. These approaches to research facilitate story-telling and self-study, incorporating various auto ethnographic approaches. Central areas of investigation relate to issues of social justice in relation to migration, with a specific focus on sexuality, gender, health, and policy.
Since 2006, the African Centre for Migration & Society (ACMS) has explored the use of creative methodologies with more traditional qualitative research methods in social science research.These projects engage in the co-production of knowledge through the development of partnerships with migrant groups; a central focus is the involvement of under-represented migrant groups that face multiple vulnerabilities to collectively develop methods that ensure that their voices are heard and seen.
To date, projects have been conducted with migrant men, women and transgender persons engaged in the sex industry, informal settlement residents, inner-city migrants and hostel residents. These projects have culminated in a range of research and advocacy outputs, including community-based exhibitions, public exhibitions, engagement with officials and outreach into multi-media forums.
Further information:
"Some of our friends have a really hard time expressing themselves but with a photo it's a big deal that they were able to tell a story"
(Krishna, a co-researcher)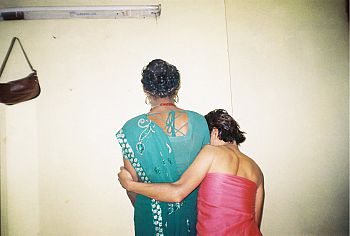 The photographs exhibited here were never intended for display. They were taken in the course of a collaborative research project aimed at exploring everyday experiences of rights, belonging, community, care and affect among people living in Kathmandu, Nepal who experience their gender and/or sexuality in non-heteronormative terms. Aimed at exploring perceptions of embodiment, space, and intimacy the photographic project was undertaken by a group of approximately thirty co-researchers, all of who took an array of images using basic point-and-shoot cameras aimed at capturing representations of their life-worlds. The photographs were employed in a research method of co-assemblage – grouped together in the course of discussion groups between the photographers with the aim of composing visual narratives concerning quotidian experiences of sexual and gender difference. The photographs were intended in these terms, as a device to open up discussion. As a means to share an aspect of the research experience, however, we are exhibiting some of the photographs while fuller representation of the work can be found at the project's web-site: www.creative-nepal.com
The project arose out of research undertaken as a part of the Institute of Development Studies' programme on Sexuality, Poverty and Law, supported by the Department for International Development. The principal organizational collaborator in Nepal was the Blue Diamond Society (BDS), a Non-Governmental Organization supporting LGBT rights.
Since the time of the research Nepal has recently suffered two cataclysmic earthquakes, which have directly affected many of the co-researchers. Social concerns emerging out of the earthquake touch on many of the themes explored in the research project as people and communities across the country suffer from death, loss and damage. The level of devastation in Nepal is huge. Sadly some members of BDS have sadly lost their lives and many others, especially in rural areas, have lost their homes. BDS' facilities have been damaged, impacting on ongoing livelihood programmes and care and support services for people living with HIV. Many sexual and gender minority peoples were already living in precarious circumstances, often having been excluded from the material support of kinship networks on grounds of sexual and gender difference. Stigma can preclude equal treatment in hospitals and relief services, especially for those who are visibly gender non-conforming. In the context of a greater tragedy affecting the whole country the needs of sexual and gender minority persons are often lost. And yet it is well know from experiences elsewhere that humanitarian disasters often accent social divides and in the long-term compound the vulnerability and precarity of the most socially marginal. With these concerns in mind BDS has set-up an earthquake relief fund. Any donations will make a big difference. Visit: http://www.bds.org.np/donate-us/ or make a donation at the Global Studies Office.
Paul Boyce
Marking fifty years of Anthropology at Sussex

Sussex's Anthropology department was rated fifth in the UK for internationally recognised research in the most recent Research Assessment Exercise. It was also ranked third for student satisfaction in the 2014 National Student Survey. This display is a collection of images from researchers from the Anthropology department. The images cover research into issues such as austerity and bailouts in contemporary Greece, migration pathways, the aftermath of the genocide in Rwanda, religion and divorce in Malta, and nuclear developments and resistance in India and the department's role in the historic School of African and Asian Studies, AFRAS.
See also
2014
Adyge-Abkhaz: Exile, Diaspora, Return

Abkhaz and Adyge (Circassians) are among the autochthonous people of the Caucasus, a land famous for its ethnic and language diversity. They were deported from their homeland in the Caucasus as a result of long-lasting wars and continuing clashes with the Russian military forces. During their mass exodus in 1864 and ensuing years, the ethnically related Ubykh, Abkhaz and Adyge were deported together and settled in different parts of the Ottoman Empire. Today the majority of the Adyge-Abkhaz people live in Turkey, and also in Jordan, Israel, Syria and Europe. The Adyge and Abkhaz diaspora established first links with the Caucasus in 1970s. The last decade has been marked with increased transnationalism of the Adyge-Abkhaz and frequent interaction between the diaspora and the homeland in a variety of events. This exhibition includes some archival photos from the exile period and from the first visits to the ancestral homeland provided for my use by Abkhaz archivist Anzor Agumaa, historian Ruslan Gojba and Shamba Zerrin Kobash; and a few others who shared their family photos from the diaspora. However, majority of the images are from my PhD fieldwork that took place in 2011-2013 in a variety of diaspora settlements in Turkey as well as in Adygeya and Abkhazia.
Jade Cemre Erciyes
Pathways of Women's Empowerment and Pathways Learning Platform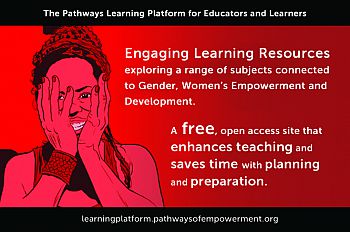 This exhibition focuses on the outputs of the Pathways of Women's Empowerment's programme, a global consortium of activists, practitioners and academics who uncovered a multitude of stories around the journeys of women's empowerment. Pathways is directed by Andrea Cornwall, Head of the School of Global Studies. The exhibition also offers a glimpse into the Pathways Learning Platform, launched on International Women's Day 2014. This exciting new learning platform transforms these stories into resources which can be used for teaching from secondary school to university levels as well as in workshop and training situations. The site also speaks directly to students, who can access the learning materials independently. The Learning Platform is the result of a research dissemination project aimed to inspire and influence the next generation of policy makers, activists and academics around issues of gender equality.
See also: the Pathways Learning Platform
Revealed Cities

Revealed Cities captures glimpses of the day-to-day lives of twelve domestic workers in Salvador, Bahia, Brazil. Their images show transitional places, interstices between the contexts of their work and home lives that portray the changing landscapes of Salvador as an urban space. The exhibition grew out of a participatory research project focused on understanding the history, strategies and dynamics of the Brazilian domestic workers' movement conducted by the Nucleus for Interdisciplinary Studies on Women (NEIM) of the Federal University of Bahia, as part of the Pathways of Women's Empowerment research consortium. The project used a range of research strategies, including training of a group of domestic workers as photographers. Through a series of workshops, initially using disposable cameras, these women came to find in photography a powerful new language with which to explore their situations and for creative self-expression. Revealed Cities was launched in a prestigious Salvador art gallery, revealing to the gallery-visiting public the otherwise invisible lives of the women who clean their homes.

Andrea Cornwall
Quotes
Ana Cristina, age 28
"The photo has given me a broader view of things and encouraged me in the writing of my poetry. It is a composition that shows the day-to-day life. Sometimes we take photo of a place and when we come back the next day is no longer the same. The photo brings me a thrill".

Ana Flávia, age 24
"The photography has contributed a lot in my ability to stop and look. Before the course, I lived without paying to much attention to details. Today, I stop, look and analyse a bit more"
More quotes
Janine, age 16
"The photography course awakened my desire to record things in images, about which I had not yet thought. As I need to work and and study, I have no time to be dedicated as I would like to, but I want to, increasingly, associate my activities with the possibility of taking pictures".
Cida, age 40
"Taking pictures became a pleasurable activity for me. Among the things I like most shooting is my environment: my house, the people I see oftenly, my day-to-day life".

Fátima Maria, age 46
"The moments in the photography course were always pleasant moments, when we could relax and talk about our lives and experiences, so that we could transpose it to images".

Francislene, age 34
"The photography has increased my desire to see other places. It is a way to register our experiences and living moments. I want to continue investing in the knowledge with photographic images, to make it better at each time".
Georgina, age 42
"This Photography course of was a very nice, because it was a way that I had to communicate more with my people. It is a new path that we are following and that is very important".

Gildália, age 46
"Joining the Photography course was very interesting, because thinking about my pictures, I enlarged my vision of things around me, in relation to what I express through my photos. For me, a picture is much more than pressing a button... You must do it with your heart, and I put a lot of feeling in my images".
Maria de Fátima, age 30
"My meeting with the photography was good, because for me the picture was not too much important, and now I realize that it has several ways to be made, paths, which made it more intersting. Photography requests donation; it is not for nothing. I learned to see the best in my everyday thinkings and also about the image and its importance".

Marta, age 40
"The picture shows not only the material part, but also the soul of the place you photograph. And that is what I think people see the photos: the essence of things around us, from the glimpse of the photographer. That's why taking the course was so exciting for me".
Milca, age 39
"I always liked to take pictures, of everything that I see. This was an opportunity for domestic workers to have a different view about the world through photography. I will continue my training in this area and intend to keep on increasingly identifying my work with the photography".

Neusa, age 44
"Taking pictures has changed my life. Through this course I had my first contact with the photography. The coolest thing was learning to focus more on things around me and then see the result in the images I do".
2013
Everyday Life in Communist Albania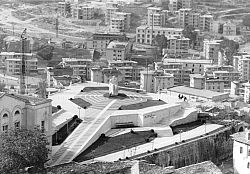 Everyday life in communist Albania is a multi-method and multi-sited research project carried out by Prof. Russell King (PI) and Dr Julie Vullnetari (RF), and funded by the Leverhulme Trust. This display is based on photographs taken during fieldwork or extracted from archives, as part of the three-year investigation. The research project seeks to understand communist/socialist society through the lens of everyday life, using Albania as a case study. It is built around answering one simple, broad question: What was everyday life really like under the regime of Enver Hoxha in Albania? The setting of Albania is unique given that during its phase of 'actually existing socialism' (cf. Verdery 1996) the country's government followed a very orthodox Stalinist path of development, which swung to the other extreme of free-for-all capitalism after the regime's demise in the early 1990s.
Russell King and Julie Vullnetari
Field research

This exhibition portrays the work of two members of Global Studies faculty as they undertake research to explore the implementation and impacts of the Mahatma Gandhi National Rural Employment Guarantee Act (MGNREGA), an unprecedented state employment guarantee scheme that aims to benefit millions of rural households across India.
Grace Carswell and Geert De Neve
VAMP

Stills from a film, Save us from Saviours, that tells the story of an Indian sex worker collective, VAMP, whose mission is to change society so as to end the stigma, violence and exclusion experienced by sex workers.
Andrea Cornwall

Wall Maps

The display of wall maps from the University of Sussex Map Library provided a snapshot of a mid-20th century world as represented by European and North American educational cartographers.
Evelyn Dodds & Alan Lester

Places for All

Places for All is a multi-media investigation in an English city. This display of work by photographer Liz Hingley is part of a research project based in Peterborough led by Sussex geographer Ben Rogaly. It explores the multiple and diverse place attachments and work and migration histories of people of all ethnic backgrounds, from people born in the city to those who arrived very recently.
Egypt

Photographs taken on a Geography field class in 2012 by Geography student Zara Sumpton
2012

Moving on?

Images investigating social mobility and social class in an inner London locality.
Migration PhD student Debbie Humphry
Western Sahara

Photographic display. International Development student Nina Taugbol

Images taken on 1/12/11 by and about the School to celebrate the University's 50th anniversary

A multimedia graphic novel on the recent conflict in Sri Lanka. Anthropology PhD student Benjamin Dix
2011

Target TB aims to stop vulnerable people in Africa and Asia dying from TB by improving access to information, treatment and care and support. The UK office is in Brighton and Anthropologist Maya Unnithan is a trustee.
Life on a Hand

This exhibition consisted of images of jewellery describing narratives embedded in ideas of class, culture, taste and beauty. Anthropology PhD student Barbara Holler.
Paintings

Iris Sanchez
2010

Global Studies around the world

Opening display showcasing the diverse nature of the School and its activities