The Dhaba, the Global Studies cafe, provides a great exhibition space for displays relevant to the work of the School.
Current display
Marking fifty years of Anthropology at Sussex

Sussex's Anthropology department was rated fifth in the UK for internationally recognised research in the most recent Research Assessment Exercise. It was also ranked third for student satisfaction in the 2014 National Student Survey. This display is a collection of images from researchers from the Anthropology department. The images cover research into issues such as austerity and bailouts in contemporary Greece, migration pathways, the aftermath of the genocide in Rwanda, religion and divorce in Malta, and nuclear developments and resistance in India and the department's role in the historic School of African and Asian Studies, AFRAS.
See also
Flickr: 50 Years of Anthropology @ Sussex
Past displays
2014
Adyge-Abkhaz: Exile, Diaspora, Return

Abkhaz and Adyge (Circassians) are among the autochthonous people of the Caucasus, a land famous for its ethnic and language diversity. They were deported from their homeland in the Caucasus as a result of long-lasting wars and continuing clashes with the Russian military forces. During their mass exodus in 1864 and ensuing years, the ethnically related Ubykh, Abkhaz and Adyge were deported together and settled in different parts of the Ottoman Empire. Today the majority of the Adyge-Abkhaz people live in Turkey, and also in Jordan, Israel, Syria and Europe. The Adyge and Abkhaz diaspora established first links with the Caucasus in 1970s. The last decade has been marked with increased transnationalism of the Adyge-Abkhaz and frequent interaction between the diaspora and the homeland in a variety of events. This exhibition includes some archival photos from the exile period and from the first visits to the ancestral homeland provided for my use by Abkhaz archivist Anzor Agumaa, historian Ruslan Gojba and Shamba Zerrin Kobash; and a few others who shared their family photos from the diaspora. However, majority of the images are from my PhD fieldwork that took place in 2011-2013 in a variety of diaspora settlements in Turkey as well as in Adygeya and Abkhazia.
Jade Cemre Erciyes
Pathways of Women's Empowerment and Pathways Learning Platform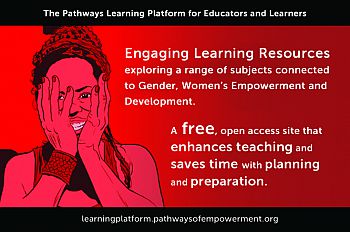 This exhibition focuses on the outputs of the Pathways of Women's Empowerment's programme, a global consortium of activists, practitioners and academics who uncovered a multitude of stories around the journeys of women's empowerment. Pathways is directed by Andrea Cornwall, Head of the School of Global Studies. The exhibition also offers a glimpse into the Pathways Learning Platform, launched on International Women's Day 2014. This exciting new learning platform transforms these stories into resources which can be used for teaching from secondary school to university levels as well as in workshop and training situations. The site also speaks directly to students, who can access the learning materials independently. The Learning Platform is the result of a research dissemination project aimed to inspire and influence the next generation of policy makers, activists and academics around issues of gender equality.
See also: the Pathways Learning Platform
Revealed Cities

Revealed Cities captures glimpses of the day-to-day lives of twelve domestic workers in Salvador, Bahia, Brazil. Their images show transitional places, interstices between the contexts of their work and home lives that portray the changing landscapes of Salvador as an urban space. The exhibition grew out of a participatory research project focused on understanding the history, strategies and dynamics of the Brazilian domestic workers' movement conducted by the Nucleus for Interdisciplinary Studies on Women (NEIM) of the Federal University of Bahia, as part of the Pathways of Women's Empowerment research consortium. The project used a range of research strategies, including training of a group of domestic workers as photographers. Through a series of workshops, initially using disposable cameras, these women came to find in photography a powerful new language with which to explore their situations and for creative self-expression. Revealed Cities was launched in a prestigious Salvador art gallery, revealing to the gallery-visiting public the otherwise invisible lives of the women who clean their homes.

Andrea Cornwall
Quotes
Ana Cristina, age 28
"The photo has given me a broader view of things and encouraged me in the writing of my poetry. It is a composition that shows the day-to-day life. Sometimes we take photo of a place and when we come back the next day is no longer the same. The photo brings me a thrill".

Ana Flávia, age 24
"The photography has contributed a lot in my ability to stop and look. Before the course, I lived without paying to much attention to details. Today, I stop, look and analyse a bit more"
More quotes
Janine, age 16
"The photography course awakened my desire to record things in images, about which I had not yet thought. As I need to work and and study, I have no time to be dedicated as I would like to, but I want to, increasingly, associate my activities with the possibility of taking pictures".
Cida, age 40
"Taking pictures became a pleasurable activity for me. Among the things I like most shooting is my environment: my house, the people I see oftenly, my day-to-day life".

Fátima Maria, age 46
"The moments in the photography course were always pleasant moments, when we could relax and talk about our lives and experiences, so that we could transpose it to images".

Francislene, age 34
"The photography has increased my desire to see other places. It is a way to register our experiences and living moments. I want to continue investing in the knowledge with photographic images, to make it better at each time".
Georgina, age 42
"This Photography course of was a very nice, because it was a way that I had to communicate more with my people. It is a new path that we are following and that is very important".

Gildália, age 46
"Joining the Photography course was very interesting, because thinking about my pictures, I enlarged my vision of things around me, in relation to what I express through my photos. For me, a picture is much more than pressing a button... You must do it with your heart, and I put a lot of feeling in my images".
Maria de Fátima, age 30
"My meeting with the photography was good, because for me the picture was not too much important, and now I realize that it has several ways to be made, paths, which made it more intersting. Photography requests donation; it is not for nothing. I learned to see the best in my everyday thinkings and also about the image and its importance".

Marta, age 40
"The picture shows not only the material part, but also the soul of the place you photograph. And that is what I think people see the photos: the essence of things around us, from the glimpse of the photographer. That's why taking the course was so exciting for me".
Milca, age 39
"I always liked to take pictures, of everything that I see. This was an opportunity for domestic workers to have a different view about the world through photography. I will continue my training in this area and intend to keep on increasingly identifying my work with the photography".

Neusa, age 44
"Taking pictures has changed my life. Through this course I had my first contact with the photography. The coolest thing was learning to focus more on things around me and then see the result in the images I do".
2013
Everyday Life in Communist Albania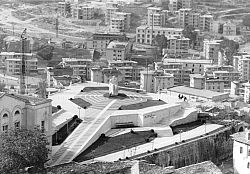 Everyday life in communist Albania is a multi-method and multi-sited research project carried out by Prof. Russell King (PI) and Dr Julie Vullnetari (RF), and funded by the Leverhulme Trust. This display is based on photographs taken during fieldwork or extracted from archives, as part of the three-year investigation. The research project seeks to understand communist/socialist society through the lens of everyday life, using Albania as a case study. It is built around answering one simple, broad question: What was everyday life really like under the regime of Enver Hoxha in Albania? The setting of Albania is unique given that during its phase of 'actually existing socialism' (cf. Verdery 1996) the country's government followed a very orthodox Stalinist path of development, which swung to the other extreme of free-for-all capitalism after the regime's demise in the early 1990s.
Russell King and Julie Vullnetari
Field research

This exhibition portrays the work of two members of Global Studies faculty as they undertake research to explore the implementation and impacts of the Mahatma Gandhi National Rural Employment Guarantee Act (MGNREGA), an unprecedented state employment guarantee scheme that aims to benefit millions of rural households across India.
Grace Carswell and Geert De Neve
VAMP

Stills from a film, Save us from Saviours, that tells the story of an Indian sex worker collective, VAMP, whose mission is to change society so as to end the stigma, violence and exclusion experienced by sex workers.
Andrea Cornwall

Wall Maps

The display of wall maps from the University of Sussex Map Library provided a snapshot of a mid-20th century world as represented by European and North American educational cartographers.
Evelyn Dodds & Alan Lester

Places for All

Places for All is a multi-media investigation in an English city. This display of work by photographer Liz Hingley is part of a research project based in Peterborough led by Sussex geographer Ben Rogaly. It explores the multiple and diverse place attachments and work and migration histories of people of all ethnic backgrounds, from people born in the city to those who arrived very recently.
Egypt

Photographs taken on a Geography field class in 2012 by Geography student Zara Sumpton
2012

Moving on?

Images investigating social mobility and social class in an inner London locality.
Migration PhD student Debbie Humphry
Western Sahara

Photographic display. International Development student Nina Taugbol

Images taken on 1/12/11 by and about the School to celebrate the University's 50th anniversary

A multimedia graphic novel on the recent conflict in Sri Lanka. Anthropology PhD student Benjamin Dix
2011

Target TB aims to stop vulnerable people in Africa and Asia dying from TB by improving access to information, treatment and care and support. The UK office is in Brighton and Anthropologist Maya Unnithan is a trustee.
Life on a Hand

This exhibition consisted of images of jewellery describing narratives embedded in ideas of class, culture, taste and beauty. Anthropology PhD student Barbara Holler.
Paintings

Iris Sanchez
2010

Global Studies around the world

Opening display showcasing the diverse nature of the School and its activities