Welcome

This site is specifically for students and staff in the School of Global Studies. It aims to provide – on one site – a comprehensive guide to how the School is organised, our facilities, and School-level policies on issues ranging from teaching and research to carbon reduction, recycling and health and safety.

The School has ambitious plans to become the UK's leading centre of research and teaching in global studies. With this in mind, we are developing School-level plans to internationalise the curriculum, including study abroad, and international employability. In due course, these plans and policies will appear on this site. The site also contains practical information you need for your degree, such a programme and course specifications, and information on assessment, office hours and options, as well as practical research information including forms for ethical clearance and hazard and risk assessment.

We welcome your feedback on how this site is organised, and on the information it contains. If you spot an error, or something that is not clear, please contact us on global@sussex.ac.uk.
National Student Survey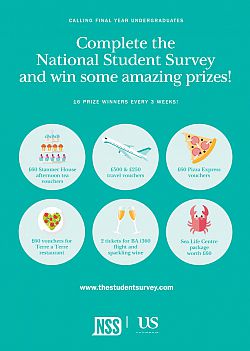 Take part in the NSS - a survey of all final-year students in the UK about the quality of your academic experience. The survey means you can make your opinions on your higher education student experience count at a national level. You may win a prize for taking part in the survey. The 2018 survey is running at Sussex from 5 February until 30 April.
Enter into a prize draw
If you take part in the survey, you can enter into a prize draw for a chance to win one of more than 60 prizes. Every three weeks (until 30 April) we'll choose 15 lucky students who have already responded to the survey and give them the chance to pick from top prizes, including:
£60 Stanmer House afternoon tea vouchers
£300 and £250 travel vouchers
£60 Pizza Express vouchers
£60 vouchers for Terre a Terre restaurant
Two tickets for BA i360 flight and sparkling wine
Sea Life Centre package worth £60.
Read more...
The School of Global Studies