Covid-19 update
Our friendly and knowledgeable School Office staff are all ready to be your first port of call for anything related to your degree. The School Office, on the ground floor of Arts C is not currently open but we are available by phone (01273 877540) and email (global@sussex.ac.uk), and we're happy to set up Zoom calls with you too.
Sussex first in the world for Development Studies for fifth year running
The University of Sussex has been ranked as best in the world for development studies for the fifth year running, in the 2021 QS World University Rankings by Subject.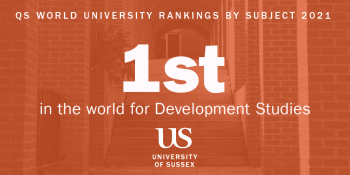 The rankings reflect the quality, impact and range of international development research and courses offered by the University's School of Global Studies, the University of Sussex Business School, Sussex Sustainability Research Programme (SSRP), School of Media, Film and Music, Centre for International Education (CIE), and the University's partner the Institute of Development Studies (IDS).
Sussex has now been number one for development studies for six out of the past seven years. What is more, all four of Global Studies' departments are ranked in the top 100 in the world and in the top 20 in the UK.
Head of the School of Global Studies, Elizabeth Harrison, said: "It's fantastic that the exceptional work in development studies carried out at both Sussex and IDS has been recognised yet again. In the School of Global Studies, our concern for social justice is reflected in our wide range of courses for both undergraduates and postgraduates, and in our world-class research. This year more than ever, the challenges of the Covid-19 pandemic have thrown this into sharp relief, exposing as they do the ways in which existing global inequalities are reinforced at times of crisis. The work of our researchers, teachers and students seeks to identify routes for positive action in the face of these challenges."
Read more: High five: University of Sussex named best in the world for development studies for fifth year running