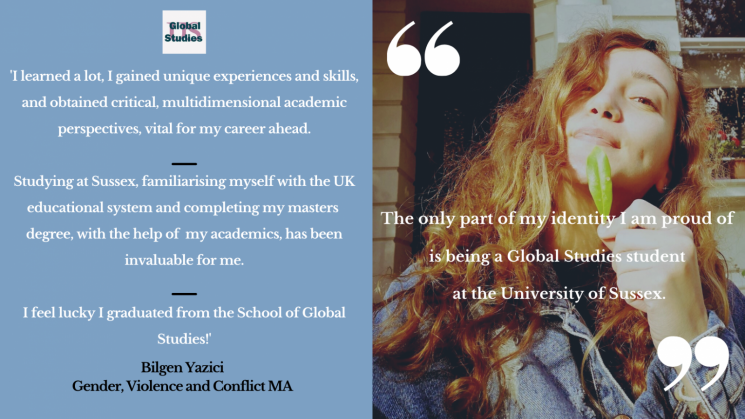 A global hub at the heart of the University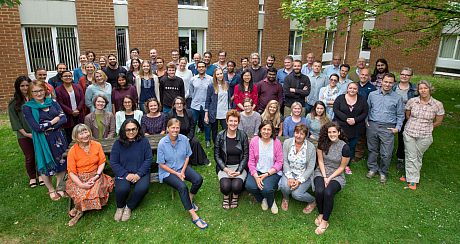 The School of Global Studies is a global hub at the heart of Sussex University. Our engaged research and critical pedagogy addresses the most pressing global issues of our times – global inequalities and global justice, climate and environmental change, war and peace, global health and finance crises, intolerance and discrimination. Our mission is to generate knowledge and understanding that can make a difference, for a fairer, safer, more sustainable and more inclusive world.

Global Studies has never been more relevant and valuable than it is today. To find out more about joining our School, browse our site and follow us on Instagram, Twitter, Facebook, and WordPress!
Sussex first in the world for Development Studies
The University of Sussex has been ranked as best in the world for development studies for the fifth year running, in the 2021 QS World University Rankings by Subject.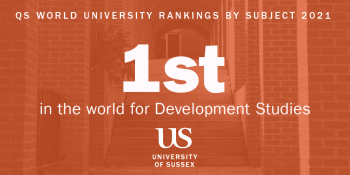 The rankings reflect the quality, impact and range of international development research and courses offered by the University's School of Global Studies, the University of Sussex Business School, Sussex Sustainability Research Programme (SSRP), School of Media, Film and Music, Centre for International Education (CIE), and the University's partner the Institute of Development Studies (IDS).
Sussex has now been number one for development studies for six out of the past seven years. What is more, all four of Global Studies' departments are ranked in the top 100 in the world and in the top 20 in the UK.
Head of the School of Global Studies, Elizabeth Harrison, said: "It's fantastic that the exceptional work in development studies carried out at both Sussex and IDS has been recognised yet again. In the School of Global Studies, our concern for social justice is reflected in our wide range of courses for both undergraduates and postgraduates, and in our world-class research. This year more than ever, the challenges of the Covid-19 pandemic have thrown this into sharp relief, exposing as they do the ways in which existing global inequalities are reinforced at times of crisis. The work of our researchers, teachers and students seeks to identify routes for positive action in the face of these challenges."
Read more: High five: University of Sussex named best in the world for development studies for fifth year running
Black Lives Matter
The School of Global Studies believes Black Lives Matter. We stand with our Black students and staff across the University. We condemn the violence of racism in our institutions and society at large. We recognise that racism manifests itself in our everyday working lives and pledge our urgent commitment to eradicate it in our institution and wider society. We are committed to promoting social justice and anti-racist values and ensuring that our staff and students, as well as our pedagogy and curriculum reflect and promote these.
We are committed to learning from efforts to resist and eradicate racism in a range of long-standing anti-racist projects. At the same time, we also recognise that the labour of staff and students in this work is almost always voluntary and too often remains unrecognised. We urgently call on the University to acknowledge this labour and to continue to support this work by ensuring it is properly resourced. At School level we pledge to intensify our work to address systemic racism. We commit to eradicating structures and patterns of prejudice by addressing the BAME awarding gap; decolonising the curriculum; implementing a mentoring support programme for staff and students; improving recruitment practices to ensure equitable opportunity for Black applicants and retention of Black and BAME staff; ensuring all staff and students undergo unconscious bias training and that race equality training is mandatory for staff; and addressing the specific issues raised by Black Lives Matter as they affect our students and staff.
Responding to COVID-19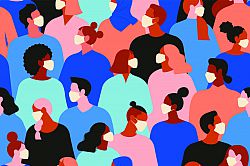 Academics across the School of Global Studies are drawing on their wide-ranging research expertise to react and inform during the current Coronavirus outbreak.
From providing specialist insight on health policy to writing pieces for the UK and international media on migrant key workers, and debating the impact the virus might have on Brexit, our School's research in Anthropology, International Relations, International Development and Geography can bring understanding, challenge and perspective to the crisis.

School of Global Studies blog

SussexGlobal provides a space where students, faculty, alumni and associates can share research, experiences and opinions in their own words, providing lively and on-going discussions on the most pressing global issues today.
Visit SussexGlobal Blog and read our latest blog post 'Living with the Naranjal Community in the Peruvian Amazon'