Alongside the traditional books and articles, faculty are involved in public lectures, podcasts, curating exhibitions, directing and performing dance, poetry, plays and magic, and writing blogs and journalism. We actively engage in local, national and international debate and collaborate with different groups and organisations in ways that bring our research into the public sphere.

Sussex Modernism

Sussex Modernism is a research project that explains why modernists came to Sussex in the first half of the twentieth century. It compares their utopian attempts to rethink how life could be lived as well as how art could be made, challenges histories that stress that the metropolis was the locus and primary inspiration for modernist experimentation, and shows what a local and regional lens brings to art and literary criticism.
Retrieving and interpreting overlooked works from regional museums, galleries and archives, Sussex Modernism also prompts reflections on modernist legacies. Dr Hope Wolf curated a popular exhibition, Sussex Modernism: Retreat and Rebellion, for Two Temple Place, London (January-April 2017), and is developing her findings into a Sussex Modernism book. Read the catalogue.
Past Sussex Modernism events include a lecture series at the Towner Gallery, Eastbourne, organised by Dr Alistair Davies, a conference on Late Henry James, at Lamb House, Rye, organised by Dr Pam Thurschwell, and an art course at Pallant House Gallery, Chichester.
In 2018, an exhibition Hope Wolf curated with Rosie Cooper at the 1935 modernist building, the De La Warr Pavilion, Bexhill explored the Surrealist art and psychoanalytic research of Grace Pailthorpe and Reuben Mednikoff, who came to Sussex at the end of their lives.
To find out more about recent Sussex Modernism events visit the Centre for Modernist Studies.
Beyond the Archive
This project takes a significant body of Victorian word-image culture, previously only accessible to experts, and has opened it up to the wider public. The project began in 2014, with Dr Bethan Stevens's Dalziel Project, an Arts & Humanities Research Council-funded investigation into the work of the Victorian wood engravers the Dalziel Brothers, who worked on, among other publications, Lewis Carroll's Alice books. Stevens created an open-access catalogue of the Dalziel archive at the British Museum. This research has generated a series of public workshops at the British Museum, and outreach work with schools across Sussex and London.
Professor Lindsay Smith's work on Lewis Carroll as a photographer, and Dr Hannah Field's on the 'movable' book in children's literature of the Victorian age, have added to the sum of knowledge about nineteenth-century word-image culture. Professor Smith has contributed to the ever-popular topic of Carroll's work, with her 2015 monograph Lewis Carroll: Photography on the Move (translated into Chinese, 2018), a public lecture at the National Portrait Gallery, and a talk in Amsterdam at the launch of 'Alice the Virtual Reality Play'.
Transforming Identities in Early Modern Drama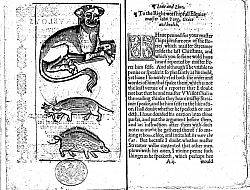 This project on 16th and 17th century theatre comprises the work of Professor Matthew Dimmock, Professor Andrew Hadfield and Dr Rachel Stenner. Through their research into the circumstances and dramatic practices of earlier periods, Sussex Early Modernists have changed the way theatre and opera companies work, challenging the public by rethinking the established repertoire, opening up the established canon to lost works, and provoking a productive dialogue between early modern and contemporary practices and assumptions.
Built on partnerships with theatrical companies, advisory work, and the bringing to light of previously unknown sixteenth and seventeenth century drama, this 'research in action' approach has enabled theatre companies and specific productions to adopt new approaches to challenging material, in particular concerning racial and religious difference. Beyond their impact on companies and productions, the group has generated important insights into urgent contemporary debates about colonial legacies and national identity. This has included work with the Royal Shakespeare Company and the Globe, the Smock Alley theatre in Dublin and the Folger Library in Washington DC, and a dramatised version of the 16th century text 'Beware the Cat' in Brighton, Stratford and Cyprus.
The Prodigal Tongue
Professor Lynne Murphy's impact is grounded in innovative research in lexical semantics, corpus linguistics, and pragmatics and achieved through her social media presence, public engagements and 2018 book, The Prodigal Tongue: the love-hate relationship between British and American English. Murphy's work forges conversations with educators, language professionals and a wider public, changing preconceptions about English, language change, linguistic discrimination and the British-American linguistic relationship. Her public-facing work has increasingly informed her academic direction, leading to research on British and American politeness strategies, the role of 'nationlects' in expressing national identity, and the cultures of English in the two countries.
These themes and methodologies are carried through in her public engagement: addressing widely-held myths about how language works and is used, and offering evidence-drivenways of addressing language, language differences and language attitudes.This has led to the very popular blog 'Separated By A Common Language', and The Prodigal Tongue, a popular-audience book that's been exceptionally received in academic and non-academic press. In Dictionaries (journal), Orin Hargraves writes that Murphy "has written a book that will stand as a definitive reference on the US and UK English divide for the foreseeable future".

Animal Passions: Science, Emotion and Literature

Animal Passions, a major research project funded by the Philip Leverhulme Prize and led by Dr Will Abberley, explores how, historically, emotions have been bound up with scientific observation (particularly with regard to animals) in complex ways.
It pursues this theme by applying the tools of literary criticism to various writings by scientific investigators from the late nineteenth to early twentieth century. Abberley suggests that Victorian and Edwardian zoologists' self-representations in notebooks, diaries and memoirs exhibited conflicting attitudes to emotion.
Excited accounts of wildlife's beauty and fearsomeness clash with the recognition that such feelings are irrelevant to nature's mindless workings. Naturalists' efforts in tropical environments to present themselves as unfeeling observation-machines demonstrate how scientific, masculine and western authority depended partly on ideals of emotionless intelligence. Yet, simultaneously, emotions could be useful for understanding the behaviour and psychology of animals, and humans' shared evolutionary history with them.
The project also intervenes in current debates about the place of emotion in animal welfare and environmental activism by showing these causes' multiple, conflicting relationships with emotion historically.
Magic and Contemporary Theatre (Augusto Corrieri)

Through the pseudonym Vincent Gambini, Dr Augusto Corrieri makes and shows stage performances that actively explore cross-overs between magic and contemporary theatre.
Magic is a somewhat discredited and outdated art form, yet still capable of eliciting awe and wonder; Corrieri is interested in is how the apparatus of theatre - always constructed or 'fake' - can be probed and played with through the genuine reactions of awe and wonder elicited by magic.
His first work, entitled 'This is not a magic show', was critically acclaimed and toured to over 30 theatres around the UK and Germany. The current piece, 'The Chore of Enchantment', is being developed in 2018-2019 through Arts Council England funding, in collaboration with the Attenborough Centre for Creative Arts and other UK venues.
Photo credit: Hugo Glendinning.