The Centre for Teaching and Learning Research (CTLR) is engaged with research on all aspects of learning and teaching in a wide range of educational contexts, official and informal. It places particular emphasis on schooling, transitions, equity and inclusion.
The Centre has exceptional expertise in professional learning, collaborative practitioner enquiry and in investigating the relationship between theory, practice and policy from Early Years to Higher Education contexts and settings.
Don't Miss ...
Making Meaning Reading Group
Facilitated by Dr Louise Gazeley
Date: 21 February 2017
Time: 1-2pm
Venue: Room 101, Essex House
Title: Higher Education, Social Class and the Mobilisation of Capitals: Recognising and playing the game [PDF 395.75KB]
by Anne-Marie Bathmaker, Nicola Ingram and Richard Waller
In austerity England, the issue of middle-class social reproduction through higher education increases in saliency, and students' awareness of how to 'play the game' of enhancing their chances to acquire a sought-after graduate position becomes increasingly important. We highlight middle-class advantage over privileged access to valued capitals, and argue that the emphasis on competition, both in terms of educational outcomes and the accrual of capital in the lives of working-class and middle-class students, compounds rather than alleviates social inequalities.

____________________________________________________
Open Research Seminar
Date: 6 March 2017
Time: 4.30-6pm
Venue: Room 118, Jubilee
Speaker: Keith Perera, Teaching Fellow, Department of Education, University of Sussex
Title: Poliliteracies: Teaching immigration in the social media age
Seminar Promo: CTLR seminar promo: 6march2017 [PDF 128.68KB]

____________________________________________________
Making Meaning Reading Group
Facilitated by Dr Julia Sutherland
Date: 8 March 2017
Time: 1-2pm
Venue: Room 101, Essex House
Title: Understanding Learning Culturally: Overcoming the dualism between social and individual views of learning [PDF 233.42KB]
by Phil Hodkinson, Gert Biesta and David James

This paper identifies limitations within the current literature on understanding learning. Overcoming these limitations entails replacing dualist views of learning as either individual or social, by using a theory of learning cultures and a cultural theory of learning, which articulate with each other. To do this, we argue that it is possible and indeed necessary to combinemajor elements of participatory or situated views of learning with elements of Deweyan embodied construction. Bourdieu's concepts of habitus and field are used to achieve this purpose, together with the use of 'becoming' as a metaphor to help understand learning more holistically. This theorizing has a predominantly heuristic purpose, and we argue that it enables researchers to better explain data.We also suggest that a cultural approach of the sort proposed here leads toward the asking of better questions about learning and its improvement and has high practical significance.
Sue Lyle is a hit at Jubilee Library event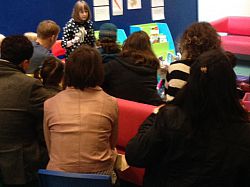 More than 100 parents and children attended Dr Sue Lyle's Open Library Seminar, 'Storytelling and the Young Child', on Saturday 4 February at Brighton's Jubuilee Library.
Sue managed to achieve the seemingly impossible by capturing the interest of both parents and children by telling stories and describing her research. For more than an hour, Sue and CTLR members Professor Gillian Hampden-Thompson, Dr Rebecca Webb and Dr Sindi Gordon, were inundated with questions from parents. The event was significant for CTLR in once again proving the importance of - and interest in - research in the community and exceeded all expectations. Even Jubilee Library management were pleasantly surprised at the interest generated by the event - from adults and children alike - and are eager to work with CTLR and the University of Sussex on future similar events.
Post-event comments from parents included:
"It was brilliant!"
"Who knew the importance of metaphors in learning?!"
"Excellent. Wonderful."
"Really helpful. Great advice on what to read and who to read. Really good"
"She loved it (3 year old). Well worth it."
: Recognising and Playing the Game by Anne-Marie Bathmaker, Nicola Ingram and Richard Waller