MAKING CONNECTIONS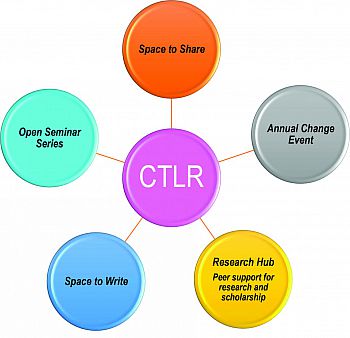 The Centre for Teaching and Learning Research (CTLR) is engaged with education in all its pedagogical and social complexity. The interests of members span local, national and international contexts and a range of formal and informal settings, running from Early Years to Higher Education and including Initial Teacher Education. Consistent with this, we aim to foster the development of more holistic, contextualised and systemic understandings of education in all its many forms. Members of CTLR are currently working with ECORYS on a national evaluation of Alternative Provision, funded by the Department for Education (DfE).
The Centre's strapline is Making Connections, reflecting its focus on bringing research, theory, policy and practice together with a view to promoting positive change. Each year we host an Annual Change Event that brings researchers, students and stakeholders together to promote understanding of how more equitable and inclusive approaches to teaching and learning might be achieved. We are also actively engaged in the development of locally-based practitioner researchers, hosting two conferences a year linked to our Masters in Education and Masters in Early Years programmes. CTLR is also strongly committed to supporting the development of doctoral researchers, including through its support for the ESW Doctoral Research in Progress seminar series.
Don't miss ...
SPACE TO WRITE
Date: Wednesday 16 December 2019
Time: 10am-3pm
Venue: Seminar Room 18, ground floor, Essex House
____________________________________
OPEN RESEARCH SEMINAR
Date: TBC
Time: 4.30-6pm
Venue: Room 107, Fulton
Speaker: Brian Hudson, Emeritus Professor, Department of Education, University of Sussex
Title: Epistemic Quality for Equitable Access to Quality Education across School Subjects *The date on this poster will be updated when a new one is set
In this seminar, Professor Hudson will draw on outcomes of the Joint Action in Didactics in Europe (JADE) project that has aimed to address the challenges of UN Sustainable Development Goal 4 to ensure inclusive and equitable quality education for all. In particular he will draw on outcomes from case studies across school subjects in three different national contexts (Scotland, France and Germany) carried out over recent years. The case studies focussed on mathematics, physical education and first language teaching.
With regard to ensuring equitable access to quality education, Professor Hudson argues that there is a need to consider the 'epistemic quality' of what students come to know, make sense of and be able to do in school. Accordingly, the aim is maximise the chances that all pupils will have 'epistemic access' to education of high epistemic quality which he will illuminate in the seminar. The studies have been broadly based within the theoretical framework of Joint Action Theory in Didactics (JATD) and associated research questions have focussed on the quality of teacher-student(s) joint action and on the epistemic quality of the content.
Background to the project can be found in the following recently published paper:
Hudson, B. (2019): 'Epistemic Quality for Equitable Access to Quality Education in School Mathematics', Journal of Curriculum Studies
Check out our Annual Report ...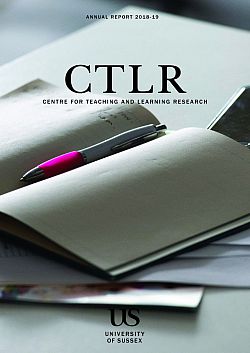 Find out what CTLR members have been doing over the last 12 months in our 2018/19 Annual Report.