The Centre for Teaching and Learning Research (CTLR) is engaged with research on all aspects of learning and teaching in a wide range of educational contexts, official and informal. It places particular emphasis on schooling, transitions, equity and inclusion.
The Centre has exceptional expertise in professional learning, collaborative practitioner enquiry and in investigating the relationship between theory, practice and policy from Early Years to Higher Education contexts and settings.
Don't Miss ...
Date: Tuesday 13 June
Time: 4.30-6pm
Venue: Room 104, Fulton
Speaker: Professor Brian Hudson, Professor of Education, former Head of the School of Education and Social Work, University of Sussex & Board Member of the Teacher Education Policy in Europe (TEPE) network
Title: Overcoming Fragmentation in Teacher Education Policy and Practice
Seminar Promo: CTLR seminar promo: 13june2017 [PDF 143.77KB]
Sue Lyle is a hit at Jubilee Library event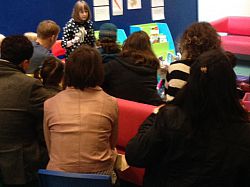 More than 100 parents and children attended Dr Sue Lyle's Open Library Seminar, 'Storytelling and the Young Child', on Saturday 4 February at Brighton's Jubilee Library.
Sue managed to achieve the seemingly impossible by capturing the interest of both parents and children by telling stories and describing her research. For more than an hour, Sue and CTLR members Professor Gillian Hampden-Thompson, Dr Rebecca Webb and Dr Sindi Gordon, were inundated with questions from parents. The event was significant for CTLR in once again proving the importance of - and interest in - research in the community and exceeded all expectations. Even Jubilee Library management were pleasantly surprised at the interest generated by the event - from adults and children alike - and are eager to work with CTLR and the University of Sussex on future similar events.
Post-event comments from parents included:
"It was brilliant!"
"Who knew the importance of metaphors in learning?!"
"Excellent. Wonderful."
"Really helpful. Great advice on what to read and who to read. Really good"
"She loved it (3 year old). Well worth it."