MAKING CONNECTIONS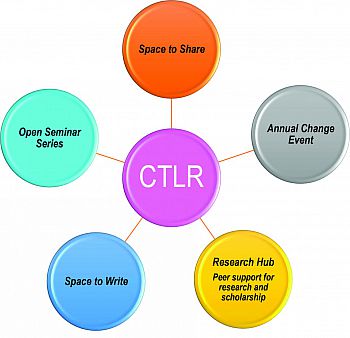 The Centre for Teaching and Learning Research (CTLR) is engaged with education in all its pedagogical and social complexity. The interests of members span local, national and international contexts and a range of formal and informal settings, running from Early Years to Higher Education and including Initial Teacher Education. Consistent with this, we aim to foster the development of more holistic, contextualised and systemic understandings of education in all its many forms. Members of CTLR are currently working with ECORYS on a national evaluation of Alternative Provision, funded by the Department for Education (DfE).
The Centre's strapline is Making Connections, reflecting its focus on bringing research, theory, policy and practice together with a view to promoting positive change. Each year we host an Annual Change Event that brings researchers, students and stakeholders together to promote understanding of how more equitable and inclusive approaches to teaching and learning might be achieved. We are also actively engaged in the development of locally-based practitioner researchers, hosting two conferences a year linked to our Masters in Education and Masters in Early Years programmes. CTLR is also strongly committed to supporting the development of doctoral researchers, including through its support for the ESW Doctoral Research in Progress seminar series.
Don't miss ...
PEDAGOGY PLUS
Date: Tuesday 9 June 2020
Time: 1-2pm
Theme: 'Online Pedagogies for the 'new normal': Challenges, successes and reflections'
Link to join: https://universityofsussex.zoom.us/j/99382438358?pwd=TFNQUjhPUFUrT3UwRXJxaTBRQUxqUT09 (password 686712)
This CTLR-hosted online discussion is an opportunity to bring people together to discuss what we feel has gone well and share any emerging good practice in relation to online pedagogies. We can reflect back on the 'emergency measures' taken, and consider what our teaching might look like moving forward - given the likelihood that the 'new normal' for higher education is likely to include online or blended delivery.
This discussion will involve breakout groups around key themes, and an emphasis on 'what next/ways forward'.
In advance of the discussion, we have created a padlet to gather ideas and reflections: https://uofsussex.padlet.org/jthintonsmith/ue4s92wj4bmc5l0h -also a way of enabling contributions from those who cannot join 'live'.
CTLR Pedagogy Plus sessions are intended to complement and build on the professional development provided by the PGCert in Higher Education and be of broader interest to those interesting in or reflecting on issues in relation to higher education pedagogy.
______________________________________________________________
SPACE TO SHARE
Date: Thursday 18 June 2020
Time: 11am-12pm
Theme: Thinking of applying for a PhD? - PART 2
Link to join: https://universityofsussex.zoom.us/j/98091312662

Louise Gazeley and Jacqueline Young contribute their thoughts and experiences on their own PhD journeys to help you if this is something you are thinking of.
______________________________________________________________
OPEN RESEARCH SEMINAR
Date: Wednesday 1 July 2020
Time: 4-5.30pm
Theme: Networks, Research-informed Practice and Leadership Types: What does emerging research tell us about how to mobilise knowledge across schools and school systems?
Link to join: https://universityofsussex.zoom.us/j/91377426249
Although there is now recognition that academic educational research can - and should - be used to improve teaching practice, there is only limited evidence on how this might be facilitated at the school system level. Furthermore, a gap appears to exist between research and practitioners more generally, which shows little indication of narrowing. As a result this leaves only sporadic instances of evidence-informed teaching
occurring within and across schools. A key question, therefore, is what can we do to achieve evidence-informed teaching at scale?
To address this question, this talk will present understanding and ideas for how best to close research to practice gaps across all schools and the vital roles of both network and system leadership.
New toolkit to support care leavers' progression to HE
Members of CTLR have led on the development of a new 'Supporting Supporters' toolkit for stakeholders.
This practical resource came out of a project that aimed to support foster carers, educators, and social care professionals involved in supporting the progression of care-experienced young people to university. The Supporting Supports project was led by Senior Lecturer in Higher Education, Dr Tamsin Hinton-Smith, and funded by the Sussex Learning Network under the Office for Students funded Uni Connect Programme.
Tamsin said of the project:
"We learned so much from our discussions with foster carers, social workers and school staff about their perspectives, anxieties and approaches around supporting care experienced young people in their educational progression journeys. The sharing of expertise between the different groups in workshops was a particularly valuable part of this.
We hope that, through the toolkit, the insights they shared will support other stakeholders to support young people in their care and those considering a future in higher education."
Others involved in the project included Senior Lecturer in Education, Dr Louise Gazeley (Director of CTLR), Lecturer in Social Work, Dr Tam Cane, Anne-Marie Bird from the University of Sussex's Widening Participation team, local artist Michi Mathias and a large group of local stakeholders who piloted the activities at a series of workshops.
Check out our Annual Report ...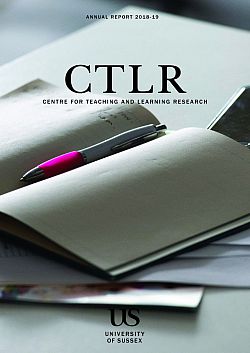 Find out what CTLR members have been doing over the last 12 months in our 2018/19 Annual Report.