MAKING CONNECTIONS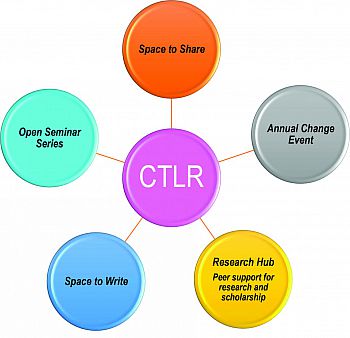 The Centre for Teaching and Learning Research (CTLR) is engaged with education in all its pedagogical and social complexity. The interests of members span local, national and international contexts and a range of formal and informal settings, running from Early Years to Higher Education and including Initial Teacher Education. Consistent with this, we aim to foster the development of more holistic, contextualised and systemic understandings of education in all its many forms. Members of CTLR are currently working with ECORYS on a national evaluation of Alternative Provision, funded by the Department for Education (DfE).
The Centre's strapline is Making Connections, reflecting its focus on bringing research, theory, policy and practice together with a view to promoting positive change. Each year we host an Annual Change Event that brings researchers, students and stakeholders together to promote understanding of how more equitable and inclusive approaches to teaching and learning might be achieved. We are also actively engaged in the development of locally-based practitioner researchers, hosting two conferences a year linked to our Masters in Education and Masters in Early Years programmes. CTLR is also strongly committed to supporting the development of doctoral researchers, including through its support for the ESW Doctoral Research in Progress seminar series.
Don't miss ...
SPACE TO SHARE
Date: Tuesday 11 February
Time: 1-2pm
Venue: Room G30, Jubilee Building
Presenters: Dr Tamsin Hinton-Smith, Senior Lecturer in Higher Education & Deputy Director, CTLR / Rosa Marvell, Doctoral Researcher, Department of Education, School of Education & Social Work
Title: Researching inclusion and absence of gender in curriculum and pedagogy across higher education disciplines
____________________________________________________________
OPEN RESEARCH SEMINAR
Date: Wednesday 26 February
Time: 4.30-6pm
Venue: TBC
Speaker: Terry Haydn, Professor of Education, School of Education and Lifelong Learning, University of East Anglia
Title: Telling the Truth about Behaviour in Schools
____________________________________________________________
EARLY YEARS RESEARCH CONFERENCE 2020
Date: Saturday 14 March
Time: 8.45am to 12.30pm, followed by a free networking lunch
Venue: Fulton Building, University of Sussex
Keynote Speaker: Dr Sandra Lyndon, Senior Lecturer, University of Chichester
The annual Early Years Research Conference showcases the research work of recent graduates of the Early Years Education MA with EYTS course and provides a fantastic learning and networking opportunity for anyone interested in Early Years research and practice.
Keynote speaker, Dr Sandra Lyndon, will reflect on her current intergenerational research project, bringing pre-school children together with older people, and the value and excitement of collaborative research.
You'll also hear from alumni of the Early Years Education MA on the challenges and delights they encountered conducting original research on a whole range of topics in Early Years settings – from practitioner perspectives on gender and 'good' and 'bad' behaviour, to rhythm as a tool for preschool learning and readiness for transition from Reception to Key Stage One.
For enquiries, please contact Julie Bailey: jb694@sussex.ac.uk
Researching Teacher Emotional Rules
On 5 December, 2019, Dr Jean Hopman presented her research and subsequently led a workshop on Teacher Emotional Rules which involved six teachers from a Victorian Government secondary school who came together over one year to share and inquire into their stories of teachers' day-to-day work. Each teacher's story featured a struggle that stemmed from the difficulty, yet the desire, to abide by institutionally derived emotional rules. Teachers live and work in tension and negotiating this tension is a struggle, but reflective practice, which is an essential aspect of teachers' self-understanding, can assist in uncovering the hidden emotional strain.
In her workshop, Jean talked more about her position as an active participant of the research (as protagonist, story-teller, listener, re-teller — and facilitator), and explored how innovatively employing fieldwork supervision - in addition to research supervision - supported a process of ethical reflexivity, highlighting issues of power in particular. Drawing on data from a reflexive journal, interview transcripts and supervision meeting minutes Jean demonstrated how layers of experience, and associated emotion, weave together - and how understanding these connections added depth to research analysis, allowing the research to unfold in ways that it might not have otherwise.
Dr Jean Hopman works in Initial Teacher Education at Victoria University in Melbourne, Australia and researches teacher emotional work and reflexivity by exploring the underlying layers of the teacher's role. She completed a Bachelor of Primary and Secondary Education and a Graduate Diploma in Child Psychotherapy Studies, and has taught and counselled in diverse educational settings, including Government, private and international schools, alternative educational settings and universities since 2000.
Check out our Annual Report ...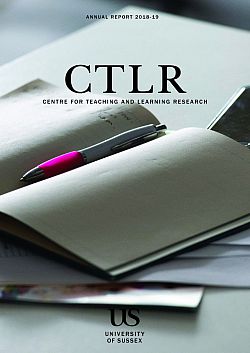 Find out what CTLR members have been doing over the last 12 months in our 2018/19 Annual Report.