Name: Akunu Agbeti
Course: International Doctor of Education (EdD)
Research title:
Research theme: How external assessment influences the quality of education, with particular reference to the Basic Education Certificate Examination in Ghana.
Name: Faraz Ali Bughio
Course: PhD in Education
Research title: Improving English language teaching in large classes at university-level in Pakistan
Research theme: A collaborative action research project aiming to improve the quality of English language teaching and learning in a public sector university in Pakistan. The study demonstrated how teachers and students can take responsibility for engaging in active teaching and learning by developing their roles beyond traditional models. Findings were validated through critical thinking, active critique of colleagues and students who participated in the study, reflection on critical aspects of data collection, and contextualisation through existing literature.

Name: Kingsley K D Arkorful
Course: PhD in Education
Research title: Complementary education and linkage to the formal, basic school curriculum in Ghana
Research theme: The curriculum and pedagogy of complementary education programmes (CEPs) and the extent to which these programmes provide a foundation for the acquisition of basic knowledge, skills and aptitude to progress to formal public school and how the CEP curriculum relates to that of the formal, basic school in Ghana.

Name: Stuart Cameron
Course: PhD in Education
Research title: Education decisions in the slums of Dhaka, Bangladesh
Research theme: How Bangladeshi households make decisions about enrolling their children in school - and keeping them there - drawing on survey and interview data.

Name: Cecilia Kimani
Course: PhD in Education
Research title: Deaf Education in Kenya
Research theme: Researching the teaching and learning of deaf upper-primary school learners in Kenya to explain their poor examination performance and to find out ways to better support thier learning.

Name: Irfan Rind
Course: PhD in Education
Research title:
Research theme: Exploration of students' learning experiences - from a structure and agent perspective - in an English-as-a-Second-Language (ESL) higher education programme in Pakistan. The research will incorporate issues of gender; rural, ethnic and disciplinary identities; power relations in ESL communities; and influences of structure.
Name: John Rutayisire
Course: International Doctor of Education (EdD)
Research title: An investigation into teachers' experiences of in-service training and professional development in Rwanda
Research theme: John's research was about capacity building and exposed him to a critical view of what was actually happening in education 'on the ground'. Relying on both theoretical and professional perspectives, he learned to question the way teaching in Rwanda is conceptualised as a starting point to developing and understanding of the teaching and learning process.
John is the Director General of the Rwandan Education Board, a government Ministry charged with contributing to educational policy, as well as coordinating and fast-tracking educational programmes and activities aimed at providing quality education to all children in Rwanda.

Name: Najwa Saba 'Ayon
Course: Intl EdD
Research title: Lebanese EFL teachers' conceptions of teaching and their practice
Research theme: A qualitative multiple case study investigating Lebanese EFL teachers' conceptions of teaching and their practice in Lebanese public high schools.Observation, semi-structured interviews and a researcher diary are all used to collect data for analysing thematically.

Name: Armando Simões
Course: PhD in Education
Research title: The contribution of Bolsa Familia to the educational achievement of economically disadvantaged children in Brazil
Research theme: My research explores the educational effects associated with a national conditional cash transfer programme in Brazil aimed at fighting poverty in the short-term, and developing human capital.

Name: Yoel Siegel
Course: PhD in Education
Research title:
Research theme: A case study exploration of processes which contribute to community functioning for collective, as well as individual,. wellbeing
Yoel works in the field of community development and specialises in the interaction between community dynamics and regional development. He has worked extensively in Israel and is currently Director of the Metro-Jerusalem Urban Biosphere Initiative for regional ecosystem management.

Name: Eric Slade
Course: MA in International Education & Development
Eric currently works as an Education consultant but has previously held roles as the Global Education Advisor for Concern Worldwide in Dublin (2007-11), as Education Programme Manager for Concern Worldwide in Niger (2003-6) and in Angola (2006-7). Eric's major interest is in the monitoring and evaluation of education projects, particularly in relation to school-related gender-based violence and teacher education. He worked with CIE on Promising Practice in School-Related Gender-Based Violence (SRGBV) Prevention and Response Globally: A desk review for concern, with Fiona Leach and Mairead Dunne. He has also worked with Mairead Dunne on workshops with Concern Worldwide on Community Involvement in Education and How to Address School-Related Gender-Based Violence measuring change in Concern Worldwide's education programming.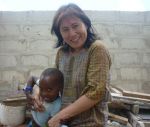 Name: Chisato Tanaka
Programme: PhD in Education
Research title:
Research theme: Teacher motivation in the context of basic (primary and junior) schools in rural Ghana
Chisato is a senior researcher in the evaluation department at the International Development Center of Japan, Tokyo.