The Centre of International Education is a group of faculty and student researchers working under the leadership of Centre Director, Mario Novelli, Deputy Director, Kwame Akyeampong and Research Adviser, Keith Lewin.
Education and development within the Global South is the central focus of the Centre for International Education (CIE). Established in 1989, CIE was founded on the understanding that education is a basic human right that lies at the heart of development processes aimed at social justice, equity and poverty reduction.
We continue to focus on these ideals, and to contribute to international debates, policy and practice through research, teaching and publications. Our work is driven by a philosophy that improved educational opportunities have important implications for social justice and equality, social and civic participation, improved wellbeing, health and economic growth.
Members of CIE have engaged in research and consultancy for research councils, international NGOs, national governments, philanthropic organisations, development agencies and donors. These include DFID, UNESCO, UNICEF, World Bank, Rockefeller, Concern Worldwide, Geneva Global and William and Flora Hewlett Foundation among others. Our associated programmes include the Masters in International Education and Development (MAIED), the International Education Doctorate (EdD) and PhD. Over the years more than 400 MA students and over 100 doctoral candidates have graduated. Many of our graduates occupy key positions in the field of education and development at local, national and international levels and provide us with an extensive and influential network of alumni and contacts across the globe.
The CIE research centre is located within the Department of Education which is part of the School of Education and Social Work at the University of Sussex. We are based in Essex House, building no.12 on the campus map downloadable from this page.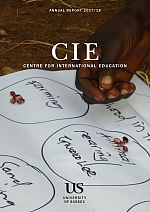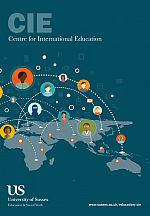 Download the CIE Annual Report: 2017/18 [PDF 7.53MB]

Download the CIE Leaflet: 2015 [PDF 4.24MB]
See previous annual reports and newsletters: