Inclusion, Equalities and Innovations
Introduction to HEIM
This research/innovation project funded by Horizon 2020 Marie Sklodowska-Curie Action (January 2015 – December 2017) focused on how principles of equity and inclusion can be applied to internationalisation strategies and programmes in higher education, as well as on developing research and innovation capacity in this field. It was a partnership between three universities (Sussex, Umeå and Seville) and the Roma Education Fund (REF) based in Hungary, which also has offices in Romania, Slovakia, Montenegro and Serbia.
There were two key themes: Internationalisation and Roma, Gypsies and Travellers (GRT) in higher education:

The HEIM project has interrogated and developed the concept and practices of higher education internationalisation in Europe through questions about who is able to participate in and benefit from policy initiatives and strategic interventions, and whether certain social groups are disadvantaged or excluded from the opportunities that mobility offers. Research focused on the Roma community in Europe as a critical example of a marginalised group, at both staff and student levels.
The project has been organized through a series of work packages (see below) which have led to a variety of key outputs. Via secondments, staff exchanges, policy reviews and collaborative inquiry, the project investigated policies, interventions and methodologies for including GRT in higher education generally, and in internationalisation initiatives, in particular, in different locations. For example, Work Package 2 conducted research that asked who is going where in terms of international mobility, their motivations and experiences and identified the hidden costs of border crossings in terms of socio-political and affective considerations.
Deliverables have been produced in the form of a Training Module and guidelines on reflexive and inclusive internationalisation in Work Package 2. Work Package 3 developed networks, resources and a Facebook Group for Roma Researchers. Working papers and organizational and country reports were produced in Work Packages 1, 4 and 5. See HEIM's Deliverables and outputs page to view or download these documents, along with the project reports.
The whole project created a range of academic journal articles and book chapters. Links to these as well as other related publications can be found on our Publications and Media and Resources web pages.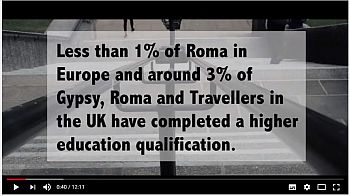 HEIM also produced the film 'Gypsy, Roma and Travellers' experiences of Higher Education' and training and development opportunities for Roma scholars as part of Work Package 6 .
See published reports on the Project Reports and Outputs page.
The Roma Education Fund is a non-governmental organization established within the framework of the Decade of Roma Inclusion by George Soros and the World Bank in 2005.Its goal is to reduce the educational achievement gap between Roma and non-Roma in Europe through the provision of scholarships to Romani students, and the support of policies and programs which ensure quality education for Roma - including the desegregation of education systems.
For further information, contact Professor Louise Morley.
Work packages
Work Package No.
Work Package Title
Start date
Deliverables
End date
1
Internationalisation with Equity and Diversity?
October 2017
Guidelines on reflexive internationalisation
End November 2017
2
Debating and designing a module to encourage reflexive accounts of internationalisation
September 2016

1. Co-authored journal paper
2. Training module: 'Internationalisation for All'

End October 2016
3
Network of Roma Early Stage Researchers
May 2016
1. Website
2. Network
End June 2016
4
Supporting Roma Students in Higher Education
March 2015
1. Journal paper
2. Research reports
April 2015
5
Researching marginalised minorities in higher education institutions: Policies and practice
September 2015
Country specific briefing papers on Roma access to higer education (Sweden, Spain, UK)
November 2015
6
Research methodologies training for equality and diversity
June 2015
1. Research training programme for early stage Roma researchers
2. Dissemination seminar
November 2017