March 2018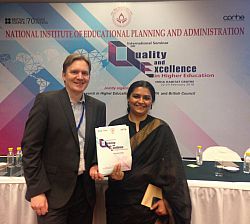 1. Opportunities for a CHEER doctoral researcher from India to South Africa - by Paul Roberts
This past month was exceptional. I had the pleasure of presenting in India at an 'International Seminar on Quality and Excellence in Higher Education' 22–23 February 2018 organised by the Centre for Policy Research in Higher Education of the National Institute of Educational Planning and Administration (NIEPA) and the British Council of India. The seminar was convened by Dr Anupam Pachauri, a University of Sussex PhD alum. The event provided a fascinating insight into India's rapidly growing higher education system and I am hopeful that discussions at the conference will continue (keep an eye on the CHEER website for more news!). The trip to India was followed by an invitation from Universities UK International to be part of a delegation to South Africa for a doctoral training workshop ffrom 7-9 March. Again, there were a series of stimulating conversations and presentations on re-imagining doctoral education in South Africa. The support and guidance of CHEER colleagues has given me the confidence and knowledge required to contribute to such events. A particular thanks to my supervisors Professor Louise Morley and Dr Barbara Crossouard.
2. This month saw the launch of the first post in a new CHEER blog on 'The Silence/ing of Academic Women' by CHEER Associate, Sarah Jane Aiston. The purpose of this blog is to enable a space for CHEER colleagues, visitors and guests to reflect on, critique and discuss the systems, structures, cultures, experiences and consequences of inequities within higher education. If you would like to write for 'The (In) Equitable Academy', please email Emily Danvers. We ask for contributors to write 800-1000 words in a research-informed but accessible style. Subjects can include reflections on completed research or that which is still in development or commentary on higher education news or policy.
3. CHEER members Tamsin Hinton-Smith and Emily Danvers have written for the Forum for Access and Continuing Education (FACE) about the work they are seconded to do as Research and Evaluation Managers for the HEFCE-funded National Collaborative Outreach Programme. They reflect on the use of postcodes as a proxy measure of disadvantage as well as the importance of close collaboration between schools, colleges, universities and community groups to ensure young people are best supported in their educational decision making.
February 2018
See blog post by Professor Louise Morley relating to the CHEER Anniversary Seminar Does Class Still Matter? published by Times Higher Education on 4 February.
January 2018
December 2017
CHEER Symposium @ SRHE Conference 2017: Affect in Academia: Policy Shadows and Perplexing Subjectivities
CHEER members presented four papers focusing on the affective economy of academia in relation to inclusion, equity and epistemic justice in higher education internationalisation (Morley), what it means to learn, as an international postgraduate student, and then power of learning to drive change (Webb), professional development in the form of coaching that attempts to engage with the 'whole person' in institutions dedicated to the life of the mind (Attia), and the affective challenges of recalibrating one's academic identity through retirement – a major policy silence! (Hey). These topics were selected as they are largely under-researched in the field of higher education studies and suggest that more nuanced explorations of the affective consequences of dominant policies are required in order to ensure sustainability, well-being and regeneration in academia.
The papers drew upon empirical data from CHEER's portfolio of research projects including Higher Education, Internationalisation and Mobility (HEIM) and Higher Education, Knowledge Exchange and Policy Learning in the Asian Century: A UK/Japanese Partnership.
Theoretically, the papers invoked a diverse range of social theories including new mobilities paradigms, epistemic justice, feminist poststructuralism and critical pedagogies. The symposium was full of social science researchers at different career stages from across the globe.
CHEER @ SRHE 2017
CHEER cited in Times Higher Education
CHEER was mentioned in an article by David Matthews writing for Times Higher Education on 6 December on the underrepresentation of women at the top levels of research and the rise of 'affirmative action' on gender becoming more common. CHEER Director, Professor Louise Morley, is quoted as stating that "any positive discrimination intervention is always controversial as critics argue that it is in opposition to merit. However, when any social group is so under-represented, some focused actions are necessary." See Max Planck launches women-only recruitment drive.
November 2017
CHEER's 10th Anniversary Seminar
On 15 November, CHEER celebrated its 10th anniversary with a seminar entitled Does Class Still Matter? Conversations about Power, Privilege and Persistent Inequalities in Higher Education. As the anniversary coincided with the 20th anniversary of the publication of Pat Mahony and Christine Zmroczek's edited collection of essays: Class Matters: "Working Class" Women's Perspectives On Social Class, CHEER celebrated the two events by bringing together late and early career researchers for creative, regenerative and productive inter-generational conversations about social class, feminisms and identities in the academy by way of 'conversations'. The conversations were broad ranging, encompassing the wider neoliberal context of higher education; persistent institutional barrier; precarity; personal life histories; intersectional academic identities; classed language and everyday experiences of the academy.
The day ended with an in-depth group discussion considering ways forward. Actions suggested included forging local, national and international alliances; working to strengthen the unions; linking more closely with wider communities; learning from national and educational contexts; challenging current funding regimes; developing more inclusive curricula; encouraging more diverse staff in HEIs; raising further questions about the value of higher education and disrupting inequitable power structures. The thoughtful and cutting edge insights, questions and reflections provided a fitting tribute to the centre's 10 years of groundbreaking research, education, communication and events.
Professor Gloria Bonder
Professor Gloria Bonder from FLACSO (Facultad Latinoamerican de Ciencas Sociales), Argentina (http://flacso.org.ar) visited CHEER for its 10th Anniversary celebrations. As well as participating in the seminar Does Class Still Matter? Conversations about Power, Privilege and Persistent Inequalities in Higher Education on 15 November, Professor Bonder had meetings with Professor Louise Morley, Dr Barbara Crossouard, Paul Roberts and Dr Simon Thompson about future research collaborations between CHEER and FLACSO.
Dr Gloria Bonder is the Director of the Department of Gender, Society and Policies of the Latin American Postgraduate Institute of Social Sciences (FLACSO Argentina). She coordinates two regional programmes including the UNESCO Regional Chair on Women, Science and Technology in Latin America and the e-learning master's programme on Gender, Society and Public Policies. Bonder is the coordinator of the Global Network of UNESCO Chairs on Gender. Since 2014, she has coordinated the region's activities in the global GenderInSITE programme, through her role as the UNESCO Regional Chair. The programme aims to influence policies and policy makers in science, technology, innovation and engineering, to integrate gender equality principles and goals.
She is a researcher and consultant on Women, Science and Technology for several national, regional and international organisations such as: Minister of Science and Technology in Argentina, United Nations, Women and Development Unit, ECLAC and the Office of Science and Technology, UNICEF, UNIFEM, UNDP and UNESCO, among others. Professor Bonder has developed research projects on gender issues and/in technology and science, education, communication, health and youth, and published books and articles both national and international. She is a member of the advisory board of UN Women for Latin America and the Caribbean and WISAT (Women in Global Science and Technology).
CHEER is delighted to have a link with Professor Bonder and FLACSO, and thoroughly enjoyed hosting her productive and creative visit.
Professor Gloria Bonder (FLACSO) attends CHEER's 10th anniversary event
October 2017
Louise Morley was the keynote speaker at the Effective Gender Equality in Research and Academia (EGERA) Seminar, Sciences Po, Paris, 16 October. She presented Entangling Gender and Neoliberalism in the Global Academy to scholars, researchers and policymakers from around Europe, including Marie Skłodowska-Curie's granddaughter - Hélène Langevin-Jolliot - who was at the seminar to pay tribute to Marie Skłodowska-Curie, on the occasion of her 150th anniversary with Marion Augustin and Nathalie Pigeard.
Effective Gender Equality in Research and Academia Seminar, Paris: 16 October 2017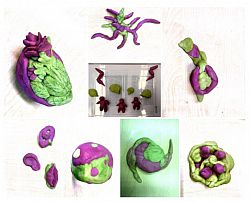 Writing into Meaning in the Free University Brighton
Emily Danvers and Rebecca Webb delivered a community writing workshop as part of the Free University Brighton on Saturday 21 October. The workshop looked at using creative techniques to re-think academic writing practices and the clay models depicted represent each participants' writing, and were created by a partner who listened carefully to them speak. A blog post provides further details of the event. This workshop is informed by Rebecca, Tamsin and Emily's work on 'Writing Into Meaning' for which they have recently received funding from the UK Council for International Students to research the writing practices of international doctoral students.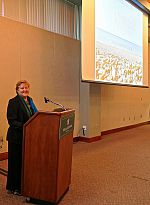 Entangling Gender in Virginia
Louise Morley was one of the keynote speakers presenting Entangling Gender and Neoliberalism in the Global Academy at the Exclusionary Legacies: Women, Gender, and Race in Higher Education 2017 Tyler Lecture Series, College of William and Mary, Williamsburg, Virginia, USA.

During the next two years the College of William and Mary is celebrating the 50th anniversary of the admission of African Americans to the college (2017), and the 100 year anniversary of white women's acceptance as students (2018). This prestigious seminar addressed both of these firsts and interrogated the desegregation of higher education as it relates to women.
The three keynote speakers covered an expansive period, with Professor Louise Morley offering a transnational analyses of the current neoliberal era in higher education. Professor Mary Kelley from Michigan University, USA, focused on gender and higher education in Early America, and Professor Mia Bay from Rutgers University drew attention to 19th and 20th century developments in the United States in relation to higher education and African American women.
The seminar was part of the Tyler Distinguished Lecture Series, and was funded by a generous gift from the Tyler family. It was attended by academics, doctoral researchers and members of local civic society.
September 2017
Transformative Pedagogy Course for the Nigerian Universities Congress (NUC)
Colleagues from the Department of Education (Emily Danvers, Tamsin Hinton-Smith, Mariam Attia, Simon Thompson and Jennifer Agbaire) visited Abuja, Nigeria from 24-30th September by invitation of the Nigerian Universities Congress (NUC). They delivered a week-long intensive professional development course for 82 Nigerian university lecturers entitled 'Transformative Higher Education Pedagogy and Practice'. This was an incredibly rich experience for Sussex colleagues in being attuned to the challenges of higher education pedagogies in different international contexts and we hope to form a lasting collaboration with the NUC and with our Nigerian colleagues who took part.
International Press Coverage:
Transformative Pedagogy in Nigeria: Photo Gallery
Teaching in Turbulent Times: Challenges and Responses
A CHEER and TaLES event
Sponsored by ADQE, CHEER, Centre for Gender Studies and Global Studies
19 September 2017
This day-long workshop was an outcome of university-wide teaching and learning projects led by Dr Charlotte Morris, CHEER Research Fellow and convenor of the Education for Diversity working grioup, and Dr Liz Sage, Teaching Fellow in Teaching, Learning and Assessment in Higher Education (Academic Development & Quality Enhancement) and convenor of the TaLES series.
Taking place at the Attenborough Centre for the Creative Arts, the event drew 40 attendees and brought together academic staff from local universities, the wider community and beyond to reflect on some of the current challenges facing higher education (HE) and to imagine ways forward. Of particular concern was the wider political context and the particular challenges posed in the HE classroom; the impact of widespread discrimination and inequities on staff and students; seismic shifts in social, political and educational landscapes; the sense of urgency around social justice issues and the implications of such turbulence for our pedagogical practices.
The day opened with invited speakers sharing their experience and insights, leading into an open forum to identify common challenges and good practice. Speakers included Professor Alison Phipps who spoke about her work on the Changing University Cultures project.
Keith Smyth (University of Highlands and Islands) who discussed the concept of 'Third spaces' in HE; Grainne Gahan, Welfare Officer for the University of Sussex Student Union; Professor Andrea Cornwall, PVC Equality and Diversity; Imani Robinson (Sussex) who is currently supporting staff in their decolonising education initiatives; Dr Sindi Gordon, Research Fellow for the Centre for the Centre for Teaching and Learning Research and Equality and Diversity representative for the School of Education & Social Work; Dr Charlotte Morris on student mental health and wellbeing and Dr Liz Sage reflecting on challenges educators face in re-thinking HE practices, with particular concerns about current precarious working conditions for many teachers in the sector.
Two workshops were held in the afternoon, offering different ways of critically assessing and imagining what education can be: Charlotte Morris led a session reflecting on the values we bring to our work as educators and Liz Sage led a 'wandering workshop', aimed at enabling participants to think differently about teaching spaces. These led on to the final workshop, facilitated by colleagues from the Technology Enhanced Learning team, wherein participants built on the discussions throughout the day to re-imagine what HE can be – both in terms of the immediate changes they can make as individual teachers, in their departments, and in broader terms for their universities and the sector. Discussions were captured via nearpad in order to feed into review processes at the University of Sussex.
Teaching in Turbulent Times: 19 Sept 2017
____________________________________________________________________________
CHEER at BERA: Disrupting and Disturbing Dominant Discourses in Higher Education
In this symposium held as part of the BERA (British Educational Research Association) conference on 6 September, CHEER's researchers critically examined dominant values, vocabularies and hegemonic analyses and concepts used in higher education policy, practices and processes. The symposium was chaired by Dr Kelly Coates, King's College London, and included five papers:
Paper 1 - Professor Louise Morley, Troubling Intra-actions: Gender, Neoliberalism and Research in the Global Academy
Paper 2 - Dr Emily Danvers, Embodying Critically: Who Gets to be a Critical Thinker in Higher Education?
Paper 3 - Dr Charlotte Morris, Rethinking the Student Experience: Student Carers, Belonging and Inclusion
Paper 4 - Daniel Leyton, Desirable Subjectivities in Chilean Widening Participation Narratives
Paper 5 - Paul Roberts, Captured Minds? Graduate School Managers and the UK Doctorate
Louise Morley opened the symposium, discussing how academic research is aligned with the political economy of neoliberalism. That is, how research is valued for its commercial, market, and financial benefits. She argued that higher education's pedagogical practices and policy discourses often take as their subject an unspecified body, failing to interrogate who these bodies are (and are not) in relation to categories of social difference, and their differentiated access to power, privilege, and opportunity structures.
Emily Danvers' paper interrogated who occupies a 'legitimate' critical subjectivity as a higher education student and how such bodies are re-shaped by dominant discourses about power, authority and legitimacy. Drawing on interviews and observations of UK undergraduate social science students, she aimed to disrupts notions of disembodied critical knowers and situates the critical thinker as an embodied and contextual figure.
Charlotte Morris, in her paper, spoke back to reductionist tropes around 'the student experience' and linked discourses of 'belonging' and 'inclusion'. Drawing on empirical work conducted with student carers in the UK, she explored how constructions of students as young, autonomous, pleasure seeking individuals who are free of responsibilities and dependencies creates symbolic 'others' – with pedagogical, material and affective consequences.
Addressing the dominant discourses of higher education in an international context, Daniel Leyton analysed the assumptions and limits of affirmative action policies in neoliberal Chile. His paper unpacked what (and who) constitutes a desirable subjectivity within Chilean widening participation narratives. complicating and contradicting these assumptions by drawing on working class students' own narrated experiences of higher education.
Continuing the theme of neoliberal demands on higher education policy, Paul Roberts' paper focused on the rise of Graduate Schools in the UK in response to reform of the doctorate. He explored, the extent to which the values of neoliberalism have been internalised by Graduate School Managers identifying moments of resistance. His paper asked whether Graduate School Managers, often depicted as the 'agents' of neoliberalism, are 'captured minds' or whether they can also be seen as active participants in questioning and critiquing and even sharing in some of its discomforts.
Together, these papers represented a collective disruption of taken-for granted discourses and vocabularies that dominate thinking in and about higher education.
CHEER at BERA 2017
July 2017
Summer School
Dr Emily Danvers coordinated the summer school 'Research Methodologies Training for Equality and Diversity' from 28 June-29 July which comprised a programme of activities - from research communication workshops to participating in an expert meeting about Gypsy, Roma and Traveller inclusion – to support Roma scholars, or those researching Roma. The summer school was part of HEIM Work Package 6 and the two key aims were for participants to:
Five participants attended:
Imre Balong,University of Pécs, Hungary
Mate Dezso, Eotvos Lorand University
Tom Bass, Roma Education Fund
Radu Lacatus, Babes- Bolyai University, Romania
Ion Goracel, Western University of Timisoara, Romania
The summer school was a really productive space to exchange knowledge with researchers and colleagues working in different international contexts and to reflect on how the concepts of 'equity, diversity and internationalisation' might apply to Roma. We look forward to future collaborations with our new friends!

CHEER Graduation: 20 July
Congratulations to Dr Rose Kiishweko from Dar es Salaam, Tanzania, a CHEER PhD scholar who graduated this month. Her highly original and exciting thesis was on Albinism in Higher Education in Tanzania. Rose was supervised by Louise Morley, with Linda Morrice as her second supervisor.
June 2017
CHEER in Japan
CHEER members traveled to Japan for a week on 18 June 2017 to be hosted by the Research Institute for Japan, UK and Europe (RIJUE), University of Hiroshima. The team included CHEER's Director, Professor Louise Morley; Co-director, Dr Emily Danvers; Research Fellow, Dr Charlotte Morris; Head of the Department of Education, Dr Simon Thompson; Assistant Director of the Doctoral School and doctoral researcher, Paul Roberts; and CHEER doctoral researcher, Daniel Leyton.
The purpose of the visit was to develop CHEER's research partnership with RIJUE; to collect data and exchange knowledge for co-authored papers and to discuss ideas for future research and publication collaborations.
The three research strands - agreed at a Sussex symposium in February 2017 - included Internationalisation with a focus on the experiences of International academics, Doctoral Studies, investigating training and skills development, andHigher Education Pedagogies with an emphasis on critical thinking.
See more details and photographs on the CHEER in Japan web page.
May 2017
Professor Louise Morley's Guest Professorship at the University of Gothenburg, Sweden
May saw the end of Louise Morley's prestigious Guest Professorship at the University of Gothenburg, Sweden. She spent a total of 12 weeks there between October 2016 and May 2017. In that time, Louise worked with Swedish colleagues to set up a Centre for Higher Education in Sweden, developed a research bid to the SPHEIR Programme, and conducted a research project on The Neoliberal University with Dr Petra Angervall, Dr Caroline Berggren and Dr Susanne Dodillet. She also gave a lecture series on Gender in the Neoliberal University.
Louise worked closely with the Swedish Secretariat for Gender Research where she gave lectures and workshops on Gender Mainstreaming. She also presented a range of seminars including Lost Leaders: Women in the Global Academy, at Mid-Sweden University Seminar Series, Sundsvall, Sweden, and The Hidden Narratives of Internationalisation, University of Gothenburg Seminar Series, October, 2016, and Troubling Intra-actions: Gender, Neoliberalism and Research in the Global Academy, Critical Education Seminar, University of Gothenburg Seminar Series, October, 2016.
Louise contributed to a symposium on The Neoliberal University at the 2017 NERA (Nordic Education Research Association) Conference in Copenhagen, March 2017 with colleagues from Uppsala (Minna Salminen Karlsson), Linnaeus (Charlotte Silander), and Gothenburg (Caroline Berggren) Universities in Sweden and the University of Helsinki in Finland (Sonja Kosunen).
Louise also attended a number of events including a seminar by Professor Karen Barad who was visiting Gothenburg from the USA to receive her honorary doctorate. Louise was delighted to spend time with eminent scholars of Higher Education Studies including Professor Elisabet Öhrn, Professor Dennis Beach, Professor Anders Olofsson and Dr Helen Peterson.
The Guest Professorship is opening up links between Sussex and Gothenburg. For example, in March 2017, Paul Roberts from the Doctoral School at Sussex visited Gothenburg to research doctoral studies in Sweden as part of an Erasmus+ programme. Louise is looking forward to co-authoring research papers and continuing her productive and enjoyable collaboration with higher education researchers from across Sweden.
Louise Morley's Swedish Guest Professorship
April 2017
1. New book published
Louise Morley is the editor of a new edited collection published by Routledge, entitled Gender and Access to and Participation in Higher Education: The Europa World of Learning Essays 2017 (ISBN: 9781857438321).
The collection interrogates gender in the global academy and includes contributions from Hong Kong, Sri Lanka, Sweden and the UK. It addresses a range of contemporary challenges including gender-based violence, the exclusion of Roma women, the absence of women from senior leadership, gender equality policy paradoxes, and the negative socio-cultural constructions of women who choose to follow the life of the mind. The two-volume set includes chapter contributions from a number of CHEER members and Associates, including Maithree Wickramasinghe, Tamsin Hinton-Smith, Emily Danvers, Barbara Crossouard, Sarah Jane Aiston and Caroline Berggren.
2. Louise Morley presented the keynote Gendered Ecologies in Higher Education at the GenderInSITE Elsevier Foundation Seminar Integration of Gender Perspectives in Science and Technology in Higher Education: Contributions to the Advancement of SDGs, Buenos Aires, Argentina, April, 2017. The international seminar was attended by delegates from across Latin America, Europe and North America from a range of universities and projects, including UNESCO; The National Center for Women & Information Technology, USA; The GenPORT consortium and The International Council for Science. Recommendations from the seminar, including Louise's Manifesto for Change [PDF 333.22KB] from her research on women in leadership, were going forward to UNESCO.
GenderInSITE Conference, Buenos Aires, Argentina: April 2017
3. On 5 April, Dr Rebecca Webb, Dr Tamsin Hinton-Smith and Dr Emily Danvers presented at the University of Sussex's Teaching and Learning Conference at which they ran a practical workshop drawing on their experiences of running a writing group for doctoral students. See the writing group's blog for more details of this initiative. In their presentation, they spoke back to dominant discourses of doctoral academic writing as individualised, isolating and linear by describing how the writing group aimed to foster a supportive, critical and creative space to write and to talk about the process of writing.
March 2017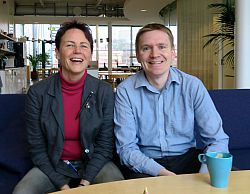 1. Erasmus+ funding supports CHEER researcher
CHEER's collaboration with the University of Gothenburg was further strengthened through the use of valuable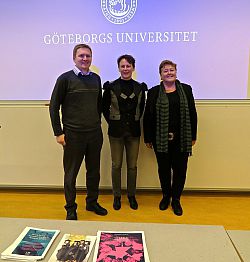 EU mobility funding. Paul Roberts (Doctor of Education researcher and Assistant Director of the Doctoral School) visited the University of Gothenburg's Faculty of Education and Gothenburg's Grants and Innovation Office from 27-29 March 2017. Opportunities arising from the visit include: Improvements to the support for early career researchers being incorporated into the University of Sussex's 'HR Excellence in Research Award' plans; links with members of the Swedish Gender Research Secretariat (whom we hope to welcome to CHEER); as well as a number of ideas of how the research and activities of CHEER and Gothenburg's Faculty of Education could develop.
"This visit was of great benefit from an academic, professional and personal perspective. I would strongly encourage staff and students to engage with the Erasmus+ scheme and to lobby for its retention in light of BREXIT." Paul Roberts
2. Louise Morley presented Troubling Intra-Actions: Gender, Neoliberalism and the Global Research Economy in the symposium Equity in the Neoliberalised Swedish University? at the Annual Conference of the Nordic Education Research Association (NERA), University of Aalborg, Copenhagen, in March. Other presenters included Caroline Berggren, University of Gothenburg and Charlotte Silander, Linnaeus University (Enterpreneurship in Higher Education), and Minna Salminen Karlsson, Uppsala University (Teacher-student Relationships in the Managerial University). The discussant was Sonja Kosunen, University of Helsinki. The symposium was attended by academics, students and equality officers from across the Nordic region.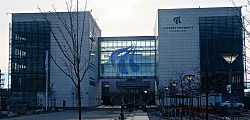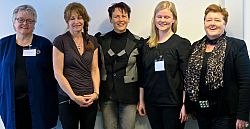 3. On 14 March, Daniel Leyton presented a Research-in-Progress Seminar on his doctoral research 'Widening Participation to Higher Education in Chile'. It was fascinating to hear his emerging findings about how global concerns with educational inclusion produce specific 'desirable' subjectivities for the students who are 'included'.
4. Congratulations to Dr Emily Danvers who received Senior Fellowship of the Higher Education Academy. This award recognises Emily's proven, sustained track record in leading high-quality teaching and learning in higher education.
February 2017
1. On 23 February, CHEER members, Dr Tamsin Hinton-Smith, Dr Emily Danvers and Tanja Jovanovic presented a Research Café for the Centre for International Education (CIE). Entitled Roma Students' Experiences in European Higher Education: Exploring Gender, Identity and Marginalisation [PPTX 5.76MB], their paper gave details of the HEIM project to MA students and departmental colleagues.
CIE Research Cafe: 23 February 2017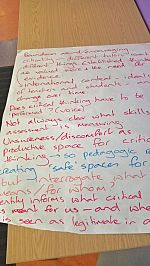 2. Who is the Critical Thinker in Higher Education?
Dr Emily Danvers and Dr Tamsin Hinton-Smith were keynote speakers at a University of Portsmouth research seminar on 15 February entitled 'Who is the Critical Thinker in Higher Education'. Organised by Dr Francesca Salvi and the Women & Gender Studies Research Cluster, the seminar explored how critical thinking is encouraged and enacted by faculty and students and becoming a critical thinker intersects with students' identities. Emily drew on her research with undergraduate students about how the student critical thinker is embodied and contextual and how discourses of criticality de-legitimate knowledge and bodies deemed 'other'. Tamsin drew on her extensive experience teaching critical thinking to explore how the critical thinker and how teaching critical thinking might be more ethically re-imagined. The event was attended by an audience of students and staff and prompted a lively discussion about the multiple factors shaping 'becoming' a critical thinker for students and the importance of continuing to foster space for critical thinking in higher education practice.
3. CHEER has provided a written submission to the UK House of Commons Women and Equalities Committee inquiry into 'Tackling inequalities faced by Gypsy, Roma and Traveller communities'. The summary of findings looks at strategies for the inclusion of Gypsy, Roma and Traveller communities in higher education.
January 2017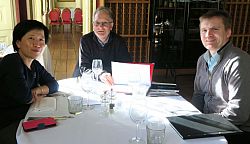 1. CHEER welcomed Dr Dorothy I-Ru Chen from the National Chi Nan University, Taiwan, on Thursday 19 January.
Dr Chen visited Professor Louise Morley to work on a research bid, and Professor John Pryor and Paul Roberts to explore how the UK doctorate compares and contrasts with doctorates in Taiwan. Dr Chen was especially interested in the interventions and strategies for doctoral training in the UK.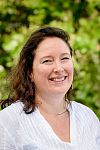 2. CHEER Welcomes Dr Charlotte Morris as new Research Fellow
Charlotte comes with a wealth of experience working in higher education, researching and supporting students with a particular specialism in student mental health and wellbeing. Charlotte will be working with us to support CHEER's research activities and to promote and grow the research centre.
3. Proposal Presentation on HE Reform in Lebanon
CHEER doctoral researcher, Helen Murray, presented her research on 'Higher Education in Conflict: The politics of higher education reform in Lebanon' on Monday 16 January. It was wonderful to hear about this fascinating topic within higher education research and we hope to hear more data and analysis from Helen as her research progresses.
December 2016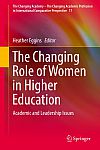 1. New book published by CHEER Visiting Professors, Heather Eggins, The Changing Role of Women in Higher Education. With chapters by Miriam David (Women and Gender Equality in Higher Education), Louise Morley, Madeline Berma, and Bahiyah Dato' Hj. Abdul Hamid (Managing Modern Malaysia: Women in Higher Education Leadership).
2. Tamsin Hinton-Smith, Emily Danvers and Rebecca Webb spoke at the 'Ethics of Writing' conference at the University of Brighton on 8 December on the topic 'So is it a feminist group? Some reflections on 'feminist' ethical premises and practices of one post-graduate writing support group'. Their paper focused on the 'Writing into Meaning' doctoral group which ran this term at the University of Sussex and the extent to which this offered a productive, supportive space to think differently about writing practices and academic lives more broadly. The 'Writing into Meaning' blog has more information on the nature of the group, the kinds of activities that take place and the incredible student writing it has generated.

3. Congratulations to Tamsin Hinton-Smith who received Senior Fellowship of the Higher Education Academy. This award recognises Tamsin's proven, sustained track record in leading high-quality teaching and learning in higher education.
November 2016
1. Dr Barbara Crossouard provided a keynote address in Delhi, India, entitled 'Women in STEMM in the UK: more questions than answers?' which was delivered to the Trilateral Workshop on Women in STEMM (Science, Technology, Engineering, Mathematics and Medicine) with the Australian Department of Industry, Innovation and Science in partnership with the Ministry of Science and Technology, India and the British High Commission (New Delhi). In attendance were Ministry officials, ambassadorial staff from the three host countries, professional associations and institutes (including the Indian National Science Association, Indian Institute of Science, George Institute for Global Health, Royal Society, UK) and national bodies working on equality in higher education (such as the Equality Challenge Unit, UK), as well as academics from each host country.
2. Louise in Taiwan
University of Tainan - keynote speaker
Louise was the keynote speaker at the International Conference on Public Education and Equity, University of Tainan, 18-19 November, presenting Lost Leaders: Women in the Global Academy. Hosted by the Department of Education in the National University of Tainan, the conference was attended by academics, doctoral scholars, policymakers and community organisations from the Asia Pacific region.
International Conference on Public Education and Equity, Taiwan: November 2016
Doctoral Lecture
Louise also presented a lecture to postgraduate scholars and staff on The Hidden Narratives of Internationalisation. The presentation was based on research findings from Work Package 2 of the HEIM project.
Doctoral Lecture, Taiwan: November 2016
Knowledge Exchange
While in Taiwan, Louise had meetings with a range of colleagues in the field of higher education, including from the Ministry of Education, the Higher Education Evaluation and Accreditation Council of Taiwan and the Chinese Taipei Comparative Education Society.
CHEER is looking forward to future research and doctoral collaboration with colleagues in Taiwan.
3. Louise in Australia (1)
Deakin University - keynote speaker
Louise was one of the keynote speakers at the 'Disrupting Higher Education Dialogues International Conference', Deakin University, Melbourne, Australia, 23-25 November, presenting Troubling Intra-actions: Gender, Neoliberalism and Research in the Global Knowledge Economy, and participating in panel discussions throughout the conference.
Sponsored by the Research for Educational Impact (REDI) Strategic Research Centre, the conference offered theoretical and future oriented provocations on a wide range of relevant issues through a dialogue among leading international and Australian scholars. It was attended by academics, doctoral scholars and a range of community organisations and trade unions.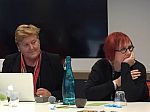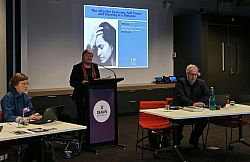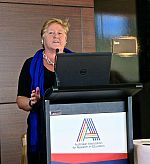 4. Louise in Australia (2)
Louise attended the Australian Association for Research in Education Annual Conference, Melbourne, 27 November- 1 December, presenting Women in Higher Education Leadership in South Asia: Willfulness and Willingness in the symposium 'Leading in the Neoliberal University: Gender, Voice and Inclusion in the Global Academy' led by Professor Jill Blackmore, with Professor Lyn Yates as the respondent.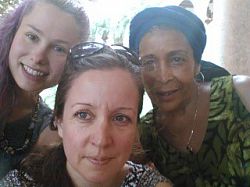 5. Tamsin in Cuba
Dr Tamsin Hinton-Smith, Senior Lecturer in Higher Education, presented her research on Universities and Inequality: Reasserting class exclusion at the Conference of New Political Science, University of Havana, Cuba, 14-18 November. Her paper paper drew on an ongoing funded research project that aims to put class back on the agenda in addressing HE inequalities. Interviews with teachers, pupils and parents at schools selected for low university participation rates are used to explore and expose the mechanisms by which working-class young people continue to be excluded from universities, particularly the elite institutions that feed into positions of political power, in spite of interventions ostensibly aimed at increasing equity of opportunity.
The photo shows Tamsin with her co-confrencees and presenters, Dr Diana Pardo, Professor of Spanish and Department Chair of Modern Languages at the University of Central Oklahoma; and Roosa Jolkkonen, Doctoral candidate in social Policy at Oxford University.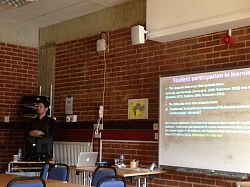 6. CHEER-hosted Research-in-Progress Seminar
CHEER doctoral researcher, Kourosh Kouchakpour presented his work on Monday 14 November to peers and faculty. In a presentation entitled 'Students' Experiences of Participation in Learning: a Case Study of the BSC programme in Civil Engineering in an Iranian University', Kourosh chose to focus on one particular aspect of his thesis about institutional barriers to learning. He provided a fascinating insight into the complexity of factors affecting students' participation – from gender discourses to the nature of university authority and its interconnections with state power. We look forward to hearing more!
7. Visit from Roma Scholars
CHEER welcomed three visitors this month: Danut Dumitru (Director of Advocacy, Roma Education Fund, Romania), Gabriela Petre (PhD researcher, Romania) and Albena Velcheva (PhD researcher, Bulgaria). These scholars and activists associated with the Roma Education Fund (REF) are working to close the gap between Roma and non-Roma in education. The REF are a key partner on our HEIM project which looks at how principles of equity and inclusion can be applied to internationalisation strategies and programmes in higher education.
Danut, Gabriela and Albena met with colleagues from the Widening Participation team here at Sussex to share best practice and ideas for supporting marginalised groups to access higher education opportunities across Europe. The group also worked together to produce a film about Roma in higher education in which experiences were shared of Roma in higher education and experts of advocacy for Roma educational rights. The film will be launched at a HEIM event on 12 July 2017. Details to follow.
Roma Visitors: November 2016
8. New Mediations of Feminist Sociology of Education - featuring Professor Miriam David
Monday 7 Nov 2016
2-6.30pm
Nunn Hall, UCL, Institute of Education
Contact Joanna Gzik to reserve a place: j.gzik@ucl.ac.uk
October 2016
CHEER welcomes Dr Emily Danvers as a new Lecturer in CHEER. Emily will be contributing to research and teaching in the Department around her specialist areas of higher education pedagogy, feminist theory and social inclusion. She will also be the new Co-Director of CHEER, covering some of Professor Morley's duties while the latter is on secondment at the University of Gothenburg, Sweden.
September 2016
CHEER Research Fellow, Tanja Jovanovic, presented details of CHEER's research project 'Higher Education, Internationalisation and Mobility' and a short film at the 'Roma and Traveller Identity Now Conference 2016' in London on Saturday 17 September. Hosted by the Advisory Council for the Education of Romany and other Travellers (ACERT), other presenters included members of the Romany Traveller Family History, members of Friends Family and Travellers, and individual Travellers talking about their experiences.
Gypsy, Roma and Traveller Identity Now: 2016
August 2016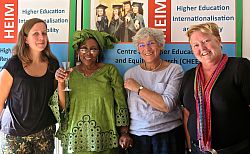 Congratulations to CHEER researcher, Rose Kiishweko, who was recommended for the award of PhD in Education for her thesis 'Albinism in Tanzanian Higher Education: A Case Study'. Her examiners were Anne Gold (Senior Lecturer in Leadership and Management, Institute of Education - University College London), and Tamsin Hinton-Smith (Senior Lecturer in Higher Education, University of Sussex). Both commented on how original and interesting Rose's feminist study was, and noted its potential to contribute scholarship from Tanzania on gender, higher education and disability to the international field. Louise Morley (Director, CHEER) was Rose's first supervisor and Linda Morrice (Senior Lecturer & Director of Doctoral Studies) was her second supervisor.
July 2016
1. Higher Education Knowledge Exchange and Policy Learning in the Asian Century: A UK/Japanese Partnership
CHEER is delighted to announce that it has been funded by the International Research Partnerships & Networks Fund at the University of Sussex to develop a partnership with the Research Institute for Japan, the UK and Europe (RIJUE), Hiroshima University. The partnership will develop original comparative higher education research on current policy priorities in the two countries, including:
Privatisation
Internationalisation
Teaching and Learning
Equity and Inclusion
Leadership
The Future of Doctoral Education
The partnership will comprise seminars and secondments for academic staff and doctoral scholars in Sussex and Hiroshima, collaborative publications and research.
2. Professor Louise Morley was the keynote speaker at the New Governance and Gender Equality in Science conference in Cologne, Germany. Her presentation Gender, Neoliberalism and Research in the Global Knowledge Economy [PPTX 1.61MB] was based on her international research on how women fare in research leadership.
The conference, funded by the German Federal Ministry for Education and Research, was a joint project between the Centre of Excellence for Women and Science – Leibniz Institute for Social Sciences in Cologne under the leadership of Dr. Andrea Löther (Cologne) and Sociology at the University of Paderborn under the leadership of Prof. Dr. Birgit Riegraf (Paderborn). The Conference focussed on 3 main topics: Governance, Higher Education and Equality, and was attended by gender equality scholars and practitioners from Austria, Germany, Switzerland and the USA.

June 2016
1. Professor Louise Morley has been awarded a Visiting Professorship at the University of Gothenburg, Sweden. She will spend a total of 12 weeks with colleagues in Sweden from October 2016 to June 2017, contributing to developing higher education studies in Gothenburg's Faculty of Education, and furthering research and scholarship links with CHEER.
2. Professor Louise Morley presented Future Directions for UK Higher Education [PPTX 1.06MB] on 6 June at the Society for Research into Higher Education's (SRHE) conference Future Directions for UK Higher Education: Looking Forward in Uncertain Times. The event was attended by members of the Higher Education Funding Council for England (HEFCE), the Quality Assurance Agency, the National Union of Students, the Higher Education Commission, and academics from around the UK.
SRHE 2016
May 2016
CHEER was delighted to welcome Professor Yumiko Hada and Dr Ryo Sasaki from Hiroshima University, Japan on 3 May. The newly-founded Research Institute of Japan aims to develop co-operation between British and Japanese research institutes and universities, as well as involving business sectors - such as companies, private entities and civil societies - in order to deepen the relationship between the two countries.
The partnership with CHEER will include collaborative research, joint seminars in the UK and Japan, and co-authored papers. It will involve CHEER members and doctoral scholars. Some of the key areas of collaborative higher education research interest include:
Internationalisation

Peace

Teaching and learning

Equity and inclusion

Leadership

The future of doctoral education.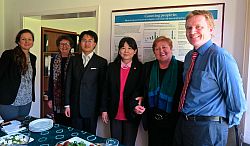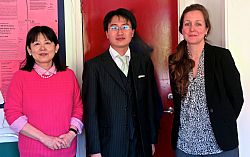 April 2016
1. Congratulations to Nihad Al-Zadjali who successfully defended her PhD thesis on 28 April. Nihad's research constituted an ethnographic case study of ESL teacher identity construction within Omani Higher Education and drew on the theories of Pierre Bourdieu to illuminate the tensions and contradictions provoked by new national policy priorities associated with assessment and quality assurance. Nihad's external examiner was Professor Gari Donn (University of Edinburgh) and her internal examiner was Professor Kwame Akyeampong. In recommending a pass with corrections, Nihad's examiners commented particularly on the theoretical lacuna that a Bourdeusian analysis of such issues was addressing in this context.
Nihad's first and second supervisors were Dr Barbara Crossouard and Professor John Pryor.
2. Professor Louise Morley gave the keynote address, Diversifying Higher Education Leadership [PPTX 21.11MB] at the Aurora Alumni Conference, London on 27 April. Aurora is a women-only development programme run by the Leadership Foundation for Higher Education in the UK. 3,500 women have completed the programme to date which is currently in its third year. The programme was initially developed in response to Professor Morley's Stimulus Paper, 'Women and Higher Education Leadership: Absences and Aspirations'.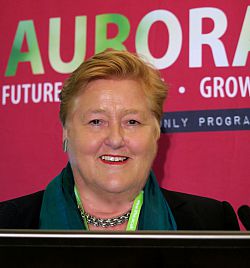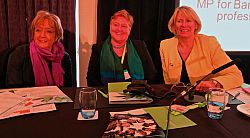 3. Dr Jessica Gagnon's doctoral research on the daughters of single mothers and higher education was cited in the Times Higher Education on 7 April.
4. Sara Maria Camacho Felix was recommended for the award of International Doctor of Education following her viva voce examination on 11 April for her research Fostering Criticality within Neoliberal Higher Education: A Critical Action Research Study with First Year Students in Kazakhstan. The study considered how, Sara, as a practitioner in international higher education, could engage students in criticality, as defined by critical pedagogy, despite a global trend towards the neoliberalisation of higher education policy. Drawing on Foucault's theory of performativity and Allman, Barnett, Freire, and Kincheloe's work on critical pedagogy, she conducted a piece of critical action research at a state university in Kazakhstan, with a central research question: how do students voice their criticality through engagement in writing narrative reflective essays?
Sara's external examiner was Dr Kelly Coate (King's College, London) and her internal examiner was Dr Rebecca Webb.
Her first supervisor was Professor Louise Morley and her second supervisor was Dr Jo Westbrook.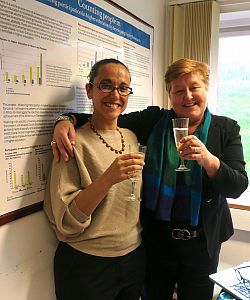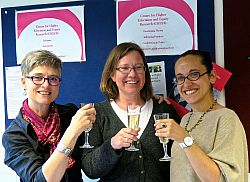 5. Professor Louise Morley has been unanimously voted in as a member of the Scientific Advisory Board of European Women Rectors Association (EWORA), Brussels, Belgium for four years. EWORA is an international non-profit association established in Brussels under Belgian Law in December 2015 to promote the role of women in leadership positions in the academic sector and to advocate gender equality in higher education and research at international scales. The Scientific Advisory Board evaluates the Association's activities and advises the Board of Directors on future actions and projects. EWORA is also a continuation of the European Women Rectors Platform (EWRP), which has been active since 2008 in organising the biennial European Women Rectors Conference.
6. Emily Danvers was recommended for the award of the degree of PhD in Education on 5 April following a viva voce examination for her thesis Re-thinking Criticality: Undergraduate Students, Critical Thinking and Higher Education. She drew specifically on the theoretical insights offered by Karen Barad and Sara Ahmed to interrogate how critical thinking emerges through the web of social, material and discursive knowledge practices and with different bodies that enact it. Emily argued that critical thinking is not simply a cognitive act or a disembodied, rational skill set, but involves deeply affective processes of becoming critical. Critical thinkers are not neutral subjects, she argued, but gendered, classed and raced beings, and becoming a critical thinker is inseparable from the ways in which bodies are unequally positioned in the academy.
Emily was highly commended for her rigorous, theoretically informed and original work.
Her external examiner was Professor Carole Leathwood (London Metropolitan University), and her internal examiner was Dr Barbara Crossouard.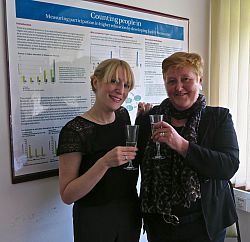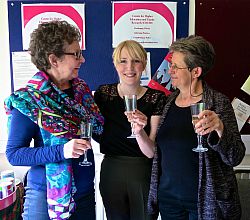 7. Congratulations to CHEER doctoral researcher, Tom Lunt, for being recommended for the degree of Doctor of Education! Tom's thesis was a highly reflexive, deconstructive analysis of student engagement with their peers and their tutors in a blended learning environment in which he was himself involved in a lecturer capacity. His in-depth analysis provided incisive commentary on the instrumentalisation of student engagement within contemporary UK HE contexts, as well as pointing to the importance of dissensus and politics in a reconceptualisation of a 'democratic learning community' based in the perspectives of Jacques Ranciere.
Tom's external examiner was Dr Carol Taylor, Reader in Education from Sheffield Hallam University, and his internal was Senior Lecturer in Education, Dr Linda Morrice. Tom's supervisors were Senior Lecturer in Education, Dr Barbara Crossouard, and Head of the School of Education and Social Work, Professor Brian Hudson.
Well done Tom!
March 2016
CHEER was delighted to welcome 17 doctoral scholars and eight staff from the Postgraduate School of Educational Sciences, School of Education, Umeå University, Sweden for a four-day seminar alongside 17 doctoral scholars from social science subjects across the University of Sussex. The seminar, Neoliberalism, Education and Changing Values: Theories and Methods in Educational Research comprised lectures and research methodology workshops by academic colleagues from CHEER, the wider Sussex university, and Umeå. The scholars also worked together in small groups to present and discuss their doctoral research.
The conference provided excellent opportunities for all doctoral scholars to internationalise their work and expand their theoretical and methodological understandings of the political economy of neoliberalism and how it has influenced educational policies and practices in Sweden and the UK.
February 2016
1. Jessica Gagnon was awarded an unconditional pass for her PhD in Education for her research: 'Born to Fight: The university experience of the daughters of single mothers who are first generation students in the United Kingdom' following her viva voce examination on 18th February. Jessica's supervisors were CHEER's Dr Tamsin Hinton-Smith, and Professor Penny Jane Burke from the University of Roehampton and Newcastle University, Australia. Jessica's PhD examiners were Dr Barbara Read of the University of Glasgow (external) and Dr Linda Morrice (internal). CHEER extends its heartfelt congratulations to Jessica.
2. Professor Louise Morley made the keynote presentation Gender, Neoliberalism and Research in the Global Knowledge Economy [PPTX 1.61MB] at the Women's Career Day 2016 conference, at the University of Hamburg, Germany. The conference was attended by doctoral and post-doctoral scholars, researchers, equal opportunities officers and lecturers in Science and Technology.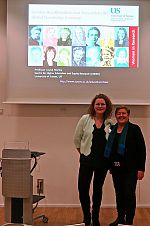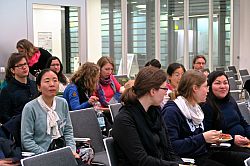 ______________________________________________________________
3. On Monday 8 February, CHEER hosted the seminar event 'Troubling Widening Participation in Higher Education Internationally' which comprised two presentations interrogating some of the complexities of widening participation polices in higher education in Chile and Sweden.
Trajectory of Widening Participation in Chilean Higher Education: Trends, Policy, Discourse and Subjectivities by Daniel Leyton, Doctoral Researcher, CHEER
Access to higher education in Chile can be explored in relation to the imposition of market principles, such as privatisation, competition, commercialisation and corporatization, and, on the other hand, by the rising of social movement for public education and de-commodification of higher education. Against this backdrop, Daniel presented a historic trajectory of widening participation in higher education in Chile in relation to principal policy technologies, modes of participation, aspirations, and classed students' experiences. Daniel also developed some ruminations on the conditions making possible a policy attachment to a neoliberal regime of truth underpinning the trajectory of widening participation policy.
Widening Participation in Sweden from a Gender Perspective by Dr Caroline Berggren, Associate Professor, Department of Education and Special Education, University of Gothenburg, Sweden. Also Visiting Academic, CHEER
Overall, Sweden has been very successful in decreasing social class differences regarding access to higher education among women. Despite this, the financial benefits of having a degree are low for women who study traditional female professional education. For men, the labour market seems to offer more alternatives - with or without a higher education credential. In her presentation, Caroline discussed how gender regimes, the organisation of the educational system, and labour market structures influence the composition of the student body in higher education. She also questioned how, if higher education is the tip of the educational iceberg, to what extent can policies about widening participation make a difference.
The event was attended by researchers, scholars, NGOs and professionals working in the widening participation field.
Widening Participation in International HE: 8 Feb 2016
December 2015
Professor Louise Morley was one of the keynote speakers at the high-level conference: Women in Public Life: From Policies to Impact in Bahrain. The Conference, organised by the OECD and Bahrain's Supreme Council of Women was under the patronage of the Kingdom of Bahrain's First Lady Princess Sabika bint Ibrahim Al Kahalifa, and was attended by Ministers, professionals from the public and private sectors and civil society, and international organisations from the Middle East and North Africa (MENA) region and beyond, ie. the European Parliament, the United Nations, the USA State Dept. Louise was taken to meet King Hamad bin Isa Al Khalifa of Bahrain, the first lady Princess Sabika bint Ibrahim Al Kahalifa, and the Prime Minister, H.R.H. Prince Khalifa Bin Salman Al Khalifa.
Louise presented Sister-Matic: Gender mainstreaming in higher education [PPTX 1.25MB] in the session Building Accountability for Gender Responsive Policies: From Strategy to Impact.
The event received extensive media coverage:
Photo Gallery
November 2015
1. Professors Louise Morley and Maithree Wickramasinghe (Visiting Professor, CHEER) were keynote speakers for a session on Gender Equity/Equality Challenges in Higher Education: Identifying Actions for Change at the Commonwealth Heads of Government Meeting (CHOGM) in Malta.
Louise presented Women in Higher Education Leadership in South Asia: Rejection, refusal, reluctance, re-visioning [PPTX 1.18MB]
Maithree presented Identifying Gender Inequalities/Inequities in Higher Education.
The session was attended by delegates from around the Commonwealth working in policy, government, civil society and academia. To accelerate impact, delegates were asked to work in small groups to consider questions including about what key messages they would take away and how they would apply the research to their work. Recommendations from the session were relayed to the Heads of Government. These included:
To collect gender disaggregated data in education at all levels such as primary, secondary, higher etc., on students and staff, on governance and leadership, and on employment practices and student wellbeing. The data need to be made widely accessible.

To use the information to inform gender mainstreaming with regard to policy, financial and other resource allocation, service delivery, institutional facilities and other organizational practices.
To invest in research on gender equality and equity and integrate gender considerations into all research proposals.
To work towards modern gender equal, equitable organizational and social cultures in which people are not impeded, excluded and subjected to violence as a consequence of their gender their identities.
Photo Gallery
2. CHEER Graduate Teaching/Research Assistant and PhD researcher, Tanja Jovanovic, was asked to present at the University of Brighton's 'Challenging Romaphobia' symposium on 3 November. Tanja was the only non-faculty member on the panel. She presented 'The Roma in Serbian Higher Education: Enablers and Barriers'.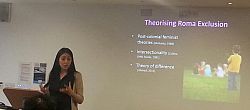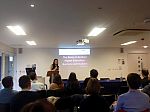 3. Professor Louise Morley was delighted to participate in the University of Umea's Research Days at the 'Olofsfors Seminar' for Umea's doctoral candidates in Education. The residential event consisted of workshops, seminar discussions and an 'unconference' session in which people raised issues of interest to them.
CHEER is looking forward to hosting this group when they visit the University of Sussex 14-17 March 2016 to work with Sussex social science doctoral candidates for the 4-day seminar 'Neoliberalism, Education and Changing Values: Theories and Methods in Educational Research'.
Photo Gallery
October 2015
1. Professor Louise Morley made the keynote presentation at the International Gender Studies Conference: Neoliberal Challenges, Feminist Responses, Programa Universitario de Estudios de Género (PUEG), Universidad Nacional Autónoma de México, Mexico City. Her presentation, Lost Leaders: Women in the global academy [PPTX 2.59MB], was attended by gender studies scholars, doctoral researchers and international organisations, including the British Council, from across Latin America.
Photo Gallery
2. Professor Louise Morley made the keynote presentation to the Higher Education Seminar Series (Seminario de Educación Superior) at the Universidad Nacional Autónoma de México, Mexico City.
Her lecture, Troubling Intra-Actions: Gender, Neo-liberalism and Research in the Global Academy [PPTX 1.68MB] took place in UNAM and was also relayed to 14 research sites across Latin America so that higher education scholars, postgraduate students and researchers across the nation could listen and pose questions.
Photo Gallery
September 2015
1. CHEER Director, Professor Louise Morley and colleagues presented the symposium 'Troubling Mobilities in Higher Education' at ECER (European Conference on Educational Research) 2015. The event, entitled 'Education and Transition: Contributions from Educational Research', took place at Corvinus University, Budapest from the 8th-11th September, 2015.
The following are some of the presentations that made up the CHEER-hosted symposium:
ECER 2015
2. Professor Louise Morley made the keynote presentation: Troubling Intra-Actions: Gender, Neo-liberalism and Research in the Global Academy [PPTX 1.66MB] at the conference Genderforschung und die neue Governance der Wissenschaft (Gender Research and the New Governance of Science), Ruhr-Universität Bochum, Germany.The event was attended by members of the regional and national ministries, equality offices and gender scholars from Austria, Germany, Switzerland, Sweden, and the Netherlands.