July 2019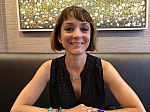 Dr Hande Eslen-Ziya, Associate Professor of Sociology at Stavanger University, Norway, visited CHEER to discuss possible research collaborations investigating gender in higher education in Europe. Hande's research interests focus on gender and social inequalities, transnational organisations and social activism, and she has a substantial portfolio of research in this field. CHEER looks forward to collaboration with Hande and colleagues in Norway.
June 2019
CHEER Experts' Knowledge Exchange Seminar: Internationalising Higher Education in Japan
Experts from MEXT the OECD, and the UUK and scholars, university leaders, members of professional services, and doctoral researchers participated in discussions on the findings from the CHEER Research Project: Higher Education, Knowledge Exchange and Policy Learning in the Asian Century: A UK/Japanese Partnership.
We were delighted to welcome our research parters from Japan - Professor Yumiko Hada and Dr Ryo Sasaki. We were also honoured that colleagues from around the globe joined us for the event: Professor Greg Poole, from Doshisha University, Japan, Dr Carolina Guzman from the University of Chile, and Ms Shizuka Kato from the OECD, Paris, and our CHEER Associates Professor Carole Leathwood and Dr Terri Kim.
Professor Hiroshi Ota from Hitotsubashi University made the keynote presentation: 'Internationalization and International Students in Japan'.
This was followed by a presentation on the findings from the research on migrant academics by Louise Morley and Yumiko Hada: 'The Affective Economy of Internationalisation: Migrant Academics in and out of Japanese Higher Education'.
After lunch, Paul Roberts and Mariam Attia presented their findings on international doctoral researchers in Japan: 'Internationalisation of Doctoral Education in Japan: Implications for Researcher Development'.
Participants worked in groups to identify the following Impact Action Points:
1. Deep or Surface Internationalisation?
To adopt a vocabulary of mainstreaming internationalisation and encourage higher education institutions and agencies to review all services and practices in relation to the aims of internationalisation e.g. the curriculum, pedagogies, communications, mentoring, practical matters, the built environment, recruitment and selection.
This process could draw on the work on internationalisation undertaken by some Japanese universities e.g. Ritsumeikan Asia Pacific University, and the extensive global documentation produced for gender mainstreaming by the United Nations; the European Commission; the Gender Secretariat in Sweden e.g. toolkits, guidelines for good practice.
2. Language
To provide on-line pre-arrival courses in the Japanese language for international students and faculty.
These courses could potentially be a requirement of mobility funding for doctoral researchers from the Japanese government.
3. Doctoral Researchers
Japanese universities/ MEXT to review/ produce documentation that codifies entitlements, aims, rights and responsibilities for doctoral researchers. In the case of those supported by scholarships, this could also include expectations of future connection and activity. The documentation to be made available in Japanese and English.
4. To set up fora in which Japan and the UK could exchange best practices to support doctoral researchers and their wellbeing e.g. supervision; skill development; infrastructures for people in crisis. This could involve work with the Japan Association of National Universities, the UK Council for Graduate Education, and UUK.
5. Supporting Migrant Academics
To utilise the Training Module Internationalisation in Higher Education: Practical Guidance to support work with migrant academics. This module is available in English and in Japanese.
To support the UUK in the development of a UK-Japan Mobility Guide to support UK and Japanese universities to exchange students.
6. Higher Education Pedagogy
To develop courses in higher education pedagogies in Japanese universities.
These Action Points will be taken up with the following Stakeholders
1. UUK
2. MEXT
3. OECD
4. Japan Association of National Universities
5. The UK Council for Graduate Education
Internationalising Higher Education in Japan: Photo Gallery