Conversations about Power, Privilege and Persistent Inequalities in Higher Education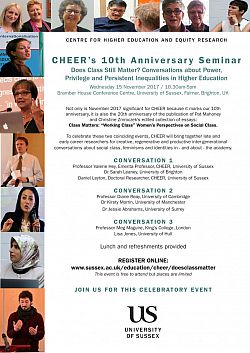 This seminar event is held in recognition and celebration of CHEER's 10th anniversary. The date also marks the 20th anniversary of the publication of Pat Mahony and Christine Zmroczek's edited collection of essays: Class Matters: "Working Class" Women's Perspectives on Social Class.
Late and early career researchers will come together for creative, regenerative and productive inter-generational conversations about social class, feminisms and identities in - and about - the academy.
CONVERSATION ONE
Professor Valerie Hey, Emerita Professor, CHEER, University of Sussex
Dr Sarah Leaney, University of Brighton
Daniel Leyton, Doctoral Researcher, CHEER, University of Sussex
CONVERSATION 2
Professor Diane Reay, University of Cambridge
Dr Kirsty Morrin, University of Liverpool
Dr Jessie Abrahams, University of Surrey
Annabel Wilson, University of Cardiff
CONVERSATION 3
Professor Meg Maguire, King's College, London
Dr Lisa Jones, University of Hull
Lunch and refreshments provided
See also the CHEER Leaflet 2017 [PDF 926.24KB].
The Find Us [PDF 1.76MB] leaflet (which is designed to be printed and folded) will help you to navigate your way onto and around the campus. If you are travelling by car, please contact jane.shepard@sussex.ac.uk for a permit which you should print and display when you park on campus. All car parks are for all visitors and you can choose which car park to use (the closest to Bramber House is P10), but you can park in any of the alternatives (P6 has recently closed so avoid this one). The Conference Centre is located on level 3 of Bramber House, which is on Refectory Road [BN1 9QU].