OPEN RESEARCH SEMINAR
Date: Wednesday 16 October 2019
Time: 12.30-2pm
Venue: Room 201, Fulton
Speaker: Professor Fazal Rizvi, Melbourne University, Australia
Higher Education as a Site of the Formation of Business Diaspora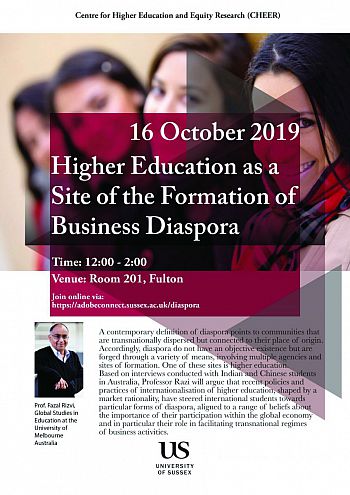 A contemporary definition of diaspora points to communities that are transnationally dispersed but connected to their place of origin. Accordingly, diaspora do not have an objective existence but are forged through a variety of means, involving multiple agencies and sites of formation. One of these sites is higher education. Based on interviews conducted with Indian and Chinese students in Australia, I will argue in this paper that recent policies and practices of internationalisation of higher education, shaped by a market rationality, have steered international students towards particular forms of diaspora, aligned to a range of beliefs about the importance of their participation within the global economy and in particular their role in facilitating transnational regimes of business activities.
Fazal Rizvi is a Professor of Global Studies in Education at the University of Melbourne Australia, as well as an Emeritus Professor at the University of Illinois at Urbana-Champaign in the United States. He has written extensively on issues of identity and culture in transnational contexts, globalization and education policy and Australia-Asia relations. A collection of his essays is published in: Encountering Education in the Global: Selected Writings of Fazal Rizvi (Routledge 2014). His most recent books include a co-authored volume, Class Choreographies: Elite Schools and Globalization (Palgrave 2017) and a co-edited volume,Transnational Perspectives on Democracy, Citizenship, Human Rights and Peace Education(Bloomsbury 2019). Professor Rizvi is a Fellow of the Australian Academy of the Social Sciences and a former Editor of the journal, Discourse: Studies in Cultural Politics of Education, and past President of the Australian Association of Research in Education.
_____________________________________________________________________
For details - and recordings for some - of other CHEER-hosted events that took place during the current (2018/19) academic year, visit our archive.
To be added to our mailing list and receive news and information about CHEER and its upcoming events, please contact Yasser Kosbar
E: Y.Kosbar@sussex.ac.uk