Located within the Department of Education in the School of Education and Social Work, the research centre CHEER has been established to consolidate higher education research and scholarship at the University of Sussex.
CHEER stands for the Centre for Higher Education and Equity Research. CHEER's director is Professor Louise Morley.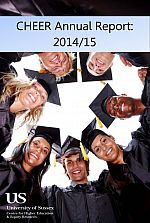 Download the CHEER Annual Report: 2014/15 [PDF 2.32MB]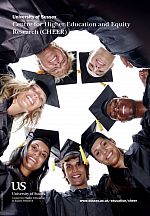 Download the CHEER Brochure: 2015 [PDF 3.07MB]
New CHEER Publication
See the special edition on 'Equity and Diversity in Higher Education' for Studies in Higher Education co-edited by Professor Louise Morley, Director of CHEER, University of Sussex, and Martin Hayden, Professor of Higher Education, Southern Cross University, Australia.
The edition marks the 50th anniversary of the Society for Research into Higher Education (SRHE).
Don't miss ...
The next event in the CHEER calendar is in January:
21st January 2016
2-4pm
Room 104, Fulton
Higher Education in the Asian Century: Does expansion mean inclusion?
Professor Maithree Wickramasinghe, University of Kelaniya, Sri Lanka
Lynne Heslop, Director of Education, British Council, Myanmar
Professor Louise Morley - Director of CHEER & Dr Barbara Crossouard - Senior Lecturer, Department of Education, University of Sussex

See Events for more details.
Latest CHEER News
November 2015
Professor Louise Morley was delighted to participate in the University of Umea's Research Days at the 'Olofsfors Seminar' for Umea's doctoral candidates in Education. The residential event consisted of workshops, seminar discussions and an 'unconference' session in which people raised issues of interest to them.
CHEER is looking forward to hosting this group when they visit the University of Sussex 14-17 March 2016 to work with Sussex social science doctoral candidates for the 4-day seminar 'Neoliberalism, Education and Changing Values: Theories and Methods in Educational Research'.
See all News.