Located within the Department of Education in the School of Education and Social Work, the research centre CHEER has been established to consolidate higher education research and scholarship at the University of Sussex.
CHEER stands for the Centre for Higher Education and Equity Research. CHEER's director is Professor Louise Morley.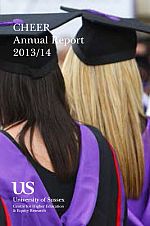 Download the CHEER Annual Report: 2013/14 [PDF 706.66KB]
Download the CHEER Brochure: 2013/14 [PDF 2.60MB]
Don't miss ...
Helen Gunter, Professor of Education Policy, University of Manchester presenting 'Developing intellectual histories in educational research' on Monday 27th October in Room 104, Fulton at 5pm. Alternatively, you can join this event remotely by logging on to https://connectpro.sussex.ac.uk/cheer_gunter27oct4 from 4.30pm on the day.
Latest CHEER News
July 2014
Congratulations to Doctor of Education (EdD) researcher, Paolo Oprandi, for the successful defence of his thesis, 'Supporting learning autonomy and curriculum coverage in university teaching: three case studies of formative assessment'. The external examiner was Professor Kay Sambell from the University of Northumbria and the internal was Dr Andy Chandler-Grevatt. The degree will be awarded subject to ratification by the examination board after very minor corrections. Paolo's supervisors were John Pryor and Barbara Crossouard. Paolo works at the University of Sussex as an Educational Technologist.
CHEER hosted a 'Doctoral Network Lunch' on 1 July 2014 which was well attended by scholars from India, Iran, Saudi Arabis, Singapore, Israel, Serbia and Tanzania. Other participants had recently conducted research in Kazakhstan, Spain, South Asia, Ghana and Senegal. See more info and pics on the News page.
June 2014
See all News.