Located within the Department of Education in the School of Education and Social Work, the research centre CHEER has been established to consolidate higher education research and scholarship at the University of Sussex.
CHEER stands for the Centre for Higher Education and Equity Research. CHEER's director is Professor Louise Morley.
How to get women out of the "velvet ghetto"
Check out the new short video featuring CHEER Director, Professor Louise Morley, talking about the challenges and issues affecting women in leadership roles.
Don't Miss:
Date: 27 February 2017
Time: 5-6.30pm
Venue: TBA
Speaker: Professor Rosemary Deem, Royal Holloway and Bedford New College - University of London & Chair of the UK Council for Graduate Education
Title: Trends and Developments in Doctoral Education
Seminar promo: CHEER seminar promo: 27feb2017 [PDF 130.88KB]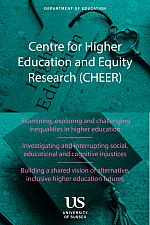 Download the CHEER Leaflet 2017 [PDF 926.24KB]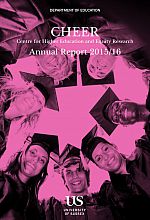 Download the CHEER Annual Report: 2015/16 [PDF 2.79MB]