Located within the Department of Education in the School of Education and Social Work, the research centre CHEER has been established to consolidate higher education research and scholarship at the University of Sussex.
CHEER stands for the Centre for Higher Education and Equity Research. CHEER's director is Professor Louise Morley.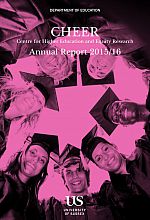 Download the CHEER Annual Report: 2015/16 [PDF 2.79MB]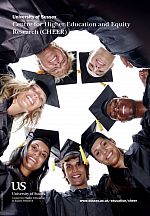 Download the CHEER Brochure [PDF 3.07MB]
Latest CHEER News
August 2016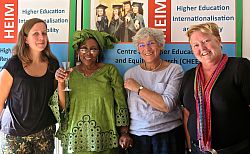 Congratulations to CHEER researcher, Rose Kiishweko, who was recommended for the award of PhD in Education for her thesis 'Albinism in Tanzanian Higher Education: A Case Study'. Her examiners were Anne Gold (Senior Lecturer in Leadership and Management, Institute of Education - University College London), and Tamsin Hinton-Smith (Senior Lecturer in Higher Education, University of Sussex). Both commented on how original and interesting Rose's feminist study was, and noted its potential to contribute scholarship from Tanzania on gender, higher education and disability to the international field.
Louise Morley (Director, CHEER) was Rose's first supervisor and Linda Morrice (Senior Lecturer & Director of Doctoral Studies) was her second supervisor.