Located within the Department of Education in the School of Education and Social Work, the research centre CHEER has been established to consolidate higher education research and scholarship at the University of Sussex.
CHEER stands for the Centre for Higher Education and Equity Research. CHEER's director is Professor Louise Morley.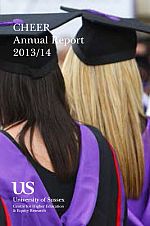 Download the CHEER Annual Report: 2013/14 [PDF 706.66KB]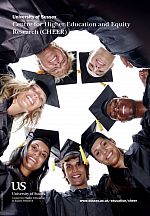 Download the CHEER Brochure: 2015 [PDF 3.07MB]
Don't miss ...
11th June 2015
4pm
Room 155, Jubilee
Dr Paul Wakeling and Dr Sally Hancock, University of York
Wideing access to postgraduate study and the professions
See recordings of CHEER seminars that have taken place during the current academic year in our Events Archive.
Latest CHEER News
March 2015
1. Professor Louise Morley made the keynote presentation Women in higher education leadership: Rejection, refusal, reluctance, re-visioning [PPTX 643.63KB] at the Delivering Equality: Women and Success Summit on the 9th March at Murray Edwards College, University of Cambridge. The summit brought together academics, policymakers, NGOs and the private sector to debate and seek policy solutions to the issue of women's under-representation in leadership in higher education.
2. Professor Louise Morley was a panelist and Chair for the SPRU Gender InSite Conference International Approaches to Support Gender Equality in Research Careers, University of Sussex on the 24th March. The event provided opportunities to exchange ideas, experiences, concerns and good practice, which were mapped using live graphic recording. Activities included group discussions over lunch (using a World Café format), followed by a panel discussion. Gender InSITE is an international campaign to raise awareness among decision-makers on the gender and science, innovation, technology and engineering (SITE) dimensions of international development. The event was attended by people working in academia, industry, NGOs and policy.
3. CHEER member, Dr Alison Phipps - along with the Centre for Innovation and Research in Childhood and Youth's Graduate Teaching/Research Assistant, Elsie Whittington - has developed a workshop for university managers, staff and students on student 'lad culture' and its links to sexual harrassment and violence. It covers definitions of 'lad culture', recent NUS research findings on the prevalence of sexual harassment and violence amongst students, and an overview of what is currently being done to tackle the problem, as well as suggestions for ways forward. The workshop was piloted with staff and students from the Universities of Bath and Bath Spa on 20th March with 100 percent of participants saying they would recommend it to others and 91 percent saying the workshop had equipped them with ideas about how to tackle 'lad culture' and sexual violence. If you would like Alison and Elsie to deliver this workshop to a group, contact a.e.phipps@sussex.ac.uk. See more detials on Alison's blog.
See all News.