Located within the Department of Education in the School of Education and Social Work, the research centre CHEER has been established to consolidate higher education research and scholarship at the University of Sussex.
CHEER stands for the Centre for Higher Education and Equity Research. CHEER's director is Professor Louise Morley.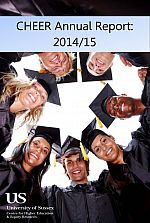 Download the CHEER Annual Report: 2014/15 [PDF 2.32MB]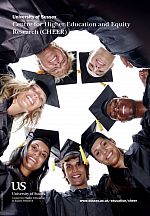 Download the CHEER Brochure: 2015 [PDF 3.07MB]
Latest CHEER News
May 2016
CHEER was delighted to welcome Professor Yumiko Hada and Dr Ryo Sasaki from Hiroshima University, Japan on 3 May. The newly-founded Research Institute of Japan aims to develop co-operation between British and Japanese research institutes and universities, as well as involving business sectors - such as companies, private entities and civil societies - in order to deepen the relationship between the two countries.
The partnership with CHEER will include collaborative research, joint seminars in the UK and Japan, and co-authored papers. It will involve CHEER members and doctoral scholars. Some of the key areas of collaborative higher education research interest include:
Internationalisation

Peace

Teaching and learning

Equity and inclusion

Leadership

The future of doctoral education.