Located within the Department of Education in the School of Education and Social Work, the research centre CHEER has been established to consolidate higher education research and scholarship at the University of Sussex.
CHEER's director is Professor Louise Morley.

Don't miss...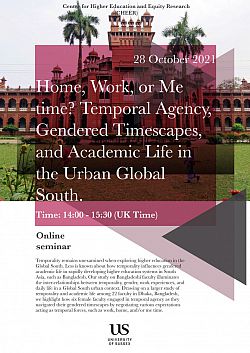 VIRTUAL EVENT
Title: Home, Work, or Me Time? Temporal Agency, Gendered Timescapes and Academic Life in the Urban Global South
Date: Thursday 28 October 2021
Time: 2-3.30pm
Riyad A. Shahjahan, Associate Professor of Higher, Adult, and Lifelong Education (HALE), Michigan State University
Naseeb K. Bhangal, Doctoral Student, Higher, Adult, and Lifelong Education (HALE), Michigan State University
Tasnim A. Ema, Undergraduate Student, Department of Anthropology, University of Dhaka, Bangladesh
Zoom link: https://universityofsussex.zoom.us/j/92397129841 (Meeting ID: 923 9712 9841)
Temporality remains unexamined when exploring higher education in the Global South. Less is known about how temporality influences gendered academic life in rapidly developing higher education systems in South Asia - such as Bangladesh.
Our study on Bangladeshi faculty illuminates the inter-relationships between temporality, gender, work experiences, and daily life in a Global South urban context. Drawing on a larger study of temporality and academic life among 22 academics in Dhaka, Bangladesh, we highlight how six female faculty engaged in temporal agency as they navigated their gendered timescapes by negotiating various expectations acting as temporal forces, such as work, home, and/or 'me time'.
__________________________________________________
See our Events page for more details about upcoming events, as well as those that have already taken place this year.
How to get women out of the "velvet ghetto"
Professor Louise Morley talks about the challenges and issues affecting women in leadership roles.