Located within the Department of Education in the School of Education and Social Work, the research centre CHEER has been established to consolidate higher education research and scholarship at the University of Sussex.
CHEER stands for the Centre for Higher Education and Equity Research. CHEER's director is Professor Louise Morley.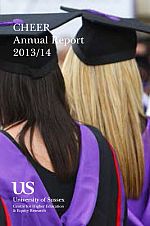 Download the CHEER Annual Report: 2013/14 [PDF 706.66KB]
Download the CHEER Brochure: 2013/14 [PDF 2.60MB]
Don't miss ...
Professor Maithree Wickramasinghe, University of Kelaniya presents 'See no evil, hear no evil and report no evil: Sexual and gender-based violence in Sri Lankan universities' on Monday 24th November in Room 104, Fulton at 12pm.

Alternatively, you can join this event remotely by logging on to https://connectpro.sussex.ac.uk/cheer_srilanka24nov14
from 11am on the day.
Latest CHEER News
October 2014
CHEER has been awarded a prestigious research grant from Marie Skłodowska-Curie Actions (MSCA) Research and Innovation Staff Exchange (RISE) for a three-year project on Higher Education Internationalisation and Mobility: Inclusions, Equalities and Innovations which will focus on Roma participation in higher education opportunities in Europe. CHEER will work with partners in the University of Seville - Spain, the University of Umea - Sweden and the Roma Education Fund - Hungary. The project will start in January 2015.
More information about this project will be available on the CHEER website in the New Year.
See all News.