Located within the Department of Education in the School of Education and Social Work, the research centre CHEER has been established to consolidate higher education research and scholarship at the University of Sussex.
CHEER stands for the Centre for Higher Education and Equity Research. CHEER's director is Professor Louise Morley.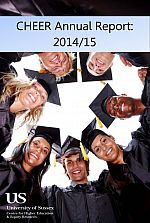 Download the CHEER Annual Report: 2014/15 [PDF 2.32MB]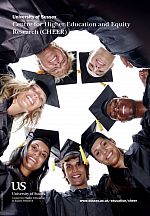 Download the CHEER Brochure: 2015 [PDF 3.07MB]
Latest CHEER News
April 2016
1. Professor Louise Morley gave the keynote address, Diversifying Higher Education Leadership [PPTX 21.11MB] at the Aurora Alumni Conference, London on 27 April. Aurora is a women-only development programme run by the Leadership Foundation for Higher Education in the UK. 3,500 women have completed the programme to date which is currently in its third year. The programme was initially developed in response to Professor Morley's Stimulus Paper, 'Women and Higher Education Leadership: Absences and Aspirations'.
2. Dr Jessica Gagnon's doctoral research on the daughters of single mothers and higher education was cited in the Times Higher Education on 7 April.
3. Sara Maria Camacho Felix was recommended for the award of International Doctor of Education following her viva voce examination on 11 April for her research Fostering Criticality within Neoliberal Higher Education: A Critical Action Research Study with First Year Students in Kazakhstan. The study considered how, Sara, as a practitioner in international higher education, could engage students in criticality, as defined by critical pedagogy, despite a global trend towards the neoliberalisation of higher education policy. Drawing on Foucault's theory of performativity and Allman, Barnett, Freire, and Kincheloe's work on critical pedagogy, she conducted a piece of critical action research at a state university in Kazakhstan, with a central research question: how do students voice their criticality through engagement in writing narrative reflective essays?
Sara's external examiner was Dr Kelly Coate (King's College, London) and her internal examiner was Dr Rebecca Webb.
Her first supervisor was Professor Louise Morley and her second supervisor was Dr Jo Westbrook.
4. Professor Louise Morley has been unanimously voted in as a member of the Scientific Advisory Board of European Women Rectors Association (EWORA), Brussels, Belgium for four years. EWORA is an international non-profit association established in Brussels under Belgian Law in December 2015 to promote the role of women in leadership positions in the academic sector and to advocate gender equality in higher education and research at international scales. The Scientific Advisory Board evaluates the Association's activities and advises the Board of Directors on future actions and projects. EWORA is also a continuation of the European Women Rectors Platform (EWRP), which has been active since 2008 in organising the biennial European Women Rectors Conference.
5. Emily Danvers was recommended for the award of the degree of PhD in Education on 5 April following a viva voce examination for her thesis Re-thinking Criticality: Undergraduate Students, Critical Thinking and Higher Education. She drew specifically on the theoretical insights offered by Karen Barad and Sara Ahmed to interrogate how critical thinking emerges through the web of social, material and discursive knowledge practices and with different bodies that enact it. Emily argued that critical thinking is not simply a cognitive act or a disembodied, rational skill set, but involves deeply affective processes of becoming critical. Critical thinkers are not neutral subjects, she argued, but gendered, classed and raced beings, and becoming a critical thinker is inseparable from the ways in which bodies are unequally positioned in the academy.
Emily was highly commended for her rigorous, theoretically informed and original work.
Her external examiner was Professor Carole Leathwood (London Metropolitan University), and her internal examiner was Dr Barbara Crossouard.
6. Congratulations to CHEER doctoral researcher, Tom Lunt, for being recommended for the degree of Doctor of Education! Tom's thesis was a highly reflexive, deconstructive analysis of student engagement with their peers and their tutors in a blended learning environment in which he was himself involved in a lecturer capacity. His in-depth analysis provided incisive commentary on the instrumentalisation of student engagement within contemporary UK HE contexts, as well as pointing to the importance of dissensus and politics in a reconceptualisation of a 'democratic learning community' based in the perspectives of Jacques Ranciere.
Tom's external examiner was Dr Carol Taylor, Reader in Education from Sheffield Hallam University, and his internal was Senior Lecturer in Education, Dr Linda Morrice. Tom's supervisors were Senior Lecturer in Education, Dr Barbara Crossouard, and Head of the School of Education and Social Work, Professor Brian Hudson.
Well done Tom!