Located within the Department of Education in the School of Education and Social Work, the research centre CHEER has been established to consolidate higher education research and scholarship at the University of Sussex.
CHEER stands for the Centre for Higher Education and Equity Research. CHEER's director is Professor Louise Morley.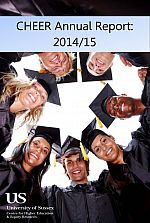 Download the CHEER Annual Report: 2014/15 [PDF 2.32MB]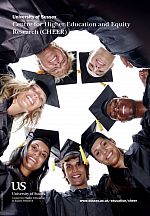 Download the CHEER Brochure: 2015 [PDF 3.07MB]
New CHEER Publication
See the special edition on 'Equity and Diversity in Higher Education' for Studies in Higher Education co-edited by Professor Louise Morley, Director of CHEER, University of Sussex, and Martin Hayden, Professor of Higher Education, Southern Cross University, Australia.
The edition marks the 50th anniversary of the Society for Research into Higher Education (SRHE).
Don't miss ...
22nd February 2016
2-4pm
Room G36, Jubilee
On Not Taking Oneself Too Seriously: Some feminist questions about affects, authority and authenticity
Professor Valerie Hey, CHEER
+ Carole Leathwood, Emeritus Professor, London Metropolitan University & Professor Rosalyn George, Goldsmith's, University of London
See
Events
for more details - and the
Events Archive: 2015/16
for recordings of events you've missed.
Latest CHEER News
December 2015
Professor Louise Morley was one of the keynote speakers at the high-level conference: Women in Public Life: From Policies to Impact in Bahrain. The Conference, organised by the OECD and Bahrain's Supreme Council of Women was under the patronage of the Kingdom of Bahrain's First Lady Princess Sabika bint Ibrahim Al Kahalifa, and was attended by Ministers, professionals from the public and private sectors and civil society, and international organisations from the Middle East and North Africa (MENA) region and beyond, ie. the European Parliament, the United Nations, the USA State Dept. Louise was taken to meet King Hamad bin Isa Al Khalifa of Bahrain, the first lady Princess Sabika bint Ibrahim Al Kahalifa, and the Prime Minister, H.R.H. Prince Khalifa Bin Salman Al Khalifa.
Louise presented Sister-Matic: Gender mainstreaming in higher education [PPTX 1.25MB] in the session Building Accountability for Gender Responsive Policies: From Strategy to Impact.