Located within the Department of Education in the School of Education and Social Work, the research centre CHEER has been established to consolidate higher education research and scholarship at the University of Sussex.
CHEER stands for the Centre for Higher Education and Equity Research. CHEER's director is Professor Louise Morley.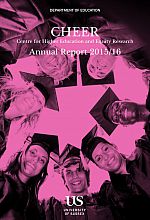 Download the CHEER Annual Report: 2015/16 [PDF 2.79MB]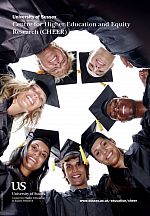 Download the CHEER Brochure [PDF 3.07MB]
Latest CHEER News
July 2016
Professor Louise Morley was the keynote speaker at the New Governance and Gender Equality in Science conference in Cologne, Germany. Her presentation Gender, Neoliberalism and Research in the Global Knowledge Economy [PPTX 1.61MB] was based on her international research on how women fare in research leadership.
The conference, funded by the German Federal Ministry for Education and Research, was a joint project between the Centre of Excellence for Women and Science – Leibniz Institute for Social Sciences in Cologne under the leadership of Dr. Andrea Löther (Cologne) and Sociology at the University of Paderborn under the leadership of Prof. Dr. Birgit Riegraf (Paderborn). The Conference focussed on 3 main topics: Governance, Higher Education and Equality, and was attended by gender equality scholars and practitioners from Austria, Germany, Switzerland and the USA.
June 2016
1. Professor Louise Morley has been awarded a Visiting Professorship at the University of Gothenburg, Sweden. She will spend a total of 12 weeks with colleagues in Sweden from October 2016 to June 2017, contributing to developing higher education studies in Gothenburg's Faculty of Education, and furthering research and scholarship links with CHEER.
2. Professor Louise Morley presented Future Directions for UK Higher Education [PPTX 1.06MB] on 6 June at the Society for Research into Higher Education's (SRHE) conference Future Directions for UK Higher Education: Looking Forward in Uncertain Times. The event was attended by members of the Higher Education Funding Council for England (HEFCE), the Quality Assurance Agency, the National Union of Students, the Higher Education Commission, and academics from around the UK.