Located within the Department of Education in the School of Education and Social Work, the research centre CHEER has been established to consolidate higher education research and scholarship at the University of Sussex.
CHEER stands for the Centre for Higher Education and Equity Research. CHEER's director is Professor Louise Morley.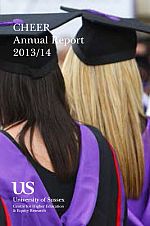 Download the CHEER Annual Report: 2013/14 [PDF 706.66KB]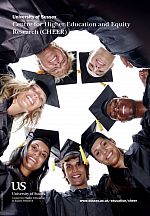 Download the CHEER Brochure: 2015 [PDF 3.07MB]
Don't miss ...
11th June 2015
4pm
Room 155, Jubilee
Dr Paul Wakeling and Dr Sally Hancock, University of York
Wideing access to postgraduate study and the professions
See recordings of CHEER seminars that have taken place during the current academic year in our Events Archive.
Latest CHEER News
May 2015
Professor Valerie Hey presented Affects, the Permanent Audition, the Academy: Notes on the contemporary psychic life of feminism [PPTX 419.61KB] at a meeting of the Department for Education at the University of Plymouth on 6 May.
April 2015
1. CHEER members delivered a symposium on The Neoliberal Academy at the British Sociological Association conference in Glasgow in April. Presenters included Professor Valerie Hey, Dr Rebecca Webb, Professor John Pryor, and doctoral researchers Sarah Leaney and Emily Danvers.
Individual papers were presented by doctoral researcher, Francesca Salvi, on in-school pregnancy in Mozambique, and by Professor Valerie Hey and Dr Rebecca Webb on the role of affects in the experience of doctoral supervision.
Download the presentations:
2. Professor Louise Morley made a keynote presentation Lost Leaders: Women in the Global Academy [PPTX 1.70MB] at The Sixth Annual Gulf Comparative Education Society Symposium, Inclusion not Exclusion: Comparative Educational Perspectives at the Heart of Sustainable Development in Dubai.
The event was attended by policymakers, NGOs, academics, educators and researchers interested in comparative education.
3. CHEER has been awarded a grant from the Higher Education Innovation Fund (HEIF) to develop and enhance Impact Case Studies for 3 of its research areas:
Women in Higher Education Leadership
Internationalisation and Equity in Higher Education,
Widening Participation in Higher Education in Ghana and Tanzania
Dr Francesca Salvi will be working on this project until 31 July 2015 developing strategy, collecting and collating evidence and seeking to enhance the research impact of the three areas.
For further information, contact: F.Salvi@sussex.ac.uk
See all News.