Located within the Department of Education in the School of Education and Social Work, the research centre CHEER has been established to consolidate higher education research and scholarship at the University of Sussex.
CHEER stands for the Centre for Higher Education and Equity Research. CHEER's director is Professor Louise Morley.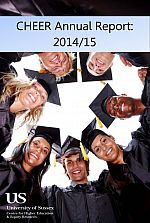 Download the CHEER Annual Report: 2014/15 [PDF 2.32MB]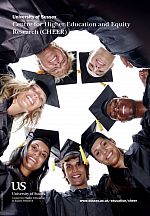 Download the CHEER Brochure: 2015 [PDF 3.07MB]
New CHEER Publication
See the special edition on 'Equity and Diversity in Higher Education' for Studies in Higher Education co-edited by Professor Louise Morley, Director of CHEER, University of Sussex, and Martin Hayden, Professor of Higher Education, Southern Cross University, Australia.
The edition marks the 50th anniversary of the Society for Research into Higher Education (SRHE).
Don't miss ...
If you weren't able to attend the very lively panel discussion on 'Celebrations and Challenges: The Roma Community in the UK' hosted by CHEER on Wednesday 15th July, you can watch the recording on our Events Archive 2014/15 page.
The next event in the CHEER calendar is in November. Details as follows:
2nd November 2015
5-6.30pm
Room 104, Fulton Building, University of Sussex
Employability, Opportunity and the Prospects for Social Mobility

See Events for more details.
Latest CHEER News
July 2015
1. CHEER and the Doctoral School were delighted to welcome visitors from the Inspiring Seed Educational Program, Taiwan on the 30th July at the University of Sussex.
The educational group was composed of eight undergraduate students from Taiwan who have been providing educational services to a primary school in Taiwan. In so doing, they have designed a series of courses and activities - such as art classes and medical science classes - to help their students experience diversified lives and gain knowledge which cannot be learned from textbooks. The group also encourage and accompany students to voluntary activities within their communities.
The visit to Sussex was in order to discuss similar projects in the UK.
2. Dr Barbara Crossouard and Professor Louise Morley presented research findings from their recently completed British Council-funded project on women in higher education leadership in South Asia on 13th July at the Society for Research into Higher Education's (SRHE) seminar: 'Climbing the Greasiest of Poles? Women and HE Leadership in Developing Countries' in London.
Their paper, Women in Higher Education Leadership in South Asia: Rejection, refusal, reluctance, re-visioning [PPTX 1.24MB] was one of three presentations. The other two were:
- Performing and Defying Gender: Women's leadership experiences in African HE (Dr Ane Turner Johnson, Rowan University, New Jersey, USA)
- Leadership Positions in HE: Where are women academics? (Dr Saeeda Shah, University of Leicester & Dr Victoria Showunmi, UCL Institute of Education). You can find details on the SRHE website.
The event was attended by a range of organisations including the Commonwealth Universities Association. It also received media coverage in theTimes Higher Education.
See all News.