Located within the Department of Education in the School of Education and Social Work, the research centre CHEER has been established to consolidate higher education research and scholarship at the University of Sussex.
CHEER stands for the Centre for Higher Education and Equity Research. CHEER's director is Professor Louise Morley.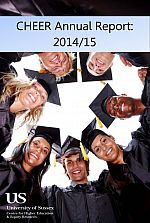 Download the CHEER Annual Report: 2014/15 [PDF 2.32MB]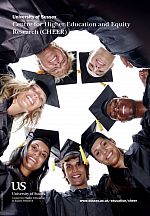 Download the CHEER Brochure: 2015 [PDF 3.07MB]
New CHEER Publication
See the special edition on 'Equity and Diversity in Higher Education' for Studies in Higher Education co-edited by Professor Louise Morley, Director of CHEER, University of Sussex, and Martin Hayden, Professor of Higher Education, Southern Cross University, Australia.
The edition marks the 50th anniversary of the Society for Research into Higher Education (SRHE).
Don't miss ...
If you weren't able to attend the very lively panel discussion on 'Celebrations and Challenges: The Roma Community in the UK' hosted by CHEER on Wednesday 15th July, you can watch the recording on our Events Archive 2014/15 page.
The next event in the CHEER calendar is in November. Details as follows:
2nd November 2015
5.30-7pm
Room 155, Jubilee Building, University of Sussex
Employability, Opportunity and the Prospects for Social Mobility

See Events for more details.