Located within the Department of Education in the School of Education and Social Work, the research centre CHEER has been established to consolidate higher education research and scholarship at the University of Sussex.
CHEER stands for the Centre for Higher Education and Equity Research. CHEER's director is Professor Louise Morley.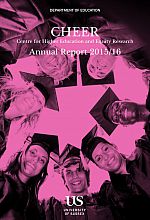 Download the CHEER Annual Report: 2015/16 [PDF 2.79MB]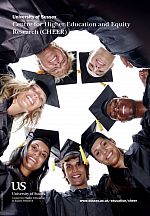 Download the CHEER Brochure [PDF 3.07MB]
Latest CHEER News
October 2016
CHEER welcomes Dr Emily Danvers as a new Lecturer in CHEER. Emily will be contributing to research and teaching in the Department around her specialist areas of higher education pedagogy, feminist theory and social inclusion. She will also be the new Deputy Director of CHEER, covering some of Professor Morley's duties while the latter is on secondment at the University of Gothenburg, Sweden.