Located within the Department of Education in the School of Education and Social Work, the research centre CHEER has been established to consolidate higher education research and scholarship at the University of Sussex.
CHEER stands for the Centre for Higher Education and Equity Research. CHEER's director is Professor Louise Morley.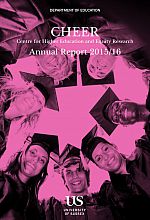 Download the CHEER Annual Report: 2015/16 [PDF 2.79MB]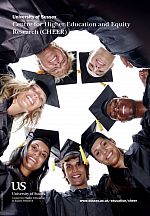 Download the CHEER Brochure [PDF 3.07MB]
Latest CHEER News
September 2016
CHEER Research Fellow, Tanja Jovanovic, presented details of CHEER's research project 'Higher Education, Internationalisation and Mobility' and a short film at the 'Roma and Traveller Identity Now Conference 2016' in London on Saturday 17 September. Hosted by the Advisory Council for the Education of Romany and other Travellers (ACERT), other presenters included members of the Romany Traveller Family History, members of Friends Family and Travellers, and individual Travellers talking about their experiences.