Located within the Department of Education in the School of Education and Social Work, the research centre CHEER has been established to consolidate higher education research and scholarship at the University of Sussex.
CHEER stands for the Centre for Higher Education and Equity Research. CHEER's director is Professor Louise Morley.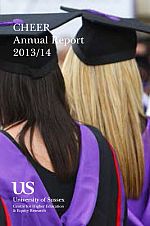 Download the CHEER Annual Report: 2013/14 [PDF 706.66KB]
Download the CHEER Brochure: 2013/14 [PDF 2.60MB]
Don't miss ...
Professor Yvette Taylor, Head of the Weeks Centre for Social and Policy Research, London South Bank University, presenting 'Enterprising, enduring, enabling? The entrepreneurial university: Engaging publics, intersecting impacts' on Monday 2nd March 2015 in Room 104, Fulton at 5pm.
See recordings of CHEER seminars that have taken place during the current academic year in our Events Archive.
Latest CHEER News

November 2014
1. Professor Louise Morley presented Lost Leaders: Women in the Global Academy [PPTX 607.88KB] as part of a roundtable on 'Women and Leadership in Higher Education' at Oxford Brookes University on 28 November. Other participants included colleagues from other UK universities, HEFCE, the Equality Challenge Unit and Lord Davies' Women on Boards Steering Group.
2. Professor Louise Morley was invited to present Lost Leaders: Women in the Global Academy [PPTX 2.17MB] at a seminar organised by the Women and Science Group at University College, Dublin on 20 November.
3. Professor Louise Morley made the keynote presentation Lost Leaders: Women in the Global Academy [PPTX 2.33MB] at the OECD's high-level seminar, Gender, Law and Public Policy: Trends in the Middle East and North Africa on 17/18 November in Amman, Jordan. The event, under the patronage of Her Majesty Queen Rania Al Abdullah of the Hashemite Kingdom of Jordan, was attended by Ministers and policymakers from across the Middle East and North Africa regions.
See all News.