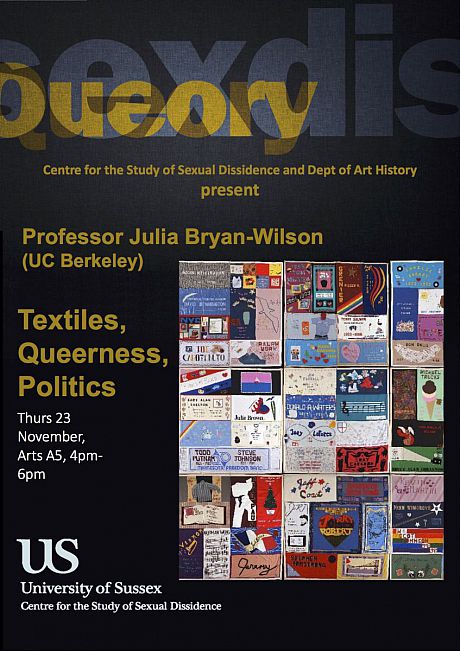 Textiles, Queerness, Politics
Professor Julia Bryan-Wilson (UC Berkeley)
Thurs 23 November, Arts A5, 4pm-6pm
In this lecture, Julia Bryan-Wilson will discuss how textiles inhabit the broad space between artistic and political poles, high and low, untrained and highly skilled, conformist and disobedient, craft and art. Elaborating on "craftivism" and the queer politics and social practices associated with handmaking, this lecture will explore textiles and their role at the forefront of debates about process, materiality, gender, and race in times of economic upheaval.
Julia Bryan-Wilson
is professor of modern and contemporary art at UC Berkeley, where she is also the Director of the Arts Research Center. Her research interests include theories of artistic labour, feminist and queer theory, performance, production/fabrication, craft histories, photography, video, visual culture of the nuclear age, and collaborative practices. Bryan-Wilson has held fellowships from the Clark Art Institute, the Henry Moore Institute, the Smithsonian Archives of American Art, and the Getty Research Institute. She is the author of
Art Workers: Radical Practice in the Vietnam War Era
(University of California Press, 2009);
Art in the Making: Artists and Their Materials from the Studio to Crowdsourcing
(with Glenn Adamson, Thames & Hudson, 2016); and
Fray: Art and Textile Politics
(University of Chicago, 2017).
-------------------------------------------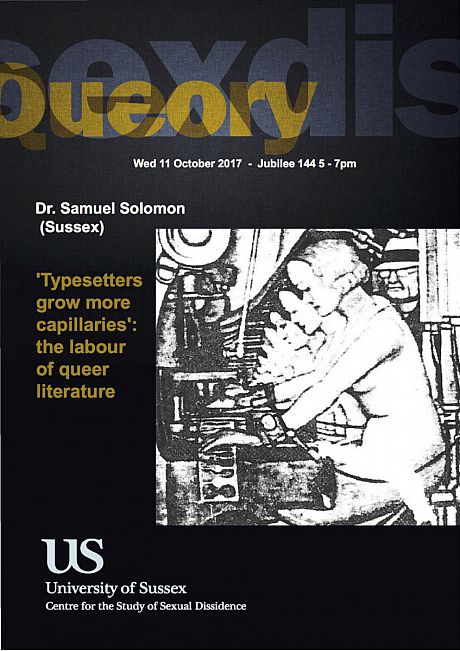 'Typesetters grow more capillaries': the labour of queer literature
Dr. Samuel Solomon (Sussex)
Wed 11 Oct, Jubilee 144, 5pm-7pm
Part of the School of English Colloquium series.
This talk asks how LGBTQ+ people and other feminists navigated late twentieth-century changes in print technology in the period from roughly 1965-1990, a period during which typesetting was first computerized and then all but abandoned as part of the pre-print process. I do this by way of an encounter with the writings of Marxist-feminist poet Karen Brodine. The labor relations that surround the typesetting computer are part and parcel of the revolutionary working-class and queer socialist feminism that Brodine elaborates across her writing and that she worked for tirelessly in her life. Through a reading of her poetry, journals, and political activities, I argue that late-twentieth century US gender and sexual categories, as well as novel forms of queer intimacy, were forged through the material relations of print-related wage work.
Dr. Samuel Solomon is lecturer in English at the University of Sussex, where he is co-director of the Centre for the Study of Sexual Dissidence. He is author of Special Subcommittee (Commune Editions, 2017) and co-translator of The Acrobat: Selected Poems of Celia Dropkin (Tebot Bach, 2014). He is currently working on a book titled "Poetry and Social Reproduction."
-------------------------------------------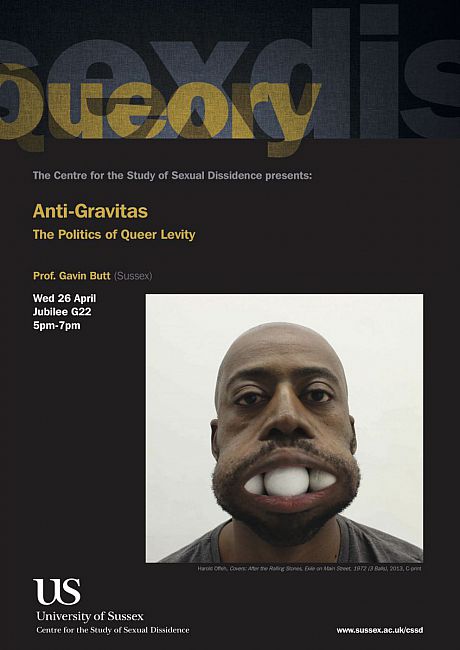 Anti-Gravitas: The Politics of Queer Levity
Professor Gavin Butt (Sussex)
Wed 26 April, Jubilee G22, 5pm-7pm
Part of the School of English Colloquium series.
"One of the greatest weapons that people use on you to get you to conform", the playwright and theatre-maker Charles Ludlam wrote, "is ridicule. However, if you take the position that you are already going to be ridiculous, they are powerless". This lecture explores this provocation about the politics of queer self-mockery and asks whether or not it still rings true for contemporary queer and trans performers, as it did for some underground artists of the 1960s and 1970s. From theatre and performance art, to mainstream TV personalities, what does it mean for queer people to accept, or flaunt, a lack of seriousness today? Does it suggest that in times of LGBT "equality" queer people are still suspected of being somewhat less than equal, and that homo- and transphobia reserve acceptance only for queer persons marked as comic? Or does the refusal of gravitas by contemporary performers highlight a complaint with being taken seriously itself, pointing to more irreverent queer modes of self-esteem?
Gavin Butt is Attenborough Chair in Drama: Theatre and Performance in the School of English, working across the intersecting areas of performance studies, queer studies, and visual culture. He is currently completing a book, "Anti-Gravitas", which explores the challenges to cultural seriousness presented within queer art and performance. He is co-editor of Post-Punk Then and Now (2016) and co-director of Performance Matters (2009-2014), a creative research project which explored ideas of cultural value in contemporary performance and live art.

Patrick Kelly Loves.... Transcoding Black Queerness on the Runway
Sequoia Barnes (Brighton)
Tue 14 Feb, Jubilee G36, 4pm-6pm
Patrick Kelly is best known as the kitschy fashion designer who was the first American to be accepted into the Chambre de Syndicale of Paris. However, he is also remembered for his use of controversial racial imagery, and many of the symbols he used were replete with historical tension, namely, the golliwog, the mammy, the watermelon, and images of Josephine Baker. Patrick Kelly loved using emblems to communicate his identity as a black gay man who was raised by women in Mississippi. This talk will frame Patrick Kelly as a tactical transcoder, a producer of symbols for communication, spectacle, and consumption. We will translate his symbols into a discourse about how Patrick Kelly visualizes Patrick Kelly.

Sequoia Barnes lectures at multiple universities, including the University of Brighton where she teaches history and critical theory in fashion. She is American, raised in Alabama, and received her first master's at the University of Delaware in fashion and apparel studies. She also has a master's from the University of Brighton in history of design and material culture. Her areas of interest are transcoding the black image, racial, gender, and class cross-dressing; as well as the "quareness" of black fashion. She is properly obsessed with Patrick Kelly and his subversion of the white gaze through kitsch.