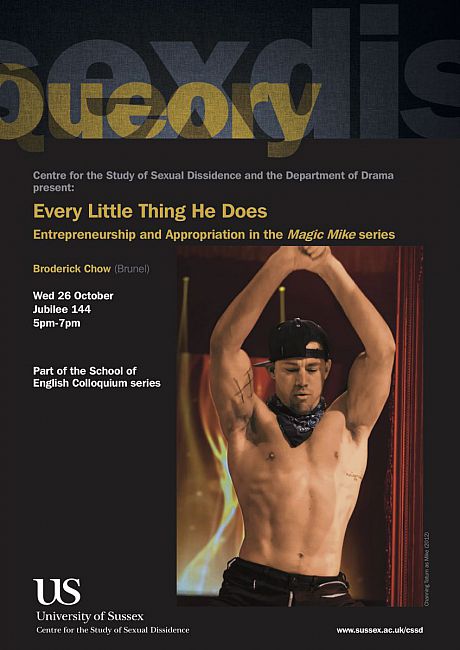 Every Little Thing He Does: Entrepreneurship and Appropriation in the Magic Mike series
Dr. Broderick Chow (Brunel)
Wed 26 Oct, Jubilee 144, 5pm-7pm
Co-sponsored with the Department of Drama. Part of the School of English Colloquium series.
This paper analyses the theatricalized performance of male sex work, specifically stripping, in the popular films Magic Mike (2013; dir. Steven Soderbergh) and its follow-up Magic Mike XXL (2015; dir. Gregory Jacobs). The films align making oneself an object of desire with an ideology of the 'entrepreneurial subject'—a subject equipped with flexibility and versatility for a post-Fordist economy—principally through the figure of 'Magic' Mike, a charismatic contemporary factotum, played by the charismatic Channing Tatum. Following a critical dance studies approach that attends to the intersection of body and gesture with socio-political, historical, and economic structures, I suggest theatricalized sexual labour in these films reveals the racial exclusions from the ideology of entrepreneurial subjectivity. Key to my reading is the concept of 'magic', which is of course part of Mike's nom de strip but also indexed everywhere in the films. Mike, the hegemonically masculine, heterosexual, white male protagonist, is magic because he is charismatic, magnetic, and effortlessly talented, in such a way that even the material world seems animated by his thrusting pelvis. Magic thus functions as an ideological device that attempts to hide the labour of training and performance as well as the larger structures and modes of production in which this labour takes place. Considering the appropriation of black aesthetics in the Magic Mike XXL's performances of striptease, what the film seeks to evaporate is the spectre of race, the way the white fantasy of the entrepreneurial subject is supported by the appropriation of racialized and especially black labour. While the narrative (and inclusive ideology of entrepreneurship) of Magic Mike XXL cannot confront the appropriation of black labour directly, an analysis of the performance of male striptease shows the film working through the issue on another level, in the complex entanglement of flesh and fantasy, agency and objectification, and racial and gendered desire.
Broderick D.V. Chow is a researcher and performance maker. He is currently Senior Lecturer in Theatre at Brunel University London and Principal Investigator on the AHRC-funded project Dynamic Tensions: New Masculinities in the Performance of Fitness. He has published in a wide range of journals including TDR: The Drama Review, Performance Research, and Contemporary Theatre Review, and is coeditor of Performance and Professional Wrestling (Routledge 2016). Broderick is an amateur Olympic Weightlifter and a BWL Level 1 Qualified Weightlifting Coach.

An Evening with Dennis Cooper
Wed 5 Oct, Jubilee 144, 5pm-7pm
Co-sponsored with the University of Sussex's Centre for American Studies. Part of the School of English Colloquium series.
Dennis Cooper, God help him, is a born writer. – William S. Burroughs
If Jean Genet and Paul Bowles could have had a child together, he might have grown up to be a writer like Dennis Cooper. – Michael Cunningham
Dennis Cooper goes to the limit of what can be exposed, described, represented, and shunned. – Avital Ronell
The Centre for the Study of Sexual Dissidence and the Centre for American Studies are delighted to welcome Dennis Cooper, celebrated and controversial American writer and artist, to talk about punk poetry, transgressive literature, and being Google's most hated blogger.
Cooper, who Bret Easton Ellis once called "the most dangerous writer in America", will read excerpts from his books and speak with Sussex's Dr. Diarmuid Hester, who has written extensively on his work. Hear about Cooper's notorious career and the death threats his writing provoked; why New York School poetry needed Joy Division; what it was like to be LA's first punk poet; and how you write a novel in GIFs (and why you'd give it away for free). A Q&A session will follow.
Dennis Cooper is a major experimental poet, novelist, and filmmaker. His life and work have intersected with almost every significant figure and movement in late-twentieth century American writing, art, and rock music. Don't miss this rare opportunity to see the American post-War avant-garde through the eyes of one of its most infamous and charismatic icons.

Who is the Queer Consumer? Homosexuality and Capitalism in Twentieth-Century Britain
Justin Bengry (Birkbeck, University of London)
Wed 9 March, Jubilee 155, 4pm-6pm
Since the onset of the Gay Liberation Movement from the 1970s, queer men and women have been increasingly targeted as an identifiable market segment assumed to have higher incomes and lower financial responsibilities, greater interest in leisure services and related products, and to act as early adopters of new consumables. But the virtually exponential growth of recognition and interest in queer consumers over the last decades of the twentieth century and first years of the twenty-first has actually elided the existence of a long and vibrant relationship between queer people, homosexuality and consumer capitalism since the late nineteenth century and the emergence of mass markets, modern retailing strategies, and target marketing. Using sources ranging through early men's magazines and queer erotic publications, film and theatre regulations, tabloids and popular newspapers, sources on fashion and retailing, government documents and parliamentary papers, business archives and oral histories, my work asks who benefited from commercial interest in homosexuality? And who was the queer consumer?
Justin Bengry completed a PhD in History and Feminist Studies at the University of California in 2010 after which he held fellowships at the University of Saskatchewan, Canada and McGill University, Montreal. He is a researcher on the Historic England public and digital history initiative 'Pride of Place: England's LGBTQ Heritage', which uses crowdsourcing to map locations of LGBTQ heritage across England. His is also a Postdoctoral Research Fellow at Birkbeck College, University of London working on the AHRC-funded project 'Sexualities and Localities' which explores queer history beyond London from the 1960s to the present. Justin is founder and managing editor of the collaborative, international history of sexuality blog NOTCHES and an Associate of the Raphael Samuel History Centre. His research has appeared in History Workshop Journal, Socialist History, Media History, and several international edited collections. He is completing a manuscript on The Pink Pound: Capitalism and Homosexuality in Twentieth-Century Britain.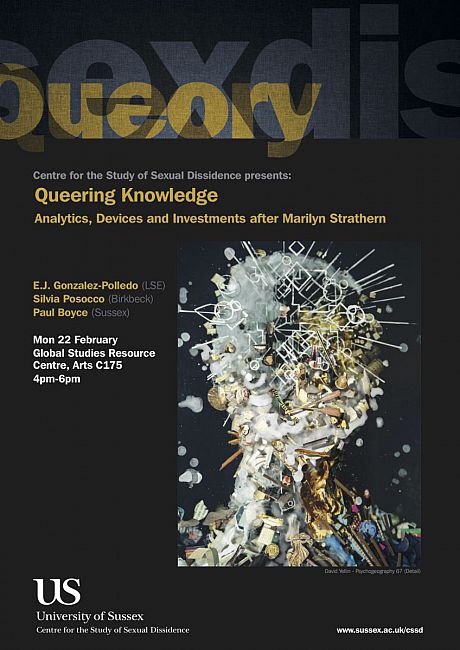 Queering Knowledge: Analytics, Devices and Investments after Marilyn Strathern
E.J. Gonzalez-Polledo (LSE), Silvia Posocco (Birkbeck, University of London), Paul Boyce (University of Sussex)
Mon 22 February, Arts C175, 4pm-6pm
Co-sponsored with the School of Global Studies.
This panel draws on the significance of Marilyn Strathern's work in respect of its potential to queer anthropological analysis and to foster the reimagining of the object of anthropology. Strathern's ethnographic contributions to studies of personhood, kinship, gender relations and reproduction in Melanesia and Britain have achieved wide recognition in anthropology, gender and science studies. Her analytic devices, rhetorical forms and figurations, such as (partial) relations, binaries, scales, homologies and analogies, and her strategy to conflate conceptual and empirical ontologies, have had profound effects on anthropologists' responses to the crisis of representation, especially for those who have drawn on the productive, transformative and subversive capacities of her analytic thinking to conjure up the ethnographic present. Against this background this panel focuses on how, and to what effects, Strathern's analytic forms might inform, reverberate and refract the object of anthropology through and against the constitution of queer subjects and objects, nature-cultures and forms of desire – rendering these as 'newly' unfamiliar.
Papers:
EJ Gonzalez-Polledo: 'Wild gender'
Silvia Posocco: 'Postplurality'
Paul Boyce: 'Property, substance, queer affects'
E.J. Gonzalez-Polledo has a PhD in Social Anthropology from Goldsmiths, and joined the FP7 project MEDEA (Models and their effects on development paths, an ethnographic and comparative approach, www.medeasteelproject.org), which looked at the effects of economic models on development paths, knowledge transmission and livelihood strategies associated with the steel industry. She is currently using ethnography and agent based simulation to explore the relations between the emergence of local and regional political ontologies through practices of measuring, modelling and forecasting and the making of industrial cultures. Papers include 'Industrial work and global markets: A comparison of two Spanish steel plants' (with I Sabate), in V Goddard (ed): Special Issue: Cultures of Work: Industrial Futures in Post-Industrial Capitalism, Focaal: Journal of Historical and Global Anthropology (2013), and 'Politics for industrial machines. Techno-political transitions in a Spanish steel plant', in Goddard, V and Narotzky S (eds.) Envisioning the future: models and ethnography in times of change (Routledge, 2013).
Silvia Posocco is the programme director of the MA in Psychosocial Studies at Birkbeck. Her work focuses on a theoretically inflected ethnographic approach to the study of relations and relational categories - notably 'gender', 'sexuality' and 'secrecy' - through research on socially, culturally and historically situated practices. She is also concerned with the intersections between anthropology and queer studies. Her first research monograph on histories of violence and socialities of secrecy in Petén, northern Guatemala, was published in January 2014 by Alabama University Press. Secrecy and Insurgency: Socialities and Knowledge Practices in Guatemala deals with the experiences of guerrilla combatants of the Fuerzas Armadas Rebeldes (Rebel Armed Forces) in the aftermath of the 1996 Peace Accords. The book focuses on 'secrecy' as both sociality and knowledge practice, and demonstrates the relevance of thinking 'gender' in the coalescence of novel objects of analysis in a broad field of contemporary theory. Silvia is also involved in the Decolonising Sexualities Research Network.
Paul Boyce is a lecturer in Anthropology and International Development in the School of Global Studies at the Universoty of Sussex. His research has predominantly focused on sexual and gendered subjectivities, seeking to relate theory to practice. Doctoral research at the London School of Economics (ESRC funded) took place in West Bengal, India, and explored same-sex sexualities and transgender experience in respect of social change and modernity, and as contrasted to the represeentation of sexuality in HIV prevention discourse and practice. This work also critically explored conceptual absences in anthropological approaches to sexualities (in India) and considered the heteronormative implications of such absences. He is one of the co-conveners of the European Network for Queer Anthropology (ENQA), a network affiliated to the Euroepan Association for Social Anthropologists (EASA). He co-convenes two MAs at Sussex - the MA in Sexual Dissidence (convened with the school of English) and the MA in Media Practice for Development and Social Change (convened with the school of Media, Film and Music).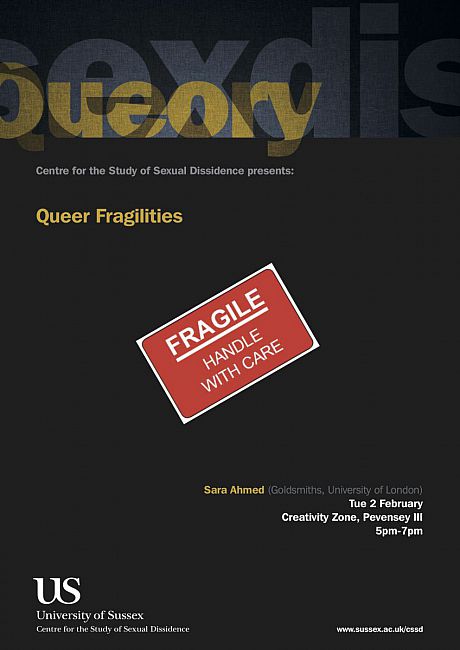 Queer Fragilities
Sara Ahmed (Goldsmiths, University of London)
Tue 2 February, Creativity Zone, Pevensey III, Room C7, 5pm-7pm
This lecture offers a meditation on how fragility as a thread, a queer connection, between what is deemed breakable. I will be sharing some shattering stories. In a shattering story there is often a too, a too that falls on what falls: fragility as the quality of being too easily breakable. The lecture explores how queerness is understood as self-shattering, how clumsiness can provide an ethics, and offers some reflections on how queer crip politics can affirm fragility as a source of militancy as well as connection.
Sara Ahmed is Professor of Race and Cultural Studies and Director of the Centre for Feminist Research at Goldsmiths. Her recent publications include Queer Phenomenology: Orientations, Objects, Others (2006), The Promise of Happiness (2010), On Being Included: Racism and Diversity in Institutional Life (2012) and Wilful Subjects (2014). Her lecture is drawn from her book Living a Feminist Life, which is forthcoming with Duke University Press in Spring 2017.