Emerging Trans Practices: Creative and Critical Explorations
Juliet Jacques, Olga Lidia Saavedra Montes de Oca, Nat Raha
Wed 2 December, Fulton A, 4pm-6pm
Current Sussex PhD candidates Juliet Jacques, Olga Lidia Saavedra Montes de Oca and Nat Raha present and frame their recent cutting-edge work in fiction, poetry and performance. The showcase will be followed by a critically engaged open discussion.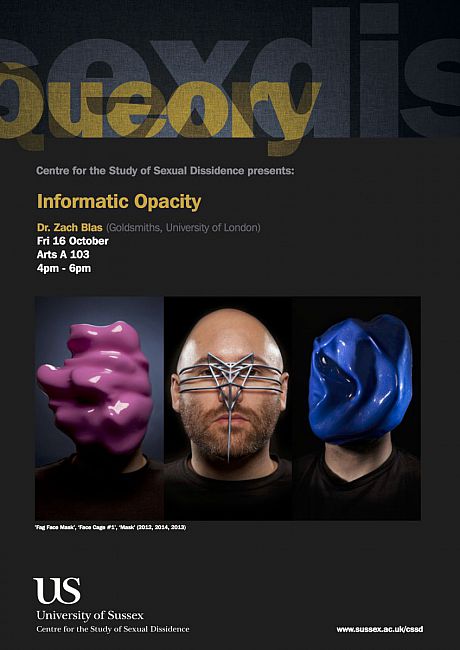 Informatic Opacity
Dr. Zach Blas (Goldsmiths, University of London)
Fri 15 October, Arts A103, 4pm-6pm
This talk will focus on a developing concept, 'informatic opacity', and masked protest as means of defeating surveillance technologies. 'Informatic opacity' is an aesthetico-political practice that resists emerging modes of digital capture (such as biometric recognition) and insists on an embodied dimension of life that cannot be fully abstracted by technical processes of calculation and visualisation. Through engaging with Eduoard Glissant's writings on opacity and transparency, Blas uses his own artwork Facial Weaponisation Suite, a community-based mask-making project that creates 'collective masks' for public intervention. These masks elude recognition by facial detection technologies, responding to the pressures of surveillance and resistance.
Zach Blas is an artist and writer whose work engages with technology, queerness and politics, and is currently a Lecturer in the Department of Visual Cultures at Goldsmiths, University of London. Blas has exhibited and lectured internationally, most recently at Museo Universitario Arte Contemporáneo, Mexico City; e-flux, New York; Institute of Modern Art, Brisbane; New Museum, New York; Museum of Modern Art, Warsaw; and the 2014 Dakar Biennale. Books: Escaping the Face (Rhizome at the New Museum and Sternberg Press, 2016) and Informatic Opacity: The Art of Defacement in Biometric Times (forthcoming). His work has been featured in Artforum, Frieze, Art Papers, Mousse Magaxine, The Atlantic, Al Jazeera America, Wired, and Art Review, in which Hito Steyerl selected him as a 2014 FutureGreat. During Autumn 2015 Blas is a resident at the Delfina Foundation, London.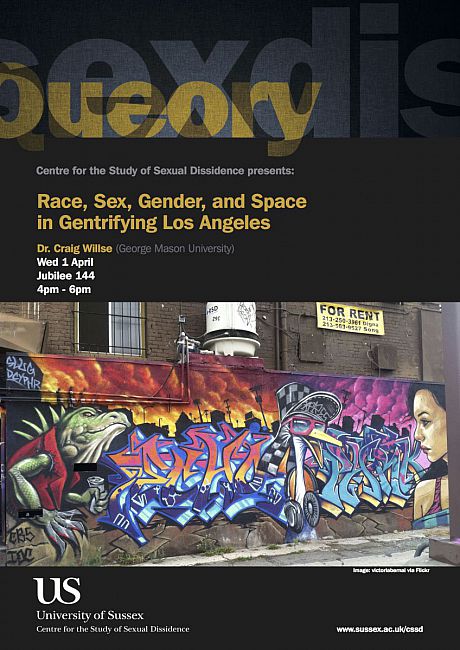 Race, Sex, Gender, and Space in Gentrifying Los Angeles
Dr. Craig Willse (George Mason University)
Wed 1 April, Jubilee 144, 4pm-6pm
Is gentrification a natural and inevitable part of the world? Are sexuality and gender? This talk will present a case study of gentrification and policing in the Echo Park neighbourhood of Los Angeles, California to examine how two processes of naturalization are brought together within racialised conceptions of crime, violence, and safety that undergird logics of urban "renewal." The first, a capitalist narrative of inevitability, naturalizes gentrification as an unavoidable outcome of economic growth and ever-expanding consumption. The second, a medico-biological narrative of sex and gender, posits forms of male sociality as naturally at odds with the ways gentrification reorders space. The talk will argue that, as Echo Park undergoes a dramatic rise in property values and rents and concomitant displacement of long-term low-income communities of colour, how to denaturalize ahistorical narratives of change becomes a necessary and urgent question.
Craig Willse is an assistant professor of cultural studies at George Mason University, where he is also faculty adviser for Students Against Israeli Apartheid. He is the co-editor (with Patricia Clough) of Beyond Biopolitics: Essays on the Governance of Life and Death (Duke University Press, 2011). His study of housing insecurity, The Value of Homelessness: Managing Surplus Life in the United States, is forthcoming from University of Minnesota Press in 2015.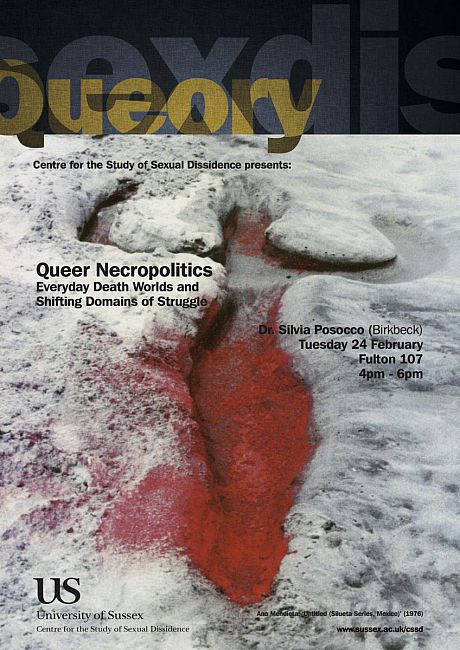 Queer Necropolitics: Everyday Death Worlds and Shifting Domains of Struggle
Dr. Silvia Posocco (Birkbeck, University of London)
Tue 24 Feb, Fulton 107, 4pm-6pm
In the Prologue to the collection of essays Queer Necropolitics, Sunera Thobani argues that 'The Empire of Terror offers a stark choice to its objects of power: incorporation or extermination. Its forms of sovereignty intend the taking of no survivors: loyalty or death' (2014: xv). From a range of geopolitical locations, the analytics of 'queer necropolitics' foreground the importance of interrogating claims to queerness in the context of ongoing processes of colonization, occupation, dispossession and genocide. They bring into focus regimes of attribution of liveliness and deadliness of subjects, bodies, communities and populations and their instantiation through performatives of gender, sexuality and kinship, as well as through processes of confinement, removal and exhaustion. They connect the queerness of everyday death worlds to shifting domains of struggle. In this talk, I explore these arguments and include a discussion of the queer necropolitical dimensions of my ethnographic research on transnational adoption circuits in Guatemala.
Silvia Posocco is based in social anthropology and gender studies. Her work focuses on a profoundly theoretically inflected ethnographic approach to the study of relations and relational categories - notably 'gender', 'sexuality' and 'secrecy' - through research on socially, culturally and historically situated practices. She is also concerned with the intersections between anthropology and queer studies. Her first research monograph on histories of violence and socialities of secrecy in Petén, northern Guatemala, was published in January 2014 by Alabama University Press. Secrecy and Insurgency: Socialities and Knowledge Practices in Guatemala deals with the experiences of guerrilla combatants of the Fuerzas Armadas Rebeldes (Rebel Armed Forces) in the aftermath of the 1996 Peace Accords. The book focuses on 'secrecy' as both sociality and knowledge practice, and demonstrates the relevance of thinking 'gender' in the coalescence of novel objects of analysis in a broad field of contemporary theory. Silvia is also involved in the Decolonising Sexualities Research Network.