The Political Aesthetics of Drag
Wednesday 19th November
Arts A5, 5pm-7pm
Prof. Shaka McGlotten (Purchase College-SUNY)
Co-sponsored with the Sussex Centre for Cultural Studies
Drag can be a means of touching queer and other publics, of mediating one's economic precarity. It can function as art by other means, or by any means necessary. And like politics, drag can be a duty, a contentious pleasure, or something to dread. Prof. McGlotten presents drag aesthetics as an ethics, focusing specifically on the ways artists and activists use drag to respond to, or reframe, some of the pressing political crises of our times, including racism, austerity, and police and military violence. For some drag provides a stage on which to articulate radical politics, while for others it is a sensual refuge. This talk will form a series of interlocking ethnographic portraits of contemporary drag across three sites: New York City, Berlin, and Israel/Palestine.
Shaka McGlotten, currently living and working in Berlin as a Fellow of the Alexander von Humboldt Foundation, is Associate Professor of Media, Society, and the Arts at Purchase College-SUNY, where he teaches courses on ethnography, digital culture, and queer studies. He is the co-editor of Black Genders and Sexualities (Palgrave, 2012) and Zombie Sexuality: Essays on Sex and the Living Dead (McFarland, 2014). He has written and spoken widely about public sex, virtual worlds, gaming, and hook up apps, preoccupations that appear in his monograph, Virtual Intimacies: Media, Affect, and Queer Sociality (SUNY Press, 2013).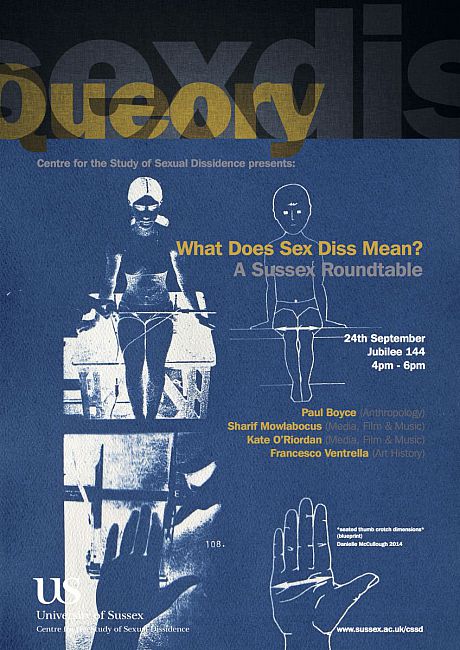 What Does Sex Diss Mean? A Roundtable Discussion
Wednesday 24th September
Jubilee 144, 4pm-6pm
Participants: Dr. Paul Boyce (Department of Anthropology), Dr. Sharif Mowlabocus (School of Media, Film & Music), Dr. Kate O'Riordan (School of Media, Film & Music), Dr. Francesco Ventrella (Department of Art History).
Chair: Dr. Samuel Solomon (School of English).
This introduction to the Centre's activities and programming will feature faculty affiliated with the Centre in an open discussion about research and teaching on sexuality. Our panelists will discuss the meaning for them of the study of sexual dissidence and associated problems: does sexuality name a distinct object of study? Does sexual dissidence name a more mobile methodology that informs our work in various fields? We hope to engage in a lively conversation with our audience about these questions and to share and develop our ideas as a research community.
Dr. Hongwei Bao (University of Nottingham)
From Christian Postmodernism to Digital Video Activism: Cui Zi'en's Queer Films and Queer Politics
Wed 5th February, Jubilee 115, 5pm-6.30pm
Introduced by Dr. Sharif Mowlabocus (School of Media, Film and Music)
As the first 'out' gay celebrity in Chinese media and as a leading figure in China's Lesbian, Gay, Bisexual and Transgender Activism, Cui Zi'en as a queer filmmaker has so far received little scholarly attention. Often referred to as 'China's Anydy Warhol', Cui is noted for his anti-commercial, anti-academic, anti-norm and anti-establishment style of filmmaking. His films explore issues such as gender, sexuality, identity, sociality and relationality. Through his postmodern, Christian, queer and Chinese lens, he unfolds a queer world of the sacred and the profane, of innocence and sophistication, and of fantasy and reality. His filmmaking practice, 'digital video activism' in his own words, opposes the government censorship of homosexuality and the state ban on independent film production in China by drawing on Marxist, Maoist and postmodern cultural politics. More importantly, his films and filmmaking practices raise question on queer theory in its cultural translation and indigenous modes of queer theorisation in a non-Western context.
In this talk, I shall first situate Cui's work in a genealogy of queer films and queer politics in contemporary China. Through the study of Cui's life trajectory, I will then trace the development of his queer thinking and queer politics by locating it in a transnational and postsocialist context. Textual analysis of a couple of his films will then demonstrate their relevance to contemporary queer theory.
Dr Hongwei Bao is lecturer in Media Studies at the University of Nottingham. His research focuses on queer films and queer filmmaking in transnational China, and postcolonial and postsocialist cultural politics.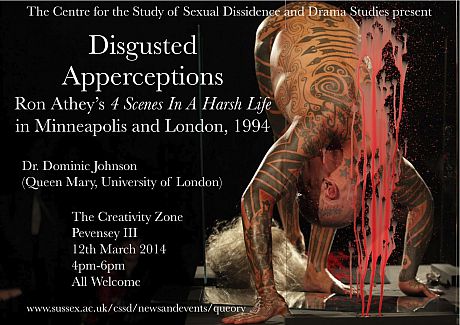 Dr. Dominic Johnson (Senior Lecturer in Drama, Queen Mary, University of London)
Disgusted Apperceptions: Ron Athey's "4 Scenes in a Harsh Life" in Minneapolis and London, 1994
Wed 12th March,The Creativity Zone, Pevensey III, 3C7, 4pm-6pm
Introduced by Dr. Sarah Jane Bailes (School of English)
In the United States Congress in July 1994, Jesse Helms, the late Republican Senator for North Carolina, introduced a series of pronouncements and actions against the performance artist Ron Athey, on account of Athey's performance of 4 Scenes in a Harsh Life (1994) in Minneapolis earlier in the year. In the final years of the 'culture wars', Helms would use Athey as a scapegoat to police the threat posed by what the religious Right deemed to be antagonistic, offensive, or indecent art. In the same month, when Athey and his company travelled to London to perform Four Scenes at the ICA, new problems ensured, in relation to a recent legal ruling concerning consensual bodily harm. By studying the reception of Ron Athey's seminal performance 4 Scenes in a Harsh Life (1994), in Minneapolis and London, I show that disgusted apperceptions of a single work depend on contingencies at the local level. These contexts are seemingly beyond the aesthetic domain, yet condition the way a work of art makes meaning.
Dominic Johnson is the author of Glorious Catastrophe: Jack Smith, Performance and Visual Culture (2012); and Theatre & the Visual (2012). He is the editor of four books, most recently Pleading in the Blood: The Art and Performances of Ron Athey (2013); and Critical Live Art: Contemporary Histories of Performance (2013). He is Associate Editor of the journal Contemporary Theatre Review, and guest-edited a special issue on 'Live Art in the UK' in 2012. He is a Senior Lecturer in the School of English and Drama, at Queen Mary, University of London.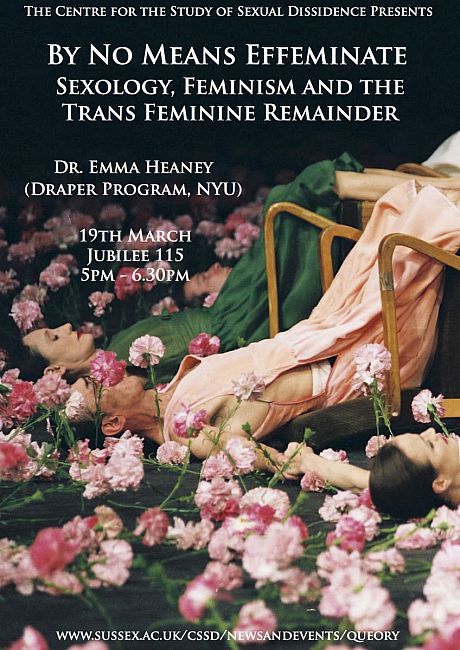 Prof. Emma Heaney (Assistant Professor, Draper Program, New York University)
By No Means Effeminate: Modernist Sexology, Feminism and the Trans Feminine Remainder
Wed 19th March, Jubilee 115, 5pm-6.30pm
Introduced by Dr Samuel Solomon (School of English)
The Intermediate Sex, Edward Carpenter's foundational text of feminist and gay rights, forwards the "extreme effeminate" as a rare sport in the vast class of normal, masculine gay men. This disavowal of femininity is an early example of trans misogyny which this lecture reads back through the sexological tradition and forward into works of literary Modernism.