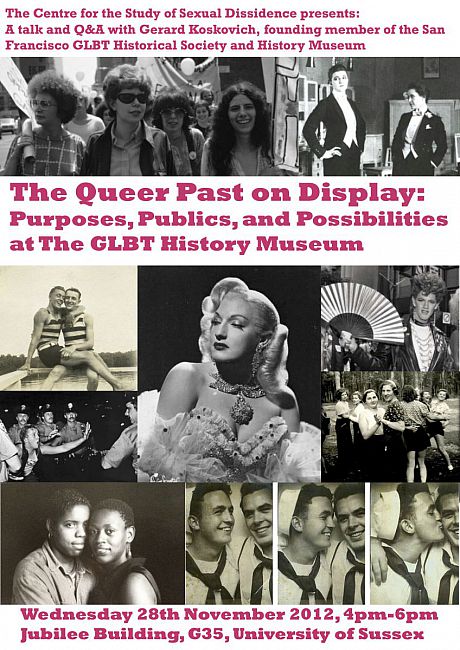 Gerard Koskovich: "The Queer Past on Display: Purposes, Publics and Possibilities at the GLBT History Museum, San Francisco"Wednesday 28th November 2012, 4pm-6pm Jubilee Building Room G35,University of Sussex
Archivist, curator and community historian Gerard Koskovich will discuss the pioneering San Francisco GLBT Historical Society and its internationally renowned
GLBT History Museum
. He has been instrumental in the development of these unique institutions and will examine the museum's history, curatorial vision and community engagement, and the future possibilities for queer archives and queer curation. The talk aims to tackle the evolving question of the publics for the LGBT archives and museums, and how ideas on queer archives and curation can be transformed and used by other communities across the world.
Gerard Koskovich is an independent scholar, writer and rare book dealer based in San Francisco. His articles have been published in the United States and Europe since the early 1980s and he has appeared widely as a public speaker on queer history and culture. Koskovich is a founding member of the GLBT Historical Society, an archives and research centre established in San Francisco in 1985. He has been centrally involved as a curator and communications consultant for the GLBT History Museum, an internationally renowned institution that the society opened in January 2011 in San Francisco's Castro District.
"Failure Camp": A Workshop with Heather Love (University of Pennsylvania)
Thursday 8th November 2012, 12pm-2pm Jubilee Building Room 135, University of Sussex
This workshop will focus on a pre-circulated essay by Heather Love entitled "Failure Camp," which discusses the film "Notes on a Scandal." Heather Love received her Ph.D. from the University of Virginia, and her research interests include gender studies and queer theory, the literature and culture of modernity, affect studies, film and visual culture, psychoanalysis, race and ethnicity, sociology and literature, disability studies, and critical theory. She is the author ofFeeling Backward: Loss and the Politics of Queer History (Harvard, 2007), the editor of a special issue of GLQ on the scholarship and legacy of Gayle Rubin ("Rethinking Sex"), and the co-editor of a special issue of New Literary History ("Is There Life after Identity Politics?"). She has recent and forthcoming essays on description as method in literary studies and the social sciences, transgender fiction, spinster aesthetics, and comparative social stigma. She is working on a book on the source materials for Erving Goffman's 1963 book, Stigma: On the Management of Spoiled Identity ("The Stigma Archive").
Thomas Glave (Binghampton): "Octopus, Caribbean: Drowning, Sexuality"
Thursday 18th October 2012, 4pm-6pm Jubilee Lecture Theatre, University of Sussex
Thomas Glave is currently a Visiting Scholar at the University of Cambridge. He is the author of Whose Song? and Other Stories, the essay collection Words to Our Now: Imagination and Dissent (winner of a 2005 Lambda Literary Award), and is editor of the anthology Our Caribbean: A Gathering of Lesbian and Gay Writing from the Antilles (winner of a 2008 Lambda Literary Award).
An evening of queer poetry and discussion featuring Gregory Woods and John McCullough.
Wednesday 15th February 2012, 5pm-7pm 'The Creativity Zone' - Pevensey Building 3C7, University of Sussex
Rebecca Jones (Open University): "Imagining Bisexual Futures: Happy Non-Normative Old Age?"
Wednesday 18th January 2012, 4pm-6pm Friston 113, University of Sussex
Followed by discussion and a response by Andy Medhurst on sexual life histories and the archive.