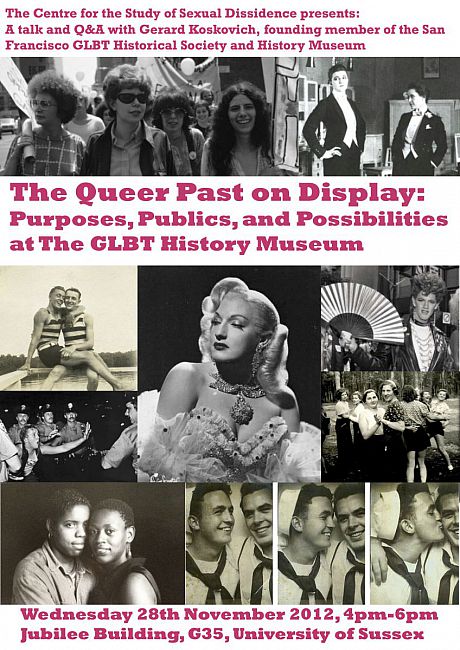 Wed 28 November 2012
Gerard Koskovich: "The Queer Past on Display: Purposes, Publics and Possibilities at the GLBT History Museum, San Francisco"
Jubilee Building Room G35, 4pm-6pm
Archivist, curator and community historian Gerard Koskovich will discuss the pioneering San Francisco GLBT Historical Society and its internationally renowned
GLBT History Museum
. He has been instrumental in the development of these unique institutions and will examine the museum's history, curatorial vision and community engagement, and the future possibilities for queer archives and queer curation. The talk aims to tackle the evolving question of the publics for the LGBT archives and museums, and how ideas on queer archives and curation can be transformed and used by other communities across the world.
Gerard Koskovich is an independent scholar, writer and rare book dealer based in San Francisco. His articles have been published in the United States and Europe since the early 1980s and he has appeared widely as a public speaker on queer history and culture. Koskovich is a founding member of the GLBT Historical Society, an archives and research centre established in San Francisco in 1985. He has been centrally involved as a curator and communications consultant for the GLBT History Museum, an internationally renowned institution that the society opened in January 2011 in San Francisco's Castro District.
Wed 14 November 2012
LGBT Artists Speak Out: A Town Meeting on the Queer State-of-the-Art at Brighton Museum
Old Courthouse, Brighton Museum , 118 Church Street, Brighton 14 November, 1 – 6 pm, entry free
The daring artists Ajamu X, Campbell X, Sadie Lee, Brian Lobel, Eddie Peake, Sarah Pucill, and James Richards will discuss their take on queer sexuality, intimacy, love and race in twenty-first century Britain.

Through the artists' presentations of their lives and work, we intend to explore the queer state of the art and the queer mentality in British visual culture. Participating artists include Sadie Lee, known for her paintings of lesbian and transgender characters, Ajamu X, exhibiting photographs of black gay male sexuality, Eddie Peake, a performance artist portraying male nudity, Sarah Pucill, whose images of queer femininity are very moving, James Richard, a video artist whose installations deal with intimate subject matter, Campbell X celebrated for films about black lesbian identity and Brian Lobel, who creates bold performances about our bodies.

There is a renewal of interest in queer issues -- nationally and internationally -- regarding civil rights, anti-discrimination laws and same-sex marriage. At the same time, new views and experiences of sexuality, such as sexual and gender fluidity, and sexual relationships will be debated and contested. The artists deal with these questions in their works which reflect on the historical processes that brought us to this point of rupture. They experiment with images of male, female and transgender eroticism, in the psyche and through embodiment, which express queer pleasure and pain. Through their portraits and self-portraits they examine our contemporary sense of the complexities of the self and its sensibilities.

At the present moment of economic crisis, gripped as we are by the forces of social and political conservatism, we need more activism in queer politics and creativity in queer art. The event will be a platform for thinking about queer issues and creating a new art to bring about a fairer society for queer culture.

This event is co-organised by the Brighton Museum and Art Gallery (Jenny Lund) and the University of Sussex's Centre for Visual Fields (John David Rhodes), Centre for the Study of Sexual Dissidence (Rachel O'Connell, Pawel Leszkowicz).
Thu 8 November 2012
"Failure Camp": A Workshop with Heather Love (University of Pennsylvania)
Jubilee Building Room 135, 12pm-2pm
This workshop will focus on a pre-circulated essay by Heather Love entitled "Failure Camp," which discusses the film "Notes on a Scandal." Heather Love received her Ph.D. from the University of Virginia, and her research interests include gender studies and queer theory, the literature and culture of modernity, affect studies, film and visual culture, psychoanalysis, race and ethnicity, sociology and literature, disability studies, and critical theory. She is the author ofFeeling Backward: Loss and the Politics of Queer History (Harvard, 2007), the editor of a special issue of GLQ on the scholarship and legacy of Gayle Rubin ("Rethinking Sex"), and the co-editor of a special issue of New Literary History ("Is There Life after Identity Politics?"). She has recent and forthcoming essays on description as method in literary studies and the social sciences, transgender fiction, spinster aesthetics, and comparative social stigma. She is working on a book on the source materials for Erving Goffman's 1963 book, Stigma: On the Management of Spoiled Identity ("The Stigma Archive").
Thu 18th October 2012
Thomas Glave (Binghampton): "Octopus, Caribbean: Drowning, Sexuality"
Jubilee Lecture Theatre, 4pm-6pm
Thomas Glave is currently a Visiting Scholar at the University of Cambridge. He is the author of Whose Song? and Other Stories, the essay collection Words to Our Now: Imagination and Dissent (winner of a 2005 Lambda Literary Award), and is editor of the anthology Our Caribbean: A Gathering of Lesbian and Gay Writing from the Antilles (winner of a 2008 Lambda Literary Award).
Tue 15 May 2012
The Secret Logic of Sexual Fantasy
4pm-5.30pm
What determines the content that a person will find sexually arousing? Warning: if you are likely to be embarassed you should not attend the talk.
Sat 12 May 2012
Global Queer Cinema Event: Queer Cinema and the Politics of the Global
David Eng (University of Pennsylvania), Patricia White (Swarthmore College), Gayatri Gopinath (New York University), Song Hwee Lim (University of Exeter), Catherine Grant (University of Sussex), Michael Lawrence (University of Sussex), Shamira Meghani (University of Leeds), Cüneyt Çakirlar (UCL)
This event brings together international scholars to consider the aesthetics and politics of queer cinema in a global context. The organisers are Karl Schoonover (University of Warwick) and Rosalind Galt (University of Sussex).
Fri 16 March 2012
Women's Empowerment and the Media
Prof. Andrea Cornwall (Sussex), Shere Hite, 1pm-3pm
Inspiring panel with sexologist and feminist Shere Hite on how to counteract the negative images women receive from the media.
Tue 21 February 2012
The Arts of Looking
Is there an art to looking?
6.30pm-7.30pm
Wed 15 February 2012
An evening of queer poetry and discussion featuring Gregory Woods, Sophie Mayer and John McCullough.
'The Creativity Zone' - Pevensey Building 3C7, 5pm-7pm
Tue 14 February 2012
Film Screening: Jonathan Demme, 'Philadelphia' (1993)
Part of the 'AIDS and its Melodramas' film screening series.
Introduced by Dr. Mark Turner (King's College London), 4pm-7pm
Tue 31 January 2012
Film Screening: Roger Spottiswoode, 'And the Band Played On' (1993)
Part of the 'AIDS and its Melodramas' film screening series.
Introduced by Dinah Rajak (Sussex), 4pm-6pm
Wed 18 January 2012
Rebecca Jones (Open University): "Imagining Bisexual Futures: Happy Non-Normative Old Age?"
Friston 113, 4pm-6pm
Followed by discussion and a response by Andy Medhurst on sexual life histories and the archive.

Tue 17 January 2012
Film Screening: Tom McLoughlin, 'Fatal Love' (1991)
Part of the 'AIDS and its Melodramas' film screening series.
Introduced by Dr. Michael Lawrence, 4pm-6pm