"What excited me about Sex Diss is that it continually produces new research ideas, informed by academic contacts from all over the world. The students, alumni and staff who interact with the centre are all from diverse theoretical backgrounds – such as gender studies, psychoanalysis and media – making for challenging and interesting debate."
- Ashton Spacey, Sex Diss MA graduate
Queory is our visiting speaker series. We bring UK-based and international academics, activists, artists, writers, and performers to share their work with us.
-------------------------------------------
"

The Cultural Politics of Unfeeling: Race, Affect, and Disaffection"
Wed 2 October 2019 / 5pm-7pm
Jubilee 144
(presented in collaboration with the English Colloquium and the Eighteenth- and Nineteenth-Century Studies Working Group; introduced by Elle Whitcroft)
What does it mean to be unfeeling despite the biopolitics of feeling, to withhold from the intimacies of four continents, to no longer buy into the unfinished business of sentimentalism? According to Denise Ferreira da Silva, "affectability" is constructed as the intrinsic property of non-white others. This talk takes an antisocial approach to affect theory. Drawing from queer of colour critique, I suggest that reclaiming unfeeling demonstrates disaffection in the political, causal, and affective senses. To begin, I question why we fixate on Bartleby, not Babo, as a universal figure of dissent. To be unsympathetic, as Babo and the other Africans were, is to forfeit sympathy. Following Sylvia Wynter's critique of the supposedly universal category of the human, what are the implications for universal sympathy and the insistence on affect's unavoidable attachments?
Affect studies has a race problem. Reading Benito Cereno, I trace how vilified "unfeeling" can act as an index of dissatisfaction and resistance, masking other forms of feeling that fail the politics of recognition.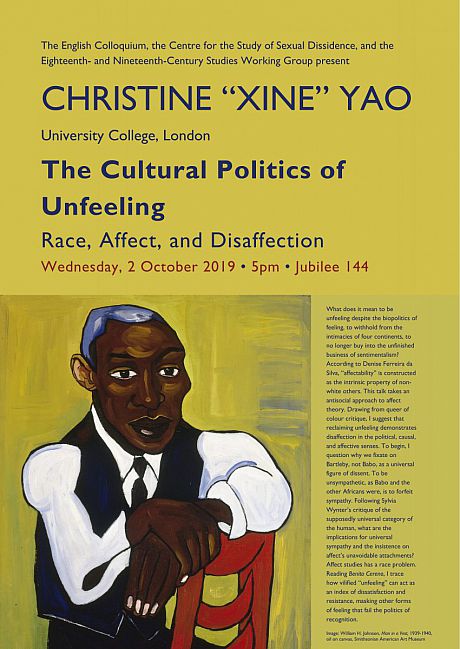 -------------------------------------------
"
Willam Belli and the Fully Commodified Self: Femininity, Visibility, and Precarity in Social Media and RuPaul's Drag Race
"
Wed 9 Oct / 5-7pm
Jubilee 144
(presented in collaboration with the English Colloquium; introduced by Flora Dunster)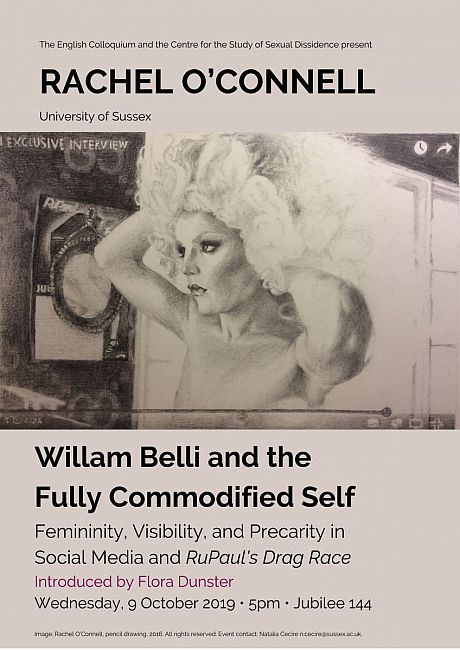 -------------------------------------------
"Reparative Reading and Other Drug War Fictions"
Wed 23 October, 5-7pm
Jubilee 144
(with the English Colloquium)
This talk explores the relationship between reparative reading and drug war histories in the Americas, as well as how a few works of contemporary African American fiction —James Hannaham's novel 2015 Delicious Foods and Barry Jenkins' 2016 film Moonlight in dialogue with Octavia Butler's 1992 novel Parable of the Sower—reimagine the 1980s crack epidemic in relation to questions of bodily integrity, queer intimacy, and labor.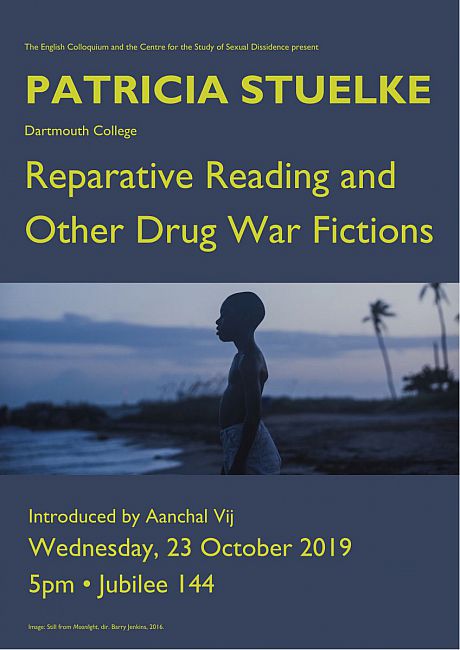 -------------------------------------------
"Gender Transitions & Intersex Identities: Communities, Consciousness & Social Reproduction"
Pevensey 1 2A1 (presented jointly with the Centre for Global Political Economy)
This talk will provide an introduction to queer social reproduction, resistant consciousness, and community ethics as they have been developed by transgender and intersex communities. It will be an overview of my recent work, and situate it within the broader context of Marxist feminist inquiry.
Jules Gleeson
is a gender historian, communist, and Londoner based in Vienna. Her published work addresses transfeminist ethics, embodiment struggles, and Byzantine monastic masculinities. She is co-editing a new essay collection,
Transgender Marxism
, with Elle O'Rourke. She co-founded the Leftovers communist discussion group in 2015 as a venue to develop unitary theories of social oppression and revolutionary thought, and more recently helped establish the New Critical Approaches to the Byzantine World research network.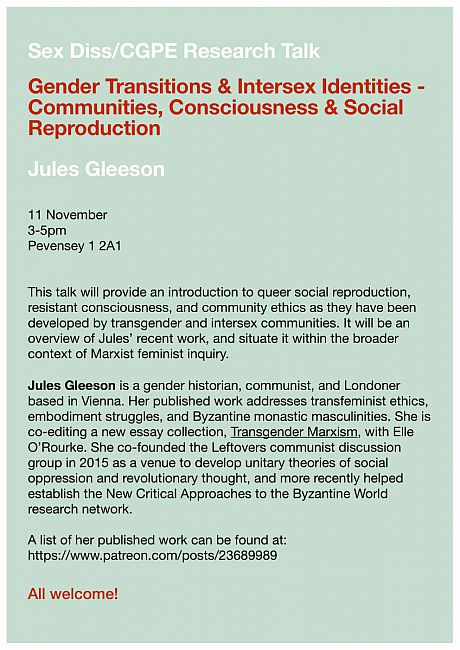 -------------------------------------------