Library Café
Find out about the Library Cafe.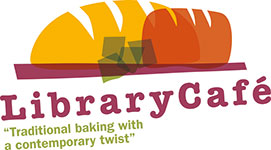 With barista coffee, a wide selection of salads and freshly made sandwiches, the Library Cafe provides a taste of luxury at an affordable price.
New for 2018 we have Chop Chop hot pots. These hot pots come in a range of flavours. A few examples of these include the Full English Breakfast Pot, Chilli Con Carne (gf), Mac and Cheese and Chickpea & Sweet Potato Curry (vg)(gf). The pots can be heated up in a matter of minutes for you to enjoy nearly instantly or you are more than welcome to take one away with you.
---
Opening times
Summer opening times are Monday to Friday, 9am to 4.30pm.
Menu
Library Cafe Menu
The Library Cafe offers a delicious selection of fresh sandwiches and premium salads every day. Plus a variety of grab and go sandwiches, wraps snacks and drinks.
Get a munch money card
Find out about our munch money card for incentives and benefits.
Location
Download our campus map [PDF 286KB].