Jubilee Café
Find out about the cafe inside the University of Sussex Business School.

We have a new International retail range for your grab and go needs, including noodle soup pots, pea snacks, aloe vera drinks and more.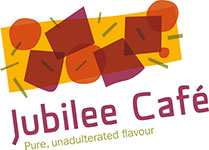 Based in the Jubliee Building, the Jubilee Café really is at the hub of activity at the University of Sussex, fuelling the minds of the students and staff who work there.
---
Opening times
Summer opening times are Monday to Friday, 8.30am to 3.30pm.
Menu
Jubilee Menu
Jubilee offers a delicious selection of freshly made sandwiches every day as well as homemade soup, grab 'n' go salads, sandwiches and wraps and tasty cakes, bakes and treats for when you fancy something sweet!
Get a munch money card
Find out about our munch money card for incentives and benefits.
Location
Download our campus map [PDF 286KB].