The Bridge
Find out about the Bridge Cafe on campus.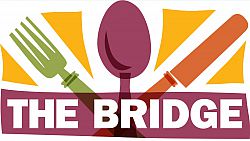 Between Pevensey I and Pevensey II there is a bridge. Inside that bridge you'll find The Bridge: the number one destination for tasty, home-cooked delights inspired by cuisines from around the world.
---
Opening times
Opening times are Monday to Friday, 9am to 4pm.
Menu
With three weeks' worth of delicious dishes, you're always spoilt for choice at The Bridge.
Week 1: w/c 21st January
Monday
Veggie Burger in Brioche Roll with Coleslaw and Sweetcorn Relish
Beef Dhansak with Pilau Rice
Tuesday
Grilled Chicken Burger in Brioche Roll with Coleslaw
On The Pulse
Puy Lentil Ragu with Plain Rice
Wednesday
Chipotle Pulled Pork in a Brioche Roll with Coleslaw
On The Pulse
Cauliflower Dahl with Pilau Rice
Thursday
Southern Fried Chicken in Brioche Roll with Red Cabbage Slaw and Ranch Dressing
Malaysian Red Chicken Curry with Malay Coconut Rice
Friday
Battered Fish in Brioche Roll with Iceberg Lettuce and Tartare Sauce
On The Pulse
Thai Green Chickpea Curry with Pilau Rice
Get a munch money card
Find out about our munch money card for incentives and benefits.
Location
Download our campus map [PDF 286KB].
Disabled Access Guide for the Library (DisabledGo website).
Monday
On The Pulse Butterbean, Borlotti Bean and Coconut Stew with Plain Rice
Tuesday
Vegetable Quorn Lasagne with Dough Balls
Wednesday
Cauliflower Dahl with Pilau Rice
Thursday
Jacket Potato with Vegetable Chilli or Baked Beans
Friday
Thai Green Chickpea Curry with Pilau Rice