The Bridge
Find out about the Bridge Cafe on campus.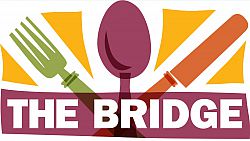 Between Pevensey I and Pevensey II there is a bridge. Inside that bridge you'll find The Bridge: the number one destination for tasty, home-cooked delights inspired by cuisines from around the world.
---
Opening times
Opening times are Monday to Friday, 9am to 4pm.
Menu
With four weeks worth of delicious dishes, you're always spoilt for choice at The Bridge.
Find weekly menus on the drop down pages.
Week 1: 3rd June
Week 2: 10th June
Week 3: 17th June
Weel 4: 27th May
Get a munch money card
Find out about our munch money card for incentives and benefits.
Location
Download our campus map [PDF 286KB].
Disabled Access Guide for the Library (DisabledGo website).