Arts Piazza
Find out about the Arts Piazza cafe next to the Arts buildings on campus.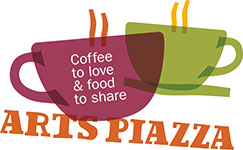 Arts Piazza is the place to go for a decent cup of coffee on campus.
Accompanied by a delicious range of home-made cakes, bakes and other treats, Arts Piazza maintains that homely feel right in the centre of a buzzing campus.
---
Opening times
Summer opening times are Monday to Friday, 8am to 6pm.
Get a munch money card
Find out about our munch money card for incentives and benefits.
Location
Download our campus map [PDF 286KB].