Where to eat on campus
Cafes and Restaurants
Click picture to view gallery
There are lots of cafés on campus to choose from, from the buzz of the Arts Piazza to hidden gems like the Dhaba and The Bridge Cafés. If you're looking for hot food, be sure to check out our restaurant Dine Central, on Level One of Bramber House. Elsewhere you can find a fantastic range of sandwiches, rolls, baguettes, paninis and more; as well as delicious snacks and beverages to help you get the most from your visit to campus. Visit the pages on the left to find out about all the cafés and decide which one you want to try out today.
Whichever of our great locations you choose, you can be sure that we've put all our energy into ensuring that everything we sell has been sourced, produced and packaged in the most ethical, environmentally friendly and community driven way possible. Find out more on the Our values page.
Five of our cafes and restaurants also have silver and gold Healthy Choice awards, and we've got more in the pipeline!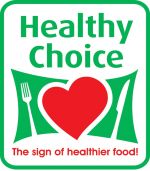 We now have meal deals too! Check out the posters below for details: