American Studies graduates find employment in a wide range of fields including teaching, media and the civil service. Our degrees give graduates an edge in the job market because having spent a period in North America during their four-year, multidisciplinary degree, they are seen by employers as versatile and able to adapt quickly to new information and approaches.
As an American Studies student at Sussex, you will be supported to gain:
knowledge of the US in the context of the Americas across a range of topics and historical periods
an appreciation of the ways in which different fields of study combine to give a deeper understanding of American culture, history and society
the educational, cultural and social experience of a year abroad
the ability to recognise, represent and reflect on ideas and concepts from other cultures and periods, and to analyse texts within their historical, social and cultural context
the skills you need to learn independently and to clearly communicate what you have learnt.
See the 'Careers' section on our undergraduate prospectus pages to find out more and see testimonials from American Studies graduates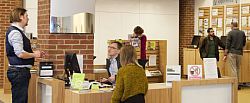 At Sussex you will have access to comprehensive support from the Careers and Employability Centre. Bespoke programmes such as Sussex Plus can help you:
bring together your academic achievements, part-time work, volunteering, extra-curricular activities and life experience and develop your skills
take part in a range of student development programmes, including Learning to Lead (a leadership and policy development programme)
get involved, on campus and in the community, through University of Sussex Students' Union societies and volunteering projects
reflect on your experiences.
Sussex Plus and Skillclouds work together in a complementary way and Skillclouds provides personalised information about the academic skills gained through your degree programme.