The Sussex Energy Group undertakes academically rigorous, inter-disciplinary research that engages with policy-makers and practitioners. The aim of our research is to identify ways of achieving the transition to sustainable, low carbon energy systems whilst addressing other important policy objectives such as energy security.
We are core partner in the Tyndall Centre for Climate Change Research and part of the UK Energy Research Centre.
Sussex Energy Group's research into the implications of changing energy policy
With climate change one of the biggest issues of the modern age, changing energy consumption and moving from a high- to low-carbon economy is more critical than ever.
The Sussex Energy Group uses an interdisciplinary research approach that is the hallmark of Sussex to understand the social, political and economic implications of radically changing our energy systems and moving towards a more sustainable future.
Special Royal Society edition with SEG's Steve Sorrell and Richard Miller on 'The future of oil supply.
An interview with guest editors Steve Sorrell and Richard Miller

Copyright© The Royal Society 2013
This volume, edited by Steve Sorrell and Richard Miller, presents the best scientific evidence on why a decline in oil supply may, or may not, be in sight. It considers the production and resources of conventional oil and the potential for developing alternative liquid fuels from tar sands, shales, biomass, coal and gas. It also describes how economies might react and adapt to rising oil prices and how the transport sector could be transformed, and provides comprehensive and interdisciplinary perspective on the 'peak oil' debate and reflects a range of views. To read all articles from this issue online, please click here. The Introduction is FREE to access.
BBC Radio 4 interview on 'Geoengineering' with SEG's Dr Rose Cairns
BBC4 Geoengineering Podcast
As part of the
BBC Radio 4's 'Frontier's Radio programme
on 11th December 2013, Gaia Vince talks to natural and social scientists about geoengineering as a controversial approach to dealing with climate change. One of the interviewees is
Dr Rose Cairns
, Research Fellow at the Sussex Energy Group, whose current research examines the social, geopolitical and ethical implications of the growing interest in technological manipulations of the climate and climatic processes as a response to climate change. To find out more about Rose's current research project on geoengineering, click
here
.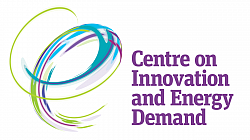 Three fully-funded PhD studentships in Innovation and Energy Demand are now available! For more details on on the scholarships, please click here.
An overview of CIED's aims, programmes, themes and projects, as well as key contacts can be found in the CIED brochure [PDF 182KB].
Related links: