10 of 12 subjects we submitted ranked in the top 15 nationally in the 2008 Research Assessment Exercise (RAE)
internationally ranked policy think-tanks with strong links to Government and the NGO sector
interdisciplinary and internationally focused research degrees at the heart of the social sciences
one of the largest centres of social sciences doctoral training in the UK, with over 230 permanent academic staff
Research in the social sciences at Sussex covers all the major social sciences disciplines, and a number of specialist interdisciplinary areas in which Sussex has an international reputation, including childhood and youth studies, European studies, gender studies, global health, human rights, international development, international education, migration studies, and science and technology policy research.
In the 2008 RAE, research produced by over 130 staff was judged to be internationally excellent or world leading.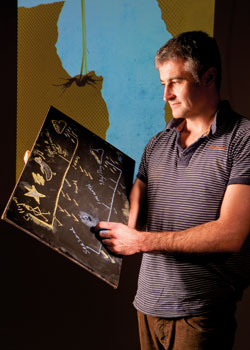 Knowledge for a changing world
Recent humanitarian crises have highlighted the increasing role of the climate in putting stress on people's lives and livelihoods. While considerable progress has been made in forecasting the weather and climate, there remains a gap between the production of climate science and the use of it by communities most vulnerable to the effects of climate variability and change.
Dominic Kniveton, Professor of Climate Science and Society, uses historical cultural events in sub-Saharan Africa to focus community memories of past rainfall events in order to build an understanding of uncertainties in climate information and to combine scientific information with local knowledge to produce informed action that builds community and household resilience.
Sussex hosts a prestigious Economic and Social Research Council Doctoral Training Centre, one of only 21 in the country. All postgraduate research degrees are underpinned by our commitment to provide the highest-quality research training, informed by cutting-edge research, and taught by established academic staff whose work is internationally recognised in their field.
Research training draws on established research-led Masters degrees, a number of which are recognised as research training pathways into doctoral research.
Sussex research in the social sciences is particularly recognised for its high level of impact in policy fields. This is reflected in a high degree of interaction with UK Government departments and international organisations in these fields, including two major research centres funded by the Department for International Development on migration and poverty, and access to education. We also host the ESRC Social, Technological and Environmental Pathways to Sustainability (STEPS) Centre.
The University is home to SPRU – Science and Technology Policy Research, which was ranked 1st science and policy think tank in the UK and 6th in the world (University of Pennsylvania: Global Go-To Think-Tanks Report 2011). The same report ranked the Institute of Development Studies (IDS) in the world's top 50 non-US think-tanks. IDS is also housed on the Sussex campus.