our interdisciplinary approach crosses traditional subject boundaries and we offer postgraduate study in a range of scientific disciplines

internationally recognised sciences faculty
Sussex offers exciting research opportunities for postgraduate study in a wide variety of related scientific disciplines. The University has been home to the research of three Nobel Prize winners in science and the winner of the prestigious Crafoord Prize (in biosciences). We also currently have 14 Fellows of the Royal Society on our staff.
Sussex offers many opportunities for research and activity that cross subject boundaries both within the sciences and across the University to the arts and social sciences. One of the driving forces in our current research is the interdisciplinary approach to the pursuit of knowledge at the important interfaces between subjects.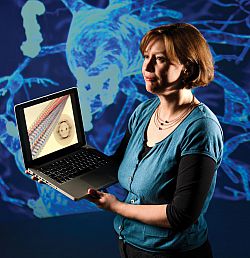 Enhancing lifelong health and well-being
Alzheimer's is a devastating disease, slowly eradicating memories and brain function. It's not yet known exactly how this neurodegenerative condition begins, but research by Louise Serpell, Professor of Biochemistry and Co-Director of the Sussex Dementia Group, aims to understand the process associated with the disease.
Professor Serpell's work is with protein structures. Proteins are able to assemble to form elongated, fibrous structures that are fundamental for many biological processes. These fibres can be highly organised and strong, performing functional roles such as the silk fibres spun by spiders, but some proteins can accumulate to cause disease. For example, amyloid fibrils are protein aggregates that accumulate in the tissues in a number of devastating diseases including not only Alzheimer's disease, but also type 2 diabetes, Parkinson's disease and spongiform encephalopathies (eg Creutzfeldt-Jakob disease).
Ultimately, the purpose of the research is to comprehend the process of neuronal toxicity associated with disease in order to, eventually, improve treatment and prognosis.