research in all scientific areas ranked as world leading in the 2008 Research Assessment Exercise (RAE)
postgraduate study in a range of scientific disciplines
internationally recognised sciences faculty
our interdisciplinary approach crosses traditional subject boundaries
Sussex offers exciting research opportunities for postgraduate study in a wide variety of related scientific disciplines. The University has been home to the research of three Nobel Prize winners in science and the winner of the prestigious Crafoord Prize (in biosciences). We have also counted 16 Fellows of the Royal Society on our staff.
Sussex offers many opportunities for research and activity that cross subject boundaries both within the sciences and across the University to the arts and social sciences. One of the driving forces in our current research is the interdisciplinary approach to the pursuit of knowledge at the important interfaces between subjects.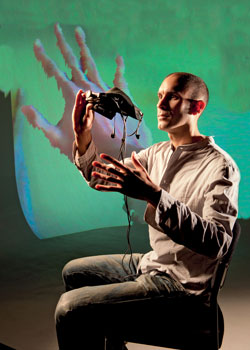 Exploring mind, brain and consciousness
Understanding the biological basis of conscious experience is one of the great challenges for 21st-century science, with important implications for diagnosis and treatment of many psychiatric and neurological disorders.
Dr Anil Seth, Reader in Informatics at Sussex and Co-Director of the Sackler Centre for Consciousness Science, is leading ground-breaking research bringing together mathematicians, physicists, psychologists, philosophers, neuroscientists and clinicians in pursuit of this most fundamental question. Using new technologies such as augmented reality and high-performance computation to complement existing methods in brain imaging, the research casts new light on the processes underlying our awareness of the world and of our own selves.