outstanding rankings in the 2008 Research Assessment Exercise (RAE) for many arts and humanities subjects
world-renowned arts research centres offer an interdisciplinary approach
opportunities to study abroad at one of our European partner institutions as part of your degree
Sussex has always moved beyond the boundaries of single disciplines, questioning and challenging received ideas. In the arts and humanities, Sussex has pioneered interdisciplinary studies, unifying a strong focus on historical study with the exploration of modern and postmodern theory.
Excellence in the arts and humanities at Sussex was confirmed by the 2008 Research Assessment Exercise (RAE). All our subjects in arts and humanities were judged as having at least 90 per cent of their research internationally rated, with some outstanding results: American studies at Sussex was ranked 1st in the UK, and art history 3rd.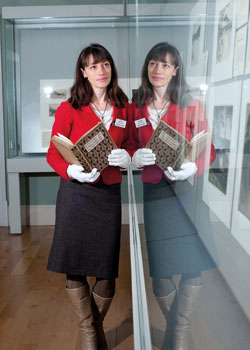 Understanding the past, shaping the future
Sussex art historian and PhD student Alexandra Loske's research into the life and work of Hove-based artist, Robert Goff, has led to her curating an exhibition of Goff's etchings for Brighton Museum.
Alexandra's doctoral studies are funded by an Arts and Humanities Research Council scheme to encourage collaborations between academics and organisations that explore the country's rich arts heritage.
European co-operation
From its inception, the University of Sussex has been strongly committed to European co-operation, and Sussex now offers one of the best-supported European study abroad programmes in Britain. Sussex has long-established links with European HE institutions through the Commission's Lifelong Learning Programme. Research students, if eligible, may benefit from Erasmus grants, and undertake research abroad at one of our partner institutions. For more details, contact E sussexabroad@sussex.ac.uk