Student budgeting tips
There are many ways you can save and make your money go further when you're a student, such as working part time, using student discounts and budgeting effectively.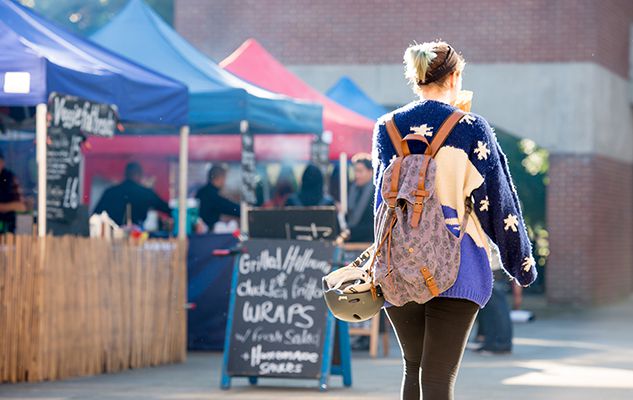 Do a budget
Studying at university is an incredible experience and the last thing you want to do is worry about money.
To help you budget, check student living costs at Sussex and work out how much you'll need to cover these costs and other expenses each week.
This could include money from student loans, a part-time or seasonal job, scholarships, savings and any money your parents might be giving you.
You can then create a budget spreadsheet, or use the Sussex budgeting tool [xslx]. And if you have any money problems while you're here, email studentlifecentre@sussex.ac.uk for advice.
Sussex student budgeting tip: Use an app which has spending notifications (like Monzo) to check you're not going over budget.
Find a part-time job
As well as helping you to manage your money, getting a part-time job will help you gain employability skills. To find part-time work, you can:
Check how much tax you should pay on your earnings as a student.
If you're an international student and you're coming here on a visa, you may have working restrictions. Email immigration@sussex.ac.uk to check if you can work while you study.
Check student bank account deals
Many of the major UK banks offer student bank accounts with perks like interest-free overdrafts, free railcards or coachcards, and vouchers.
To see which account would be best for you, check MoneySavingExpert.com's advice on student bank accounts and Which?'s best student bank account guide, or go into a bank branch to talk to an adviser.
Some banks (such as Barclays and Santander) also offer accounts for international students, and you can email international.support@sussex.ac.uk to find out more about banking in the UK.
For all bank accounts, research your options and the account benefits carefully, and remember to look at any charges (such as charges for going over your overdraft limit).
Save money on bus and train travel
When you get your Sussex student card, you can benefit from discounts on:
And to make travelling around the UK cheaper, you can get up to a third off rail travel with a 16-25 railcard (you can also get this card if you're over 25 and in full-time study) or National Express coach travel with a Young Persons Coachcard.
Use student discounts
You can access even more students deals with an NUS Extra card, including 10% off in the Co-op supermarket on campus, retailers such as Topshop and Asos, and restaurants like PizzaExpress and Zizzi.
You can also get discounts on products and services from:
Always check for online voucher codes as sometimes these can work out even cheaper than student discounts.
Sussex student money saving tip: Sign up to the Unidays and Student Beans email newsletters to get the latest students deals and discounts sent to you.
Buy second-hand books
Once you know which books you need to buy from your reading lists, check retailers like Ebay and Amazon to see if you can buy any of the books second hand.
Many students also sell their academic books so look for adverts in the small ads section on our internal website and around campus.
Sussex student money saving tip: You can also buy second-hand textbooks from the John Smith's Bookshop in the Library on campus.
Download free software
As a Sussex student, you can download Microsoft Office for free, as well as specialist software (such as Matlab, SPSS and GIMP) that you might need for your course.
Check which software you can download to your computer or laptop.
There is also a range of software installed on our student computers on campus that you can use. Find out more about IT facilities on campus.
Shop smart
While Brighton & Hove has many amazing cafés and restaurants, you can save a lot of money by:
If you're an international student, there are many places in the city where you can find products from your home country (including Chinese and Indian supermarkets, halal butchers, and European delis). See a list of supermakets (including international supermarkets) in Brighton & Hove.
Many of the larger supermarkets (such as Tesco and Asda) also have international food aisles with imported products.
Sussex student money saving tip: If you do want to order takeaways or eat out, download apps like UberEATS (which has no minimum order amount) or Wriggle (which has discounts on cafés and restaurants in the city).
---
You might also be interested in: