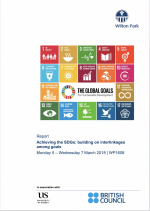 In September 2015, 193 countries of the UN General Assembly adopted a new development agenda Transforming Our World: the 2030 Agenda for Sustainable Development. With 17 Sustainable Development Goals (SDGs) and 169 underlying targets that are "integrated and indivisible", the agenda provides both an extraordinary chance and extraordinary challenge to society at the global, national and local level. If these goals are met, the pay-off is likely to be a higher level of well-being throughout the world, and a more sustainable planet. Innumerable connections exist among the goals and targets: some are dependent on one another; others have potential trade-offs between them. To effectively implement sustainable social, economic and environmental development and move forward on the SDGs it is necessary to understand and act on these interactions.
This Wilton Park event considered the extent to which science and policy can connect and cooperate to achieve the SDGs, in particular how they can work together to help identify the most important interactions among SDGs to improve economic and social development.


Read Achieving the SDG's: building on interlinkages among goals.
In 2016/17 Professor Jörn Scharlemann from SSRP with Dr Valerie Kapos from UNEP-WCMC led on a report to understand the way humans interact with the environment.
The report, Global Goals Mapping: The Environment-human Landscape, is the first to be commissioned by the Towards a Sustainable Earth (TaSE) initiative, a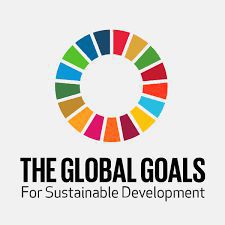 partnership between Natural Environment Research Council (NERC), The Rockefeller Foundation and the Economic and Social Research Council (ESRC).
The report identified that the resilience of our ecosystems, the security of natural resources and the stability of Earths life-support systems are essential for human response and adaptation to the global changes we face, and for sustainable development. The report draws on research evidence and innovation relating to environment-human interactions published in the past 10 years to explore the specific relevance of these interactions for each individual SDG and for the relationships among Goals. It highlights 20 connections among SDGs where human-environment interactions are likely to be most critical to achieving the SDGs.
In April 2019 Tim Foxon and Patrick Schroeder from SSRP with other authors released the book 'The Circular Economy and the Global South'.
The book focuses on the circular economy in relation to developing countries which to date is not fully understood. The book presents a broad range of case study countries including Argentina, Brazil, China, Colombia, India, Indonesia, Kenya, South Africa, and Thailand, and illustrates how the circular economy can be used as a new lens and possible solution to cross-cutting development issues of pollution and waste, employment, health, urbanisation and green industrialisation.
More information on the book along with reviews and purchase link
See below for a list of publications from SSRP researchers.
2019
Todd, Martin (2019) Observed controls on resilience of groundwater to climate variability in sub-Saharan Africa. Nature, 572. pp. 230-234. ISSN 0028-0836 (Accepted)
Amos, Rob and Lydgate, Emily (2019) Trade, transboundary impacts and the implementation of SDG 12. Sustainability Science. ISSN 1862-4065
Holder, Jane and McGillivray, Donald (2019) Recognising an ecological ethic of care in the law of everyday shared spaces. Social and Legal Studies. ISSN 0964-6639
Wynne-Jones, Sophie, Sandom, Christopher and Strouts, Graham (2019) Rewilding – departures in conservation policy and practice? An evaluation of developments in Britain. Conservation and Society. ISSN 0972-4923 (Accepted)
Middleton, Jo (2019) Rapid assessment of community health service needs with parallel treatment of urgent cases: A method to integrate medical provision into rainforest conservation. In: Methods for Sustainability, 5 June 2019, University of Sussex.
Cairns, Rose, Hielscher, Sabine and Light, Ann (2019) Collaboration, creativity, conflict and chaos: doing interdisciplinary sustainability research. Sustainability Science. ISSN 1862-4057 (Accepted)
Sandom, Christopher J, Middleton, Owen, Lundgren, Erick, Rowan, John, Schowanek, Simon D, Svenning, Jens-Christian and Faurby, Søren (2019) Trophic rewilding presents regionally specific opportunities for mitigating climate change. Philosophical Transactions B: Biological Science. ISSN 0962-8436 (Accepted)
Jung, M, Rowhani, P, Newbold, T, Bentley, L, Purvis, A and Scharlemann, J P W (2019) Local species assemblages are influenced more by past than current dissimilarities in photosynthetic activity. Ecography, 42 (4). pp. 670-682. ISSN 0906-7590
Sandom, Christopher J, Dempsey, Benedict, Bullock, David, Ely, Adrian, Jepson, Paul, Jimenez-Wisler, Stefan, Newton, Adrian, Pettorelli, Nathalie and Senior, Rebecca A (2019) Rewilding in the English uplands: policy and practice. Journal of Applied Ecology, 56 (2). pp. 266-273. ISSN 0021-8901
Alcamo, Joseph (2019) Water quality and its interlinkages with the Sustainable Development Goals. Current Opinion in Environmental Sustainability, 36. pp. 126-140. ISSN 1877-3435
Wenham, Clare, Katz, Rebecca, Birungi, Charles, Boden, Lisa, Eccleston-Turner, Mark, Gostin, Lawrence, Guinto, Renzo, Hellowell, Mark, Husøy Onarheim, Kristine, Hutton, Joshua, Kapilashrami, Anuj, Mendenhall, Emily, Phelan, Alexandra, Tichenor, Marlee and Sridhar, Devi (2019) Global health security and universal health coverage: from a marriage of convenience to a strategic, effective partnership. BMJ Global Health, 4 (e00114). pp. 1-7. ISSN 2059-7908
Bull, Joseph W, Ejrnæs, Rasmus, Macdonald, David W, Svenning, Jens-Christian and Sandom, Christopher J (2019) Fences can support restoration of human-dominated ecosystems when rewilding with large predators. Restoration Ecology, 27 (1). pp. 198-209. ISSN 1061-2971
2018
Newbold, Tim, Hudson, Lawrence N, Contu, Sara, Hill, Samantha L L, Beck, Jan, Liu, Yunhui, Meyer, Carsten, Phillips, Helen R R, Scharlemann, Jörn P and Purvis, Andy (2018) Widespread winners and narrow-ranged losers: land use homogenizes biodiversity in local assemblages worldwide. PLoS Biology, 16 (12). e2006841 1-24. ISSN 1544-9173
Busch, Jonathan, Foxon, Timothy J and Taylor, Peter G (2018) Designing industrial strategy for a low carbon transformation. Environmental Innovation and Societal Transitions, 29. pp. 114-125. ISSN 2210-4224
Antoniades, Andreas and Griffith-Jones, Stephany (2018) Global debt dynamics: the elephant in the room. World Economy, 41 (12). pp. 3256-3268. ISSN 0378-5920
Intartaglia, Maurizio, Antoniades, Andreas and Bhattacharyya, Sambit (2018) Unbundled debt and economic growth in developed and developing economies: an empirical analysis. World Economy, 41 (12). pp. 3345-3358. ISSN 0378-5920
Middleton, Jo (2018) A conversation with… Jo Middleton. Pulse (8). pp. 12-13.
Antoniades, Andreas (2018) Gazing into the abyss of indebted society: the social power of money and debt. Political Studies Review, 16 (4). pp. 279-288. ISSN 1478-9299
Blamey, R C, Kolusu, S R, Mahalela, P, Todd, M C and Reason, C J C (2018) The role of regional circulation features in regulating El Niño climate impacts over southern Africa: a comparison of the 2015/16 drought with previous events. International Journal of Climatology, 38 (11). pp. 4276-4295. ISSN 1097-0088
Alcamo, Joseph, Grundy, Caroline and Scharlemann, Jorn (2018) Interactions among the sustainable development goals …and why they are important. Other. University of Sussex and Institute of Development Studies, Sussex, UK.
Harfoot, Michael B J, Tittensor, Derek P, Knight, Sarah, Arnell, Andrew P, Blyth, Simon, Brooks, Sharon, Butchart, Stuart H M, Hutton, Jon, Jones, Matthew I, Kapos, Valerie, Scharlemann, Jӧrn P W and Burgess, Neil D. (2018) [Letter] Present and future biodiversity risks from fossil fuel exploitation. Conservation Letters, 11 (4). e12448. ISSN 1755-263X
Van der Linden, Marcel, Reis, Elisa, Bacci, Massimo Livi, Castles, Stephen, Delgado-Wise, Raul, Kabeer, Naila, Kannan, K P, Munck, Ronaldo, Roberts, Adrienne, Schot, Johan, Therborn, Göran, Wagner, Peter, Foxon, Tim and Kanger, Laur (2018) Social trends and new geographies. In: IPSP, International Panel on Social Progress (ed.) Rethinking society for the 21st century. Report Of The International Panel On Social Progress, 1 . Cambridge University Press, Cambridge, pp. 9-40. ISBN 9781108436328
Lydgate, Emily and Winters, L. Alan (2018) Deep and not comprehensive? What the WTO rules permit for a UK-EU FTA. World Trade Review. ISSN 1474-7456
Auer, Julia, Bovet, Jana, Cavallin, Elissa, Cliquet, An, Holst, Eva-Charlotte, Köck, Wolfgang, McGillivray, Donald, Mathews, Fiona, Schoukens, Hendrik and Anker, Helle Tegner (2018) Renewable energy projects and species protection. A comparison into the application of the EU species protection regulation with respect to renewable energy projects in the Netherlands, United Kingdom, Belgium, Denmark and Germany. Project Report. University of Utrecht, Utrecht.
O'Donovan, Cian and Schot, Johanes (2018) Crafting stories of technology and progress: five considerations. Technology's Stories. pp. 1-17. ISSN 2572-3413
Stirling, Andy, O'Donovan, Cian and Ayre, Becky (2018) Which Way? Who says? Why? Questions on the multiple directions of social progress. Technology's Stories. pp. 1-20. ISSN 2572-3413
Lydgate, Emily and Amos, Robert Michael (2018) [Written Evidence] Brexit: plant and animal biosecurity,. Technical Report. House of Lords.
Amos, Robert Michael and Lydgate, Emily (2018) Integrating sustainable development objectives into UK trade policy. Discussion Paper. UK Trade Policy Observatory.
Stone, Sara B, Myers, Samuel S, Golden, Christopher D, Molina-Garcia, Alejandro, Quistberg, Alex, More, Alexander, Helfer, Amanda, Mckinney, Amanda, Krzyzek, Amy, Torres, Ana Lauren, Bansal, Ankush, Kurth, Ann, Bolton, Annette, De Lorenzi, Arianna, Boyd, Arthur, Aimone, Ashley, Miheso, Barbara, Chandramohan, Balasubramanyam, Kois, Bethany, Pomerance, Caiti, Loy, Candace, Mullaly, Catherine, Tonne, Cathryn, Becka, Chandra, Ssemugabo, Charles, Sinden, Charles, Margolui, Cheryl, True, Cheryl, Walzer, Chris, Romanelli, Christina, Lowe, Christine, Baeder, Collyn, Howard, Courtney, Lucey, Daniel, Hunter, Danny, Collins, Darin, Crowther, David, Lopez Carr, David, McConville, David, Mena, David, Travis, Dominic, Adams, Ebeneezer, VanWormer, Elizabeth, York, Emily, You, Emily, Falceto de Barros, Enrique, Togami, Eri, Cushing, Erin, Andrade-Rivas, Federico, Boosman, Frank, Wimer, Gabrielle, Meredith, Gen, Kitching, George, Mancus, Gibran, De Leo, Giulio, La Torre, Giuseppe, Edwards, Grace, Hasan, Syed, Cullen, Heidi, Hawkins, Irana, Carter, Jacque, Orbinski, James, Heung, Janette, Coffin, Jeanne, Middleton, Jo, Lindenmayer, Joann, Hallberg, Johan, Patz, Jonathan, Dauernheimer Machado, Julia, Miller, Julia, Miedema, Kaitlyn, Wang, Karen, Burke, Kathy, Richmond, Katie, Durand, Kevin, Fitzpatrick, Kevin, Knowlton, Kim, Murray, Kris, Swamy, Latha, Kahn, Laura H, Peretz, Laurel, Allsopp, Leslie, Friedlander, Leslie, Marushka, Lesya, East, Linda, Grant, Liz, Concordel, Lucie, Masclans, Luisa, Charles-Ayinde, Makyba, Pappaioanou, Marguerite, Shimamoto, Mark, Ashinyo, Mary Eyram, Richards, Mary, Clark, Maynard, Dannheim, Mike, Bimaadziwin, Mino, Rahman, Mofizur, French, Nancy, Aristizabal, Natalia, De Paula, Nicole, Osano, Odipo, Aje-Famuyide, Olufunke, Narwal, Partap, Kinney, Pat, Conrad, Patricia, Furu, Peter, Jutras, Philip, Echaubard, Pierre, Pohl, Rachel, Guggenheim, Ralph, Rodrigo, Reis, Guinto, Renzo, McFarlane, Ro, Alders, Robyn, DeFries, Ruth, Sholts, Sabrina, Lee-Gammage, Samuel, Proesmans, Sam, Watson, Sangeetha, Sokolow, Sanna, Lalonde, Shona, Chakma, Shovon, Boylan, Sinead, Gaith, Smita, Roache, Sonia, Papageorgiou, Sophia, Blondin, Stacy, Rousseau, Stephane, Osofsky, Steven A, Stark, Susan, Clasen, Thomas, Ibrahim, Umar, Rossa-Roccor, Verena, Kurker, Vicki, Navarro, Victoria, Ingole, Vijendra, Harris, Violet, Lavey, Warren, Smith, Woutrina and Hope, Zachary Miller (2018) Cross-cutting principles for planetary health education. The Lancet Planetary Health, 2 (5). e192-e193. ISSN 2542-5196
Ingram, Daniel J, Coad, Lauren, Abernethy, Katharine A, Maisels, Fiona, Stokes, Emma J, Bobo, Kadiri S, Breuer, Thomas, Gandiwa, Edson, Ghiurghi, Andrea, Greengrass, Elizabeth, Holmern, Tomas, Kamgaing, Towa O W, Ndong Obiang, Anne-Marie, Poulsen, John R, Schleicher, Judith, Nielsen, Martin R, Solly, Hilary, Vath, Carrie L, Waltert, Matthias, Whitham, Charlotte E L, Wilkie, David S and Scharlemann, Jӧrn P W (2018) Assessing Africa-wide pangolin exploitation by scaling local data. Conservation Letters, 11 (2). e12389 1-9. ISSN 1755-263X
Holligan, Bonnie (2018) Narratives of capital versus narratives of community: conservation covenants and the private regulation of land use. Journal of Environmental Law, 30 (1). pp. 55-81. ISSN 0952-8873
Purvis, Andy, Newbold, Tim, De Palma, Adriana, Contu, Sara, Hill, Samantha L L, Sanchez-Ortiz, Katia, Phillips, Helen R P, Hudson, Lawrence N, Lysenko, Igor, Börger, Luca and Scharlemann, Jörn P W (2018) Modelling and projecting the response of local terrestrial biodiversity worldwide to land use and related pressures: the PREDICTS project. In: Next Generation Biomonitoring: Part 1. Advances in Ecological Research, 58 . Elsevier, pp. 201-241. ISBN 9780128139493
Bergman, Noam and Foxon, Timothy (2018) Reorienting finance towards energy efficiency: the case of UK housing. Working Paper. SPRU Working Paper Series, University of Sussex.
Lydgate, Emily (2018) Terms of trade: environment. In: Dingwerth, Klaus and Weinhardt, Clara (eds.) The Language of World Trade Politics: Unpacking the Terms of Trade. Routledge. (Accepted)
2017
Holder, Jane and McGillivray, Donald (2017) Bringing environmental justice to the centre of environmental law research: developing a collective case study methodology. In: Philoppopoulos-Mihaelopolous, Andreas and Brooks, Victoria (eds.) Research Methods in Environmental Law: A Handbook. Handbooks of Research Methods in Law . Routledge, Cheltenham, pp. 184-206. ISBN 9781784712563
Karlsson, Linus, Naess, Lars Otto, Nightingale, Andrea and Thompson, John (2017) 'Triple wins' or 'triple faults'? Analysing the equity implications of policy discourses on climate-smart agriculture (CSA). The Journal of Peasant Studies, 45 (1). pp. 150-174. ISSN 0306-6150
Antoniades, Andreas and Panizza, Ugo (2017) How 'demos' met 'cracy': debt, inequality, money. Third World Thematics: A TWQ Journal, 2 (6). pp. 727-743. ISSN 2380-2014
Scharlemann, Jörn P W, Mant, Rebecca C, Balfour, Nicholas, Brown, Claire, Burgess, Neil D, Guth, Miriam, Ingram, Daniel J, Lane, Richard, Martin, Juliette, Wicander, Sylvia and Kapos, Valerie (2017) Global goals mapping: the environment-human landscape. Technical Report. Sussex Sustainability Research Programme, University of Sussex, Brighton, UK and UN Environment World Conservation Monitoring Centre, Cambridge, UK.
Newell, Peter and Taylor, Olivia Grace (2017) Contested landscapes: the global political economy of climate smart agriculture. Journal of Peasant Studies, 45 (1). pp. 108-129. ISSN 0306-6150
Bell, Stuart, McGillivray, Donald, Pedersen, Ole W, Lees, Emma and Stokes, Elen (2017) Environmental law (Ninth edition). Oxford University Press, Oxford. ISBN 9780198748328
Hudson, Lawrence N, Ingram, Daniel J, Jung, M, Fowler, Robert E, Goulson, Dave, Scharlemann, Jorn P W and et al, (2017) The database of the PREDICTS (Projecting Responses of Ecological Diversity In Changing Terrestrial Systems) project. Ecology and Evolution, 7 (1). pp. 145-188. ISSN 2045-7758
2016
Newbold, Tim, Hudson, Lawrence N, Hill, Samantha L L, Contu, Sara, Gray, Claudia L, Scharlemann, Jörn P W, Börger, Luca, Phillips, Helen R P, Sheil, Douglas, Lysenko, Igor and Purvis, Andy (2016) Global patterns of terrestrial assemblage turnover within and among land uses. Ecography, 39 (12). pp. 1151-1163. ISSN 0906-7590
Gray, Claudia L, Hill, Samantha L L, Newbold, Tim, Hudson, Lawrence N, Börger, Luca, Contu, Sara, Hoskins, Andrew J, Ferrier, Simon, Purvis, Andy and Scharlemann, Jörn P W (2016) Local biodiversity is higher inside than outside terrestrial protected areas worldwide. Nature Communications, 7 (1). p. 12306. ISSN 2041-1723
Newbold, Tim, Hudson, Lawrence N, Arnell, Andrew P, Contu, Sara, De Palma, Adriana, Ferrier, Simon, Hill, Samantha L L, Hoskins, Andrew J, Lysenko, Igor, Phillips, Helen R P, Burton, Victoria J, Chng, Charlotte W T, Emerson, Susan, Gao, Di, Pask-Hale, Gwilym, Hutton, Jon, Jung, Martin, Sanchez-Ortiz, Katia, Simmons, Benno I, Whitmee, Sarah, Zhang, Hanbin, Scharlemann, Jörn P W and Purvis, Andy (2016) Has land use pushed terrestrial biodiversity beyond the planetary boundary? A global assessment. Science, 353 (6296). pp. 288-291. ISSN 0036-8075
Lazenby, Melissa J, Todd, Martin C and Wang, Yi (2016) Climate model simulation of the South Indian Ocean Convergence Zone: mean state and variability. Climate Research, 68 (1). pp. 59-71. ISSN 0936-577X
Marsham, John H, Parker, Douglas J, Todd, Martin, Banks, Jamie R, Brindley, Helen E, Garcia-Carreras, Luis, Roberts, Alexander J and Ryder, Claire L (2016) The contrasting roles of water and dust in controlling daily variations in radiative heating of the summertime Saharan heat low. Atmospheric Chemistry and Physics Discussions, 16. pp. 3563-3575. ISSN 1680-7316
Butchart, S H M, Brooks, T M, Scharlemann, J P W and Mwangi, M A K (2016) Monitoring protected area coverage and impact on Key Biodiversity Areas, Important Bird Areas, and Alliance for Zero Extinction sites. In: Joppa, Lucas N (ed.) Protected Areas: Are They Safeguarding Biodiversity? John Wiley & Sons Ltd, pp. 211-227. ISBN 9781118338162
Lesk, Corey, Rowhani, Pedram and Ramankutty, Navin (2016) Influence of extreme weather disasters on global crop production. Nature, 529 (7584). pp. 84-87. ISSN 0028-0836
Mokany, Karel, Ferrier, Simon, Connolly, Sean R, Dunstan, Piers K, Fulton, Elizabeth A, Harfoot, Michael B, Harwood, Thomas D, Richardson, Anthony J, Roxburgh, Stephen H, Scharlemann, Jörn P W, Tittensor, Derek P, Westcott, David A and Wintle, Brendan A (2016) Integrating modelling of biodiversity composition and ecosystem function. Oikos, 125 (1). pp. 10-19. ISSN 0030-1299
Ingram, Daniel J, Coad, Lauren and Scharlemann, Jorn P W (2016) Hunting and sale of Pangolins across Sub-Saharan Africa: a preliminary analysis. Working Paper. OFFTAKE Project.
2015
Holland, Robert Alan, Scott, Kate A, Flörke, Martina, Brown, Gareth, Ewers, Robert M, Farmer, Elizabeth, Kapos, Valerie, Muggeridge, Ann, Scharlemann, Jörn P W, Taylor, Gail, Barrett, John and Eigenbrod, Felix (2015) Global impacts of energy demand on the freshwater resources of nations. Proceedings of the National Academy of Sciences, 112 (48). E6707-E6716. ISSN 1091-6490
Rogelj, Joeri, Schaeffer, Michiel, Meinshausen, Malte, Knutti, Reto, Alcamo, Joseph, Riahi, Keywan and Hare, William (2015) [Letter] Zero emission targets as long-term global goals for climate protection. Environmental Research Letters, 10 (10). pp. 1-11. ISSN 1748-9326
Ryder, C L, McQuaid, J B, Flamant, C, Washington, R, Brindley, H E, Highwood, E J, Marsham, J H, Parker, D J, Todd, M C, Banks, J R, Brooke, J K, Engelstaedter, S, Estellés, V, Formenti, P, Garcia-Carreras, L, Kocha, C, Marenco, F, Rosenberg, P, Sodemann, H, Allen, C J T, Bourdon, A, Bart, M, Cavazos-Guerra, C, Chevaillier, S, Crosier, J, Darbyshire, E, Dean, A R, Dorsey, J R, Kent, J, O'Sullivan, D, Schepanski, K, Szpek, K and Woolley, A (2015) Advances in understanding mineral dust and boundary layer processes over the Sahara from Fennec aircraft observations. Atmospheric Chemistry and Physics Discussions, 15 (1). pp. 199-290. ISSN 1680-7375
Ingram, Daniel John, Coad, Lauren, Collen, Ben, Kümpel, Noëlle F, Breuer, Thomas, Fa, John E, Gill, David J C, Maisels, Fiona, Schleicher, Judith, Stokes, Emma J, Taylor, Gemma and Scharlemann, Jörn P W (2015) Indicators for wild animal offtake: methods and case study for African mammals and birds. Ecology and Society, 20 (3). p. 40. ISSN 1708-3087
2014
Hudson, Lawrence N, Newbold, Tim, Contu, Sara, Hill, Samantha L L, Lysenko, Igor, De Palma, Adriana, Phillips, Helen R P, Senior, Rebecca A, Bennett, Dominic J, Booth, Hollie, Choimes, Argyrios, Correia, David L P, Day, Julie, Echeverría-Londoño, Susy, Garon, Morgan, Harrison, Michelle L K, Ingram, Daniel J, Jung, Martin, Kemp, Victoria, Kirkpatrick, Lucinda, Martin, Callum D, Pan, Yuan, White, Hannah J, Aben, Job, Abrahamczyk, Stefan, Adum, Gilbert B, Aguilar-Barquero, Virginia, Aizen, Marcelo A, Ancrenaz, Marc, Arbeláez-Cortés, Enrique, Armbrecht, Inge, Azhar, Badrul, Azpiroz, Adrián B, Baeten, Lander, Báldi, András, Banks, John E, Barlow, Jos, Batáry, Péter, Bates, Adam J, Bayne, Erin M, Beja, Pedro, Berg, Åke, Berry, Nicholas J, Bicknell, Jake E, Bihn, Jochen H, Böhning-Gaese, Katrin, Boekhout, Teun, Boutin, Céline, Bouyer, Jérémy, Brearley, Francis Q, Brito, Isabel, Brunet, Jörg, Buczkowski, Grzegorz, Buscardo, Erika, Cabra-García, Jimmy, Calviño-Cancela, María, Cameron, Sydney A, Cancello, Eliana M, Carrijo, Tiago F, Carvalho, Anelena L, Castro, Helena, Castro-Luna, Alejandro A, Cerda, Rolando, Cerezo, Alexis, Chauvat, Matthieu, Clarke, Frank M, Cleary, Daniel F R, Connop, Stuart P, D'Aniello, Biagio, da Silva, Pedro Giovâni, Darvill, Ben, Dauber, Jens, Dejean, Alain, Diekötter, Tim, Dominguez-Haydar, Yamileth, Dormann, Carsten F, Dumont, Bertrand, Dures, Simon G, Dynesius, Mats, Edenius, Lars, Elek, Zoltán, Entling, Martin H, Farwig, Nina, Fayle, Tom M, Felicioli, Antonio, Felton, Annika M, Ficetola, Gentile F, Filgueiras, Bruno K C, Fonte, Steven J, Fraser, Lauchlan H, Fukuda, Daisuke, Furlani, Dario, Ganzhorn, Jörg U, Garden, Jenni G, Gheler-Costa, Carla, Giordani, Paolo, Giordano, Simonetta, Gottschalk, Marco S, Goulson, Dave, Gove, Aaron D, Grogan, James, Hanley, Mick E, Hanson, Thor, Hashim, Nor R, Hawes, Joseph E, Hébert, Christian, Helden, Alvin J, Henden, John-André, Hernández, Lionel, Herzog, Felix, Higuera-Diaz, Diego, Hilje, Branko, Horgan, Finbarr G, Horváth, Roland, Hylander, Kristoffer, Isaacs-Cubides, Paola, Ishitani, Masahiro, Jacobs, Carmen T, Jaramillo, Víctor J, Jauker, Birgit, Jonsell, Mats, Jung, Thomas S, Kapoor, Vena, Kati, Vassiliki, Katovai, Eric, Kessler, Michael, Knop, Eva, Kolb, Annette, Kőrösi, Ádám, Lachat, Thibault, Lantschner, Victoria, Le Féon, Violette, LeBuhn, Gretchen, Légaré, Jean-Philippe, Letcher, Susan G, Littlewood, Nick A, López-Quintero, Carlos A, Louhaichi, Mounir, Lövei, Gabor L, Lucas-Borja, Manuel Esteban, Luja, Victor H, Maeto, Kaoru, Magura, Tibor, Mallari, Neil Aldrin, Marin-Spiotta, Erika, Marshall, E J P, Martínez, Eliana, Mayfield, Margaret M, Mikusinski, Grzegorz, Milder, Jeffrey C, Miller, James R, Morales, Carolina L, Muchane, Mary N, Muchane, Muchai, Naidoo, Robin, Nakamura, Akihiro, Naoe, Shoji, Nates-Parra, Guiomar, Navarrete Gutierrez, Dario A, Neuschulz, Eike L, Noreika, Norbertas, Norfolk, Olivia, Noriega, Jorge Ari, Nöske, Nicole M, O'Dea, Niall, Oduro, William, Ofori-Boateng, Caleb, Oke, Chris O, Osgathorpe, Lynne M, Paritsis, Juan, Parra-H, Alejandro, Pelegrin, Nicolás, Peres, Carlos A, Persson, Anna S, Petanidou, Theodora, Phalan, Ben, Philips, T. Keith, Poveda, Katja, Power, Eileen F, Presley, Steven J, Proença, Vânia, Quaranta, Marino, Quintero, Carolina, Redpath-Downing, Nicola A, Reid, J Leighton, Reis, Yana T, Ribeiro, Danilo B, Richardson, Barbara A, Richardson, Michael J, Robles, Carolina A, Römbke, Jörg, Romero-Duque, Luz Piedad, Rosselli, Loreta, Rossiter, Stephen J, Roulston, T'ai H, Rousseau, Laurent, Sadler, Jonathan P, Sáfián, Szabolcs, Saldaña-Vázquez, Romeo A, Samnegård, Ulrika, Schüepp, Christof, Schweiger, Oliver, Sedlock, Jodi L, Shahabuddin, Ghazala, Sheil, Douglas, Silva, Fernando A B, Slade, Eleanor M, Smith-Pardo, Allan H, Sodhi, Navjot S, Somarriba, Eduardo J, Sosa, Ramón A, Stout, Jane C, Struebig, Matthew J, Sung, Yik-Hei, Threlfall, Caragh G, Tonietto, Rebecca, Tóthmérész, Béla, Tscharntke, Teja, Turner, Edgar C, Tylianakis, Jason M, Vanbergen, Adam J, Vassilev, Kiril, Verboven, Hans A F, Vergara, Carlos H, Vergara, Pablo M, Verhulst, Jort, Walker, Tony R, Wang, Yanping, Watling, James I, Wells, Konstans, Williams, Christopher D, Willig, Michael R, Woinarski, John C Z, Wolf, Jan H D, Woodcock, Ben A, Yu, Douglas W, Zaitsev, Andrey S, Collen, Ben, Ewers, Rob M, Mace, Georgina M, Purves, Drew W, Scharlemann, Jörn P W and Purvis, Andy (2014) The PREDICTS database: a global database of how local terrestrial biodiversity responds to human impacts. Ecology and Evolution, 4 (24). pp. 4701-4735. ISSN 2045-7758
Martellozzo, F, Landry, J-S, Plouffe, D, Seufert, V, Rowhani, P and Ramankutty, N (2014) Urban agriculture: a global analysis of the space constraint to meet urban vegetable demand. Environmental Research Letters, 9 (6). ISSN 1748-9326
2011
Rowhani, Pedram, Lobell, David B, Linderman, Marc and Ramankutty, Navin (2011) Climate variability and crop production in Tanzania. Agricultural and Forest Meteorology, 151 (4). pp. 449-460. ISSN 0168-1923