We aim to develop a web-app and method to visualise urban-development/food-security/poverty trade-offs and synergies and to support stakeholder engagement.
SDGs






The team
PI and Co PI details

Principal Investigator

Co-Investigators

Project team

Partners

Professor Shijun Ding, ZhongNan University of Economics and Law, Wuhan, China
Professor Ritu Priya, Jawarhalal Nehru University (environment, health and participatory research), India
Prof Madhoolika Agrawal, Banaras Hindu University (pollution impacts on food systems); Ravi Agrawal Toxicslink NGO (policy engagement);
Priyanie Amerasinghe, International Water Management Institute (Ecosystem service mapping).
Where we are working
Wuhan, China; Varanasi, India.
Understanding trade-offs between SDGs in urbanising contexts: Novel methods of mapping rural-urban interactions in food systems to analyse risks and opportunities for environmental and human health.
Overview of project
Rapid urbanisation creates trade-offs between development, food security and poverty alleviation goals which are often ignored or invisible. Revealing and communicating the nature and scale of these trade-offs to policymakers is a key step towards achieving SDGs around urban sustainability and resilience. Our project applies deep learning techniques to map peri-urban agriculture in Wuhan, China and Varanasi, India and explores ways of integrating multiple types of data through a web-based mapping and visualisation tool to support research and stakeholder engagement on urban sustainability policy.
Full project description
Scientists working on social and ecological aspects of food systems and computer scientists have been working closely together to develop a web-app. Novi Quadrianto oversees Bradley Butcher and Abetharan Antony to develop the deep learning aspects and implement the modelling/visualization aspects of the work. Jonathan Dolley is responsible for generating training data for the deep learning methods and providing insights from fieldwork to help specify the goals of the deep learning analysis. As PI, Fiona Marshall oversees the whole process of collaboration across the team and provides guidance on the desired functions of the web-app and its potential use in transdisciplinary research and stakeholder engagement. Jeremy Reffin is involved in facilitating our interdisciplinary collaboration and advising on implementation strategy while Andy Philippides provides expert guidance on the modelling aspects of the project. Other members of the team (Ann Light, Jorn Scharlemann, Gordon McGranahan and Emily Lydgate) will provide advice and input on development of the prototype web-app and strategy for attracting funding for a larger project incorporating further development of this project. Following completion of the prototype, short fieldwork and seminars will be held in China and India to explore methods for using the web-app in policy dialogue and transdisciplinary research and get feedback on its further development. A regional policy workshop will be organised for higher level discussions. Outputs from the project will include a methodology paper for journal publication and a research protocol for use of the web-app within transdisciplinary research and policy dialogue contexts. Finally, we aim to develop a funding proposal for a larger consortium on urban sustainability research which incorporates the web-tool within a larger transdisciplinary research program.
Timeline and funding
The project started in April 2017 and continues until September 2018. Total project funding is £99,369.
Project poster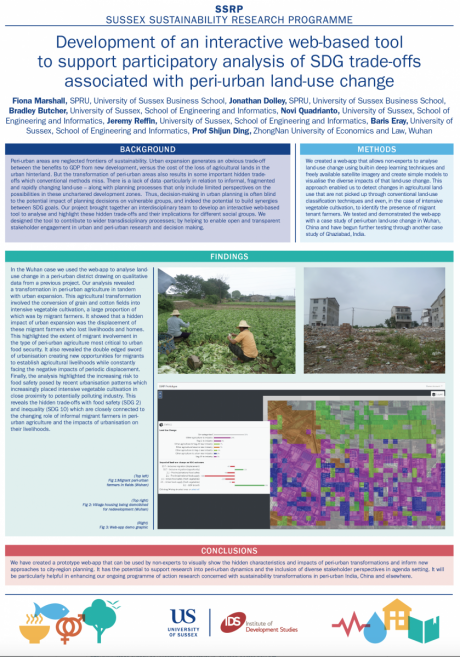 Products
A forthcoming event to be held at the Indian Council of Agricultural Research in Delhi on March 7th 2018 will include discussion of the project. It is organised by ICLEI (local governments for sustainability) in collaboration with ESPA and members of the SSRP team.
Useful articles
What does the future hold for Delhi's urban farmers. Medium.com story. https://medium.com/hidden-sustainability/what-does-the-future-hold-for-delhis-urban-farmers-584370ecfc55
Why peri-urban ecosystem services matter for urban policy. ESPA (espa.ac.uk) Policy Briefing. https://steps-centre.org/publication/peri-urban-ecosystem-services-matter-urban-policy/
Tackling poverty and food security: lessons from India's peri-urban frontier. IIED Briefing, Fiona Marshall and Pritpal Randhawa (2017). http://pubs.iied.org/10810IIED/?a=P+Randhawa
India's peri-urban frontier: rural-urban transformations and food security. IIED report, Fiona Marshall and Pritpal Randhawa (2017). http://pubs.iied.org/10794IIED/?a=P+Randhawa