Contributing to accurate and accessible marine forecasts along with local scientists and fishers for safer and sustainable fishing
SDGs



The team
PI and Co PI details

Principal Investigator

Co-Investigators

Project team

Post-doctoral Researcher: Dr Max Martin, Global Studies, Max.Martin@sussex.ac.uk

Partners

Advisor

Local collaborators:

Dr. R. Harikumar, Scientist 'D' & In-charge: Ocean State Forecast Services, Indian National Centre for Ocean Information Services (INCOIS), Hyderabad, India
Dr. Sekhar L. Kuriakose, Member Secretary, Kerala State Disaster Management Authority, Head (Scientist), State Emergency Operations Centre, Thiruvananthapuram, India.
Where we are working
Thiruvananthapuram, India
Co-production of knowledge and communication tools for safe and sustainable artisanal fishing
Overview of project
The project considers ways to enhance the relevance, accuracy and uptake of risk communication and looks at three dimensions of the socio-ecological systems of artisanal fishers - marine weather, risk culture, and challenges to sustainability. Practically, the project addresses safety issues and challenges and offers solutions in line with international best practices, including the Food and Agriculture Organization (FAO) Code of Conduct for Responsible Fisheries and Voluntary Guidelines for Securing Sustainable Small-Scale Fisheries.
Full project description
The project contributes to accurate and accessible marine forecasts made and shared with local scientists, officials and artisanal fishers for safer and sustainable fishing. It combines the rich traditional knowledge of the fishing communities and scientific observations to understand climatic and environmental hazard risks and vulnerabilities of artisanal fishers, and their risk culture. On the basis of this knowledge, this interdisciplinary research initiative will develop and test a set of ICT tools and messages for effective risk communication.
Methodologically, it explores novel means to enhance resilience, safety and sustainability of artisanal fisheries. It maps fish stock and fishers' journeys, and measures ocean state and weather parameters using situ stations and satellite data, and combines it with ethnography to understand local risk cultures and co-produce a risk communication model.
The proposed field site is coastal Thiruvananthapuram in Kerala, South India, home to over 30,000 artisanal fishers in 42 villages and hamlets, known for their inexpensive wooden rafts, canoes and small boats. They often go far offshore without navigation, radio communication or safety gadgets. During the season, sudden weather changes, heavy rain, strong wind and rough sea often lead to fishers losing coordinates, straying into shipping channels and running out of fuel or developing boat engine snags. In the absence of accessible marine weather forecasts, a culture that encourages risk-taking adds to the problem. Accidents are frequent, especially during the rough-sea monsoon season. Cyclone Ockhi in November 2017 left over 120 fishers from the district dead or missing in the worst disaster of recent times.
The project will provide a scalable model to reduce risks involved in artisanal fishing, contributing to the Sustainable Development Goals on food security, environmental conservation and community development.
Timeline and funding
The project began in January 2018 and is funded until December 2018. The total amount of funding received was £69,985.
SSRP Policy brief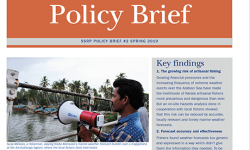 Project poster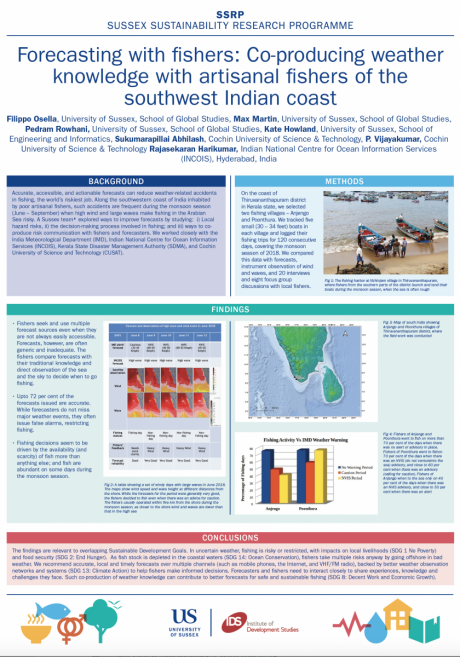 Products
Tracking wind and waves with fishers and forecasters blog on the project by Max Martin.
News stories
SSRP research with artisanal fishers highlights working with local communities to meet global challenges