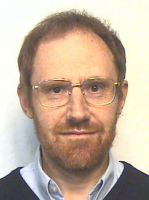 Prof
Ben Martin
Post:
Professor of Science and Technology Policy Studies (SPRU - Science and Technology Policy Research, Business and Management)
Location:
Jubilee Building Jub-363
Email:
B.Martin@sussex.ac.uk

Telephone numbers
Internal:
3562
UK:
01273 873562
International:
+44 1273 873562

Research expertise:
download vCarddownload vCard to your mobile
Biography
Professor of Science and Technology Policy Studies
BA (first class honours) degree in Natural Sciences, University of Cambridge, and Kitchener Scholar (Churchill College, Cambridge); MSc ('The Structure and Organisation of Science and Technology'), University of Manchester
Professor Ben Martin studied physics as an undergraduate at Cambridge and science policy as a postgraduate at Manchester. He has carried out research for 30 years in the field of science policy, serving as the Principal Investigator or Project Leader on over 50 research projects and commissioned studies. These have been mostly concerned with the development of techniques for generating systematic information to aid decision-making in relation to science, engineering and technology.
Among the areas in which he has made a contribution are:
the first evaluation of 'big science' facilities using 'converging partial indicators'
assessments of research performance in 'small science' and engineering
evaluation of technological 'spin-offs' and training benefits from research
analysis of position of women in science and factors affecting career development
appraisal of impact of strategic and applied research government programmes
evaluation of government support mechanisms for research
assessment of national research performance, especially the UK's performance
some of the first studies of foresight in science and technology
production of first truly comparable international statistics on government funding of academic and related research; comparison of research inputs and outputs
analysis of the factors determining research performance (e.g. economies of scale)
different approaches to university research assessment, and use of indicators
analysis of links between science and technology
nature of research collaboration
identifying users (and their long-term research needs) for environmental sciences
economic benefits of publicly funded research and rationale for public funding
evolving links between university departments and industry
changing national research systems
impact of social science research on non-academic audiences
impact of the Culyer changes on R&D in the NHS
changing 'social contract' between universities/research and the state
analysis of 'creative knowledge environments'
assessment of research in the social sciences and arts & humanities
the evolution of science policy and innovation studies
Some of the main contributions are summarised in the Professorial Lecture that he gave at University of Sussex.
Role
Since 1996, I have been Professor in Science and Technology Policy Studies at SPRU, one of the world's leading institutions in the area of science policy and innovation studies. I served as Director of SPRU from 1997-2004.
In addition, I am currently Associate Fellow of the Centre for Science and Policy (CSaP), University of Cambridge, where I was invited to give the Second Distinguished Lecture on 3 March 2010. A video of this lecture, entitled 'Science Policy Research – Can Research Influence Policy? How? And Does It Make for Better Policy?', is available on the web. I am also Senior Visiting Fellow, Centre for Business Research, Judge Business School, University of Cambridge.
science policy; research policy; technology foresight; science indicators; research evaluation; university-industry links; research collaboration; university policy; evolution of universities; research integrity; research misconduct;
For several years, I was the Convenor for the MSc course on 'Political Economy of Science and Technology'.
From 2005-2009, I was Course Convenor for 'Communication Skills for Business and Management' for first-year undergraduates in Business and Management Studies.
I have supervised over 20 doctoral students, who have successfully completed their DPhil theses, and am currently supervising about 6 more doctoral students.
Each year, I also supervise around four MSc dissertations.
Martin, Ben, Jan, F and Hans, L (2012) Exploring the emerging knowledge base of `the knowledge society'. Research Policy, 41 (7). pp. 1121-1131. ISSN 0048-7333
Fagerberg, Jan, Landström, Hans and Martin, Ben R (2012) Exploring the emerging knowledge base of 'the knowledge society'. Research Policy, 41 (7). pp. 1121-1131. ISSN 0048-7333
Martin, Ben R, Nightingale, Paul and Yegros-Yegros, Alfredo (2012) Science and technology studies: exploring the knowledge base. Research Policy, 41 (7). pp. 1182-1204. ISSN 0048-7333
Martin, Ben R (2012) The evolution of science policy and innovation studies. Research Policy, 41 (7). pp. 1219-1239. ISSN 0048-7333
Martin, Ben R (2012) Are universities and university research under threat? Towards an evolutionary model of university speciation. Cambridge Journal of Economics, 36 (3). pp. 543-565. ISSN 0309-166X
Martin, Ben R (2012) Innovation Studies: Challenging the Boundaries. In: Lundvall Symposium on the Future of Innovation Studies, 16-17 February 2012, Aalborg University . (Submitted)
Martin, Ben R (2012) Does peer review work as a self-policing mechanism in preventing misconduct: a case study of a serial plagiarist. In: Promoting research integrity in a global environment. World Scientific Publishing, pp. 97-114. ISBN 9789814340977
Kwon, Ki-Seok and Martin, Ben R (2012) Synergy or Separation Mode: the relationship between academic research and knowledge-transfer activities of Korean academics. Scientometrics, 90. pp. 177-200.
Martin, Ben R (2011) What can bibliometrics tell us about changes in the mode of knowledge production? Prometheus, 29 (4). pp. 455-479.
Martin, Ben (2011) The research excellence framework and the impact agenda: are we creating a Frankenstein monster? Research Evaluation, 20 (3). pp. 247-254. ISSN 0958-2029
Fagerberg, Jan, Fosaas, Morton, Bell, Martin and Martin, Ben R (2011) Christopher Freeman: Social Science Entrepreneur. Research Policy, 40. pp. 897-916.
Martin, Ben (2010) Science policy research - having an impact on policy? In: Office of Health Economics Seminar, London.
Martin, Ben (2010) The origins of the concept of `foresight' in science and technology: an insider's perspective. Technological Forecasting and Social Change, 77 (9). pp. 1438-47. ISSN 0040-1625
Mowery, David C, Nelson, Richard R and Martin, Ben R (2010) Technology policy and global warming: Why new policy models are needed (or why putting new wine in old bottles won¿t work). Research Policy, 39 (8). pp. 1011-1023. ISSN 0048-7333
Martin, Ben and Whitley, Richard (2010) The UK Research Assessment Exercise: a Case of Regulatory Capture? In: Reconfiguring knowledge production : changing authority relationships in the sciences and their consequences for intellectual innovation. Oxford University Press, pp. 51-80. ISBN 9780199590193
Martin, Ben R. (2010) Inside the public scientific system: changing modes of knowledge production. In: The theory and practice of innovation policy: an international research handbook. Edward Elgar, Cheltenham, UK,, pp. 25-50. ISBN 9781845428488
Mowery, David C., Nelson, Richard R. and Martin, Ben (2009) Technology Policy and Global Warming: Why New Policy Models are Needed (Or Why Putting New Wine in Old Bottles Won't Work). Unset. National Endowment for Science, Technology and the Arts (NESTA).
Martin, Ben R., Bell, Martin, Callon, Michel, Grupp, Hariolf, Kodama, Fumio, Kuhlmann, Stefan, Fleming, Lee, von Tunzelmann, Nick and Powell, Walter (2009) EES and the Continuing Evolution of Research Policy. Research Policy, 38 (5). pp. 695-699. ISSN 0048-7333
Morlacchi, Piera and Martin, Ben R (2009) Emerging challenges for science, technology and innovation policy research: A reflexive overview. Research Policy, 38 (4). pp. 571-582. ISSN 0048-7333
Morlacchi, Piera and Martin, Ben (2009) Emerging Challenges for Science, Technology and Innovation Policy Research. Research Policy, 38 (4). pp. 571-693. ISSN 00487333
Bouabid, Hamid and Martin, Ben R (2009) Evaluation of Moroccan research using a bibliometric-based approach: investigation of the validity of the h-index. Scientometrics, 78 (2). pp. 203-217. ISSN 0138-9130
Hemlin, Sven, Allwood, Carl Martin and Martin, Ben R (2008) Creative Knowledge Environments. Creativity Research Journal, 20 (2). pp. 196-210. ISSN 1040-0419
Martin, Ben R. (2008) Research misconduct - does self-policing work? In: Confluence: interdisciplinary communications 2007/2008. Confluence: interdisciplinary communications . Centre for Advanced Study, Oslo, pp. 59-69. ISBN 9788299636766
Martin, Ben R. and Nightingale, Paul, eds. (2000) The Political Economy of Science Technology and Innovation. Cheltenham: Edward Elgar. (International Library of Critical Writings in Economics No. 116), p. 678. ISBN 1858989612