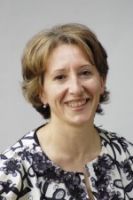 Dr
Piera Morlacchi
Biography
I am an organizational scholar who studies the relationship between technology and organization with a focus on healthcare and medicine.
Initially I have studied engineering science at Politecnico di Milano (Italy) where I completed Bachelor and Master degrees in management and industrial engineering, with a specialization in complex systems modelling and artificial intelligence (dissertation title "Design of neural networks for modelling and managing of production systems"). After working as a research assistant during my master studies at graduation I was hired in Milano as a research fellow and lecturer, where I stayed for three years.
In 1998 I moved to the UK to do my PhD in the School of Management, University of Bath (UK) completing a thesis on innovation in the medical device field (title "How new technologies become legitimated: the co-evolution of technologies and networks in the cardiac implantable device field") and graduating in 2003.
I have joined the University of Sussex in May 2003. Here, I am affiliated to both SPRU (Science and Technology Policy Research) and BAM (Business & Management) department within the BMEc School where I am involved in research, administration and teaching at undergraduate and postgraduate levels in the area of entrepreneurship, organization, research methodology and policy.
In addition to my full time position at Sussex, I have held a number of visiting positions at other institutions. In 2006, I was a Summer Fellow at Centre for Advanced Study in the Behavioral Sciences (CASBS), Stanford University, California and a visiting scholar at the Santa Fe Institute, New Mexico. Between 2007 and 2008, I was a Senior Research Fellowin the International Center for Health Outcomes and Innovation Research (InCHOIR) and Adjunct Associate Research Scientist in the Department of Surgery, Columbia University, New York. In 2011, during the summer, I was a Visiting Professor at the University of Southern Denmark. Currently, I hold a Visiting Professor position at the University of Trento, Italy.

Role
Senior Lecturer, in the Department of Business and Management (BAM) and in Science and Technology Policy Research (SPRU), the School of Business, Management and Economics (BMEc).
Convenor of the MSc in Management and Entrepreneurship (2009 - present).
Co-Convenor of the Business and Management Undergraduate Programmes (2003 - 2005).

Community and Business
Member of the Coast to Coast Local Enterprise Partnership Working Group on Entrepreneurship.
The primary purpose of my research is to understand the origins and co-evolution of new technological, organizational and institutional forms. My work is situated at the crossroads of 'Organization and Management Theory (OMT)', 'Science, Technology and Innovation (STI) Studies', 'Science and Technology Studies (STS)' and 'Public Policy' and it is shaped by co-evolutionary and institutional theories, pragmatism, network studies and other social theories. It boils down to studying processes and events in a relational, contextual, longitudinal and comparative way.
I have three main empirical areas of interest: 1) medical technologies, healthcare organization, and health policy; 2) entrepreneurship in the private, public and third sectors; and 3) networks and complex systems.
1) Medical Technologies, Healthcare Organization, and Health Policy. I study the co-evolution of technology, organization and institutions in medicine and healthcare and its implications for health policy and innovation. With this purpose, since 1998 I have done a series of empirical studies in the medical and health field (e.g. cardiac implantable devices such as, pacemakers, artificial hearts, and left-ventricular assist devices (LVADs), and medical commodities such as auto-disable syringes and prosthesis).
2) Entrepreneurship in the Private, Public and Social Sectors. I study the genesis, development and implementation of new ideas that create change and innovation, at the individual, organizational or institutional levels. In particular, I am interested in exploring entrepreneurship in the field of medicine and healthcare, technology entrepreneurship and social entrepreneurship.
3) Networks and Complex Systems. Following on from my master thesis in Milano in collaboration with the Fraunhofer Institute IPK-Berlin (Germany) which explored the use of neural networks to model and simulate production systems, I went on to study the potential of fuzzy logic and other AI techniques to model managerial and organizational decision making in uncertain and ambiguous situations. Since my PhD I continue to explore the use of network approaches to study people and complex adaptive social systems like academic communities and technological fields.
Editorial Roles
-Lead Editor of the Special Issue in Research Policy published in May 2009 "Emerging Challenges for Science, Technology and Innovation Policy Research", vol.38, n.4, pp.571-693.
Academic Professional Activities
-Member of ESRC Virtual Research College and reviewer for ESRC and EPSRC.
-Reviewer for Research Policy, Organization Studies, Industrial & Corporate Change, Technovation and Journal of Innovation Management.
-Reviewer for Cambridge University Press (book manuscripts and proposals).
-Member of the Social Entrepreneurship Academic Network (see www.universitynetwork.org/handbook ).
-Organiser and chair (with Ben Martin) of SPRU 40th Anniversary Conference, September 2006, University of Sussex.
PhD supervision
I am currently supervising the following doctoral candidates:
1) Kalinca Coppello (2007 - ) "The use of ICT by marginalised communities in South Africa";
2) Kieron Swift (2009 - ) "Development of ICT policy in the Caribbean countries";
3) Mylene Petermann (2009 - ) "Creativity and collaborative innovation in the videogame industry";
4) Victoria Blessing (2009 - ) "Acceptance and use of medical technologies in developing countries";
5) Sarah Yulet (2010 - ) "An investigation of the Implementation of Health Service Innovations: The case of the Medicine Use Review Services".
During the current academic year (2013-2014) I will be on Research Leave from 01/10/13 until 12/05/14.
At Sussex I have designed, developed and I continue to teach undergraduate and postgraduate courses in 'Entrepreneurship', 'Public and Nonprofit Management and Organization', and 'Research Methodology and Methods'.
I was the recipient of a 2011 Sussex Teaching Award. I was nominated for a Teaching Award also in 2009.

Morlacchi, Piera (2013) Healthcare and innovation. In: Encyclopedia of creativity, invention, innovation and entrepreneurship. Springer. ISBN 9781461438571 (In Press)
Meyer, Martin, Morlacchi, Piera and Weckowska, Dagmara (2013) Triple Helix indicators as an emergent area - a bibliometric perspective. Scientometrics. ISSN 0138-9130 (In Press)
Morlacchi, Piera and Will, Catherine (2012) Designs for evidence: public and private faces of cardiac surgery research. In: Design and displacement – social studies of science and technology, 17-20 October 2012, Copenhagen Business School, Frederiksberg, Denmark.
Morlacchi, Piera (2012) Studying invisible work in organizations. In: 7th Organization Studies summer workshop: organizations as spaces of work, 24-26 May 2012, Rhodes, Greece.
Morlacchi, Piera and Nelson, Richard R. (2011) How Medical Practice Evolves: Learning to Treat Failing Heart with an Implantable Device. Research Policy, 40 (4). pp. 511-525. ISSN 0048-7333
Morlacchi, Piera and Martin, Ben R (2009) Emerging challenges for science, technology and innovation policy research: A reflexive overview. Research Policy, 38 (4). pp. 571-582. ISSN 0048-7333
Morlacchi, Piera and Martin, Ben (2009) Emerging Challenges for Science, Technology and Innovation Policy Research. Research Policy, 38 (4). pp. 571-693. ISSN 00487333
Morlacchi, Piera (2007) A New Solution Suggesting the Need for a New Equation. Innovations: Technology, Governance and Globalization, 2 (4). pp. 81-86. ISSN 15582477
Morlacchi, Piera (2007) Schumpeterian Legacies for Entrepreneurship and Networks: The Social Dimensions of Entrepreneurial Action. In: Perspectives on Innovation. Cambridge University Press, Cambridge, pp. 333-351. ISBN 9780521685610
Morlacchi, P, Wilkinson, I F and Young, L C (2005) Social Networks of Researchers in B2Business Marketing: A Case Study of the IMP Group 1984-1999. Journal of Business-to-Business Marketing, 12 (1). pp. 3-34. ISSN 1051-712X
Morlacchi, Piera, Lamming, Richard and Wynstra, Finn (2002) Ipsera: Ten Years and Beyond. Journal of Purchasing and Supply Management, 8 (1). pp. 63-70. ISSN 1478-4092
de Boer, Luitzen, Labro, Eva and Morlacchi, Pierangela (2001) A Review of Methods Supporting Supplier Selection. Journal of Purchasing and Supply Management, 7 (2). pp. 75-89. ISSN 1478-4092
Morlacchi, Piera (1999) SMEs in Supply Chain: A Supplier Evaluation Model and Some Empirical Results. In: Research Perspectives in Purchasing and Supply Chain Management: Selected Papers of the Third and Fourth IFPMM Summer Schools. IFPMM Summer School Secretariat, Salzburg, pp. 77-92.
Morlacchi, Piera (1998) Sourcing Relationships within the Supply Chain of Italian Machinery Sector. In: Organizing the Extended Enterprise. IFIP Advances in Information and Communication Technology . Chapman & Hall. ISBN 9780412821400