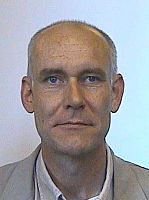 Dr
Robert Byrne
Biography
Before becoming an academic, I indulged in a somewhat meandering route through my working life. This has included – amongst other oddities, and in roughly chronological order – working as a shop assistant, landscape gardener, cleaner, wirer, office clerk, fence maker, warehouse worker, double-glazing salesman, and entrepreneur. Dotted throughout this cluttered pathway, I have also done what might be termed more 'professional' jobs.
Following my completion of a Higher National Diploma in Electronic Engineering from Hatfield Polytechnic (now the University of Hertfordshire), the first of these professional jobs was in a recording studio in London (Sarm Studios), where I worked as a Maintenance Technician (1985-1987). Then, during my undergraduate degree in Engineering Design and Appropriate Technology at the University of Warwick (1992-1996), I worked for a year as a Research Assistant at the Rural Industries Innovation Centre (website might not be working) in Kanye in Botswana, helping to erect a windpump as well as working with other renewable energy technologies. After graduation, I got a job as an Engineer at the Centre for Alternative Technology (CAT) near Machynlleth in Wales (1996-1997). Here, I gained more experience working with renewable energy technologies and how to integrate various sources of intermittent power into a reliable energy system.
From October 1997, I became the Coordinator of the Orkonerei Solar Energy Project (OSEP), working in a Maasai NGO in northern Tanzania (1997-2000). Sponsored by the Irish Aid organisation APSO (now defunct), and working with three local technicians, OSEP attempted to contribute to making small photovoltaic (PV) systems more accessible to poorer people. It would be fair to say that we largely failed to achieve this goal but I certainly learned a lot, including a reasonably good working knowledge of Swahili (although this is now quite rusty). I am also pleased to have been one of the founding members of the Tanzania Solar Energy Association (TASEA), now the Tanzania Renewable Energy Association (TAREA).
After returning to the UK at the end of 2000, I moved to Brighton and tried to start a PV business with a friend, supporting myself by working as a Personal Tutor and then Lecturer at the Eastbourne Collage of Arts and Technology (later, Sussex Downs College). Working in vocational education turned out to be a huge challenge and this spurred me to consider alternatives. Inspired by my experience in PV in Tanzania, and discovering SPRU was located just down the road, I managed to get funding for a masters and PhD to investigate why the Kenyan PV market had been successful while the Tanzanian one had not. I did my MSc during 2004-2005 and my PhD straight after, finally graduating in 2011.
Studying at SPRU involved some painful 're-wiring' of my head as I tried to change from my quite well-entrenched engineering world-view to one that could engage with sociological perspectives on science and technology. Hopefully, the transition has worked. Certainly, I find that such perspectives are both more enlightening and more challenging. And they have enabled me to work with some fantastic people here at Sussex (such as in SPRU, IDS, the STEPS Centre and Global Studies) and beyond (such as the Tyndall Centre for Climate Change Research, organisations in Kenya and Tanzania, and prominent figures in the field of international technology transfer).
I have also been lucky enough along the way to be able to travel for extended periods in various parts of the world. After the Sarm Studios job, I travelled in the US, Mexico and Guatemala. Later, I travelled through parts of India and Pakistan. And, while working in Botswana, I was able to spend some time travelling in Zimbabwe and Malawi.
Role
As well as being a Lecturer based in SPRU, I co-convene – with David Ockwell – the Energy and Climate Change Domain of the STEPS Centre (a collaborative research initiative between SPRU and IDS). I have also been a Coordinator (for Sussex and Southampton Universities) of the Energy and Emissions Theme of the Tyndall Centre for Climate Change Research, as well as a representative of Sussex on the Tyndall Council. I am also on the committee for the Sussex Africa Centre, launched in September 2014.
Within SPRU, I am part of the Sussex Energy Group and also an active member of the SPRU-Africa Group. In the past, I coordinated the Technology and Development Group (now, simply, the Development Group), which is a forum for internal seminars, feedback from critical friends and a place to share and discuss useful readings on development issues.
I am also one of the Sussex representatives on the Management Committee of the Low Carbon Energy for Development Network (LCEDN), which is an international multi-stakeholder (academics, private sector, NGOs, charities, policy makers) network of those interested in low carbon energy and development. LCEDN is managed from the UK by Ed Brown at Loughborough University.
As an academic, I am also a peer reviewer and have reviewed papers for many journals, including Studies in Comparative International Development, Energy Policy, Energy Research and Social Science, Environmental Innovation and Societal Transitions, Carbon Management, Climate Policy, Environment and Planning A, Innovation and Development, Progress in Development Studies, Renewable Energy, and Sustainability.