Consumers could be eating chlorine-washed turkey at Christmas in two years' time if the Government lowers food standards with a US trade deal after Brexit, according to a new FRC Food Brexit Policy Briefing Paper published by leading food policy experts: Professors Erik Millstone (University of Sussex), Tim Lang (City, University of London) and Terry Marsden (Cardiff University).
The academics warn that a trade deal with the USA could mean UK food stores will be stocked with poultry rinsed with disinfectants that are not proven to be safe, and not allowed under British and EU rules.
The new paper – published by the Food Research Collaboration, an initiative of the Centre for Food Policy at City – concludes:
Far too few studies have been conducted into chlorine washing poultry
The available data set is full of holes
Some studies have produced data indicating significant risks
The turkeys and chickens currently on sale in the UK cannot lawfully be washed with four chemicals that the US poultry trade calls 'pathogen reduction treatments' (PRTs).
The briefing paper identifies the set of scientific and policy documents, endorsed by the US Food and Drug Administration, which explain why the USA poultry industry uses these chemicals, and why they are not permitted or used in the UK or EU.
According to the authors, the animals are washed with disinfectants because when they arrive at US abattoirs and meat cutting plants they are far more contaminated with infectious filth, including excrement, than is present in the UK's current food supply chain. The paper claims the approach in the UK and EU is to insist that hygiene standards on poultry farms, slaughterhouses and meat-cutting plants are sufficiently high that the products are clean enough and therefore do not need to be chemically disinfected.

The PRT chemicals are used to wash chickens, turkeys, other types of meat as well as fish, fruit and vegetables. They are: peroxyacetic acid, chlorine dioxide, acidified sodium chlorite, and trisodium phosphate (E 339 iii).
Professor Erik Millstone said: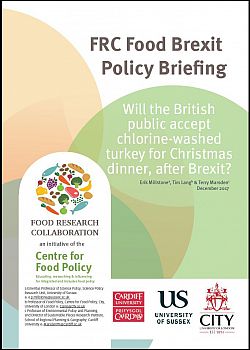 "The UK should continue to insist on improving hygiene standards in poultry farms, slaughter houses and meat-cutting plants and not allow standards to decline, nor try relying on chemical disinfectants to reduce the harm that filthy meat can cause."
Professor Tim Lang said:
"We cannot support any weakening of UK food hygiene standards. This is not what UK consumers would have voted for, had they been consulted. It must not happen by the back door, or in some 'horse-trading' in trade deals with the US, or anyone else."
Professor Terry Marsden said:
"This is one of a series of food safety concerns that consumers need to be aware of as the Brexit process ensues. The UK needs to improve its intensive food production and processing standards and not put both animals and consumers at risk."
The briefing's key points include:
UK and EU standards on poultry hygiene are significantly higher than those in the USA
The UK public currently eats chicken and turkey meat that complies with EU standards
Not only are there large holes in the safety case for the PRTs, there is evidence that they may contribute to the formation of toxic compounds when they interact with the poultry flesh
There is direct evidence that they can be hazardous to people working in the plants where PRTs are applied
Their use will worsen the chances that disinfectant-resistant bacteria will emerge, which could be more dangerous than the initial bacteria the PRTs were supposed to disinfect
UK government ministers, including the PM, often talk enthusiastically about a free trade deal with USA. However, But the US authorities insist that any such agreement must give US food productst, which comply with US standards, free access to the UK market
This would force UK producers to lower their standards to US levels in order to be price-competitive
If the UK makes a trade deal with the USA on US terms, US disinfectant-washed poultry could be legally on sale in the UK, after Brexit
The briefing's authors recommend:
That the UK government commits itself to maintaining food safety and quality standards at least at the current level, and if they are to change after Brexit they should only rise and not decline
Public health and consumer protection will require not accepting US disinfectant-washed-but-still-dirty poultry
A colaition of UK public health, environmental, animal welfare and consumer organisations should contribute to preventing the sale of poultry washed with chemical disinfectants in the UK
To ensure that UK food producers have unhindered access to their export markets in the EU, the UK government should ensure that - post-Brexit - UK food safety and quality standards will not fall below EU standards
Download the briefing paper: Will the British public accept chlorine-washed turkey for Christmas dinner, after Brexit?
Photo courtesy of Paul Townsend via flickr (cropped)