Two members of SPRU and the Harvard Sussex Program (HSP), Dr Caitríona McLeish and Dr James Revill attended the 2015 Meeting of States Parties of the Biological Weapons Convention in Geneva from 14 to 18 December 2015 and participated in two side events.
This is the last time State Parties will meet prior to the start of preparations for the Eighth Review Conference next year. As such it presents an opportunity to stimulate thinking amongst states parties not only to look back over the past five years, but look to the future and flag important issues for consideration.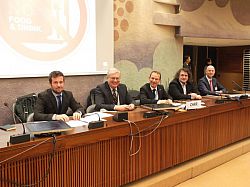 On Tuesday 15 December Dr Revill discussed compliance in an event: "Let's talk about compliance: measures, methods and modalities" HSP co-organised with The Hamburg Research Group. Chaired by the permanent representative of Australia, Dr Revill aimed to provoke early thinking on possible approaches to strengthening the convention.
He outlined a number of options for developing compliance mechanisms with some provisional costs for various options. In an age of austerity, the need to consider the cost of different actions is becoming a pertinent issue. Dr Revill's presentation built on a body of work related to compliance including a report for UNIDIR on Peer Review, which has been used by a number of states. This work is compiled in a written brief by Dr James Revill and Dr Caitríona McLeish : Estimating the Costs of Compliance Options.
Later that day, Dr Caitríona McLeish spoke on 'The Geneva Protocol and the BWC: some notes form history" in a discussion about the 90 years of the Geneva Protocol. The event was organised by French Government and UNIDIR.
The 1925 Geneva Protocol prohibits "the use in war of asphyxiating, poisonous, or other gases and of all analogous liquids, materials or devices", and it also bans "bacteriological methods of warfare." As such it is the cornerstone of the current regime against both biological and chemical weapons. Dr McLeish considered the origins of the Geneva Protocol and its relationship to work conducted in the Biological Weapons Convention in the contemporary age.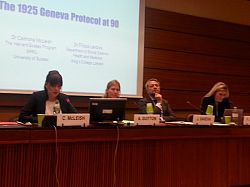 These side events enable presentations and discussion among those attending the general meeting (State Parties representatives, diplomats, and technical experts working on biological disarmament) and can feed into the general meeting.
The Harvard Sussex Program is an inter-university collaboration for research, communication and training in support of informed public policy towards chemical and biological weapons.